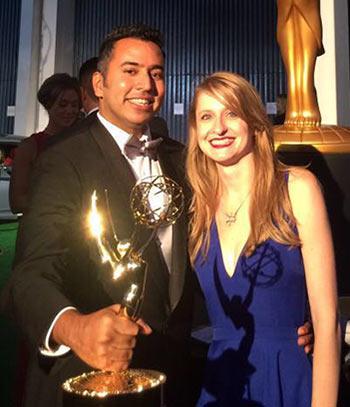 'I'm thrilled to add this award to the list of the Akhtar family accomplishments!'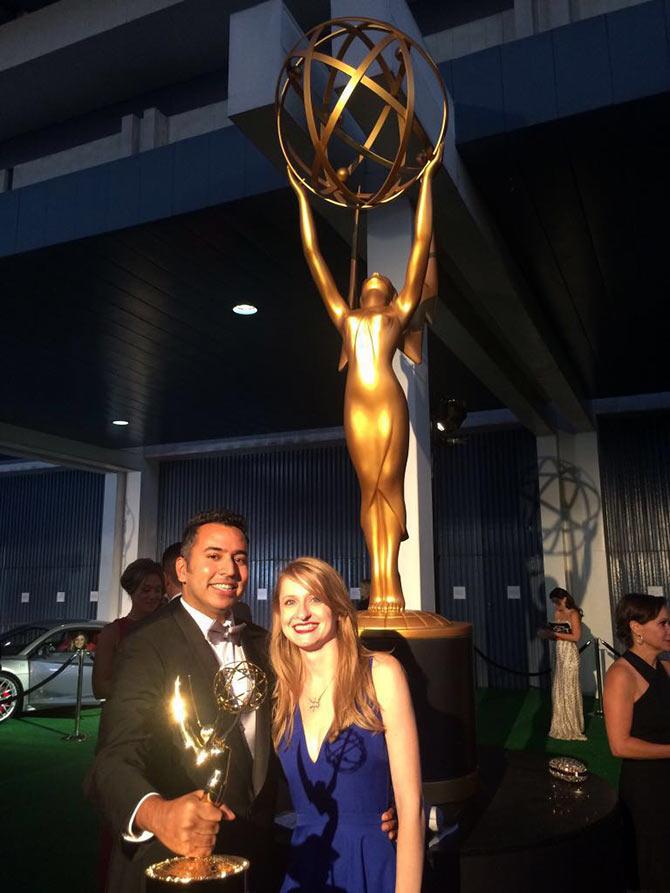 IMAGE: Farhan Akhtar's cousin Kabir Akhtar wins the Emmy Award for Outstanding Single-Camera Picture Editing for the series Crazy Ex-Girlfriend. Seen in the picture Kabir with his girlfriend Charlotte. Photograph: Shabana Azmi/Twitter.
Kabir Akhtar, first cousin of filmmaker-turned-actor Farhan Akhtar and nephew of national award winning actress Shabana Azmi, has done India proud.
The American television producer and editor has won his first Emmy award in the category of Outstanding Single-Camera Picture Editing For A Comedy Series. He bagged the prestigious trophy for the comedy sitcom Crazy Ex-Girlfriend.
While this is Kabir's maiden win at the Emmy's, he received his first nomination in 2012 in the category, Outstanding Picture Editing For Short-Form Segments And Variety Specials. The following year, he received a nomination for the Outstanding Single-Camera Picture Editing for a Comedy Series. The 41-year-old had edited an episode of the popular American sitcom Arrested Development.
As congratulatory messages continue to pour in from all quarters, Kabir talks to Subhash K Jha about the winning night.
What was your first reaction to winning the Emmy?
I was extremely surprised. The competition this year was very strong, and our show is the least-watched among them. But it is also a very different show, and looks like the Academy voters loved the many different styles in the pilot (comedy, drama, and musical).
When they announced the winner, I stood up in shock and everyone from our show jumped up to celebrate!
I think you are the first artiste of Indian origin to win the Emmy. How difficult is it for an Asian to crack the global code?
I don't know if I am the first one to win an Emmy, but I am the first to win an Emmy in this category.
'Diversity' has become a point of focus for studios here, and it is of course very important -- what better way to tell new stories than to employ creatives with a variety of life experiences.
Tell me about your beginnings. How did you get there?
Growing up, I did a lot of theatre work, from elementary school through college. I wasn't sure what career I would pursue until a friend happened to suggest film.
With my theatre background and my love for movies, it made perfect sense.
Coming to Crazy Ex-Girlfriend, how has the experience of working on this series been for you?
I am in love with the show!
I can't believe I'm lucky enough to come to work every day on a show that challenges us all to be both smart and funny, while working with an amazing cast and crew who are like a big family.
Do you see the series and the Emmy as a serious step forward for yourself in the American entertainment industry?
Winning an Emmy is an incredible honour. It is especially meaningful since it is voted on by the best in the business. I am very excited and looking forward to whatever is coming up next.
You come from a hugely distinguished family of entertainers in Bollywood. How closely connected are you to Javedsaab, Shabana, Farhan and Zoya?
We're very close. You could say we're like family!
Even though we grew up on opposite sides of the planet, we've always kept in touch and I'm so proud of everything they do. I'm thrilled to add this award to the list of the Akhtar family accomplishments!
What took you so far away from home?
I grew up in Philadelphia after my parents moved there, and then I moved to LA to get started in the business. Luckily it's only a few hours flight away.
Who are the Bollywood actors you enjoy watching?
Is it cheating to say Farhan is my favourite?
A bit about your personal life?
My wonderful girlfriend Charlotte was there at the Emmys with me last night, and my younger sister Nishat came to town to celebrate the next day.
What are your future plans?
I'm directing an episode of our show this fall. Stay tuned to see what's next!