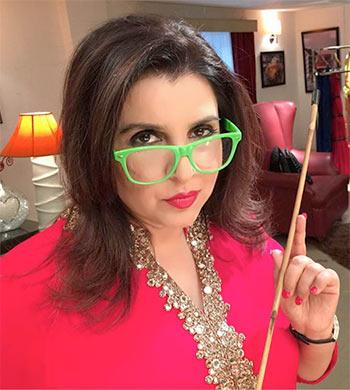 A look at the top tweets from your favourite Bollywood celebrities.

Bigg Boss Season 8 is going to introduce a new format during its concluding month.
Farah Khan will replace Salman Khan as the new host.
Khan shared a picture from the sets (left) and wrote: '1st day of the year n shot an exciting n crazy promo 4 my favourite show!! Itni shiddat se n all that.'
'Happy 2015 folks!'
Bollywood is ready for new beginnings this year. Here's what they tweeted:
Alia Bhatt: A bit late in the day but happy new yearr ;) New year, new beginnings and hopefully some change. Hope, love, live, laugh and chargeeeee!!!!
Shah Rukh Khan: Wishing everyone happiness & peace 3 times over. May Allah give you all that u desire & more this year & ever after.

Konkona Sensharma: Happy 2015 folks! Peace and happiness.
Shekhar Kapur: Let 2015 be the year of Screaming. Scream for justice for all. Scream for equality for all. Scream for protection of women. Scream for good.

Anil Kapoor: Wishing everyone a very happy, rewarding and glorious 2015.

Abhishek Bachchan: This year, let's remember… This year.. Dream.. Dream BIG!!!

Varun Dhawan: In 2015 if you follow me or even like me a little promise to not objectify women and disrespect them treat them as people.
Ameesha Patel celebrates New Year with Sanjay Dutt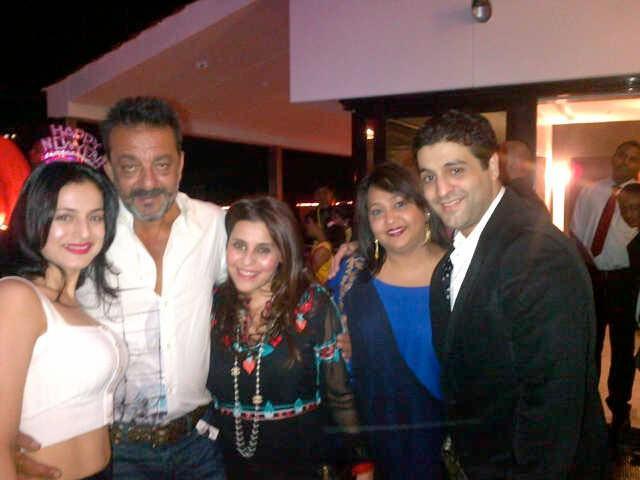 Ameesha Patel celebrated New Year's Eve with Sanjay Dutt at his residence.
She shared a picture from the celebrations (above) and tweeted: 'A lovely pik with the rockstar sanjay dutt on new years eve at his residence...warm loving n the super rockstar.'

'Sanjay dutt the sweetest father to his 2 gorgeous children..such a lovely family they make,' she added with another picture.
Deepika supports Mental Health Awareness

Deepika Padukone started the year on a positive note. She turned to Twitter help raise awareness about mental health and wellbeing issues.

'When you look at a person, any person, everyone has a story. Everyone has gone through something that has changed their life. Anxiety, Depression and Panic Attacks are not signs of weakness. They are signs of trying to remain strong for way too long. I dedicate this year to supporting Mental Health Awareness. #youarenotalone WE are not alone,' she wrote.


Hansal Mehta reunites with Manoj Bajpayee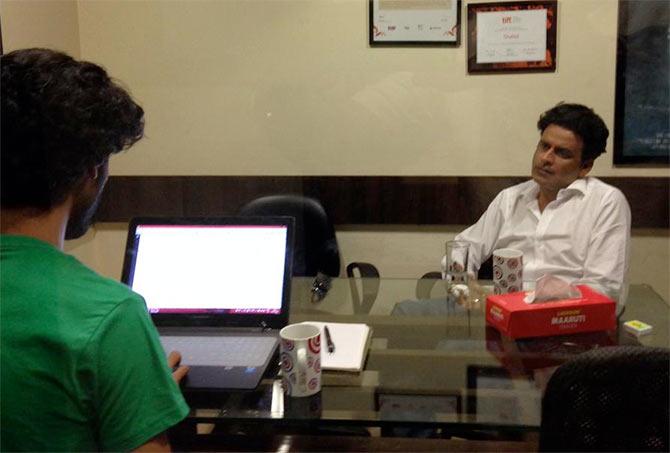 Filmmaker Hansal Mehta, who last worked with Manoj Bajpayee on 2000's Dil Pe Mat Le Yaar, will direct him again in his upcoming gay love story.

He shared a picture (above) and tweeted: '2015 begins with @BajpayeeManoj who prepares for our first collaboration after DPMLY 15 years ago. Cannot believe that 15 years have passed since I worked with @BajpayeeManoj. Still the same dedication, passion and hunger.'

The film will also star Rajkummar Rao.