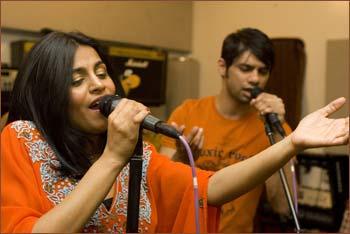 Vocalist and composer Falu, who has performed with Oscar-winning composer A R Rahman in the presence of First Lady Michelle Obama, television celebrity Oprah Winfrey and actress Elizabeth Taylor, sang for the Dalai Lama at Lincoln Centre, appeared on the companion CD to the Deepak Chopra bestseller The Spontaneous Fulfillment of Desire, and performed with cellist Yo Yo Ma's Silk Road Project, is constantly on the move.
She is back in New York after touring several American cities to perform a traditional/classical concert at the famous Joe's Pub, October 1.
"It is a venue so coveted by the artists," says Falu, who has also performed with Wyclef Jean, and sung for Angelina Jolie's directorial debut, A Place in Time.
"It is intimate and the people who come to listen to a singer or a musician are in love with music."
The venue is also known for its informal atmosphere. It is a pub where music subdues everyone, the saying goes; music there is more empowering than the strongest drink.
Falu, a classically trained artist who learned music in India for over a decade before moving to America over a decade ago, has a sold-out performance at the Zankel Hall, part of the Carnegie Hall, in November.
Falu -- Falguni Dalal before her marriage to physician-musician Gaurav Shah -- will be performing at Joe's Pub a dozen songs from an album of traditional music blended with contemporary American that will be issued in a few months.
"But if anyone asks me to sing Rabba or a song from my first album [Falu], I will do it," she says. Her work has caught the attention of many publications.
'Falu is one of the more impressive voices of the globalisation of music,' the Aspen Times wrote. Two years ago she was featured in a front-page story in The Wall Street Journal, titled Music's New Mating Ritual.
'As genres are fused,' the backup headline read, 'cryptically named hybrids emerge; the story behind 'gypsy punk.'
Falu calls her style Indie Hindi. She has also been called a Sufi rocker.
'Indie Hindi, socaton, skurban. You may feel like you need a dictionary the next time you go shopping for music,' John Jurgensen wrote in the WSJ. 'The music world is getting thick with hybrids, or cryptically named blends of established styles,' the story said.
'Indie Hindi, for example, is traditional Indian vocals tinged with edgy American-style rock. Socaton is dance music that has elements of rap, calypso and reggae. The number of genres is up more than 40 percent over the past four years, by one measure Gracenote, which maintains the music-classification system used by major sites like Yahoo and iTunes, now recognises more than 1,800 genres. It recently added "hyphy," a jittery form of hip-hop from the San Francisco area.'
The article offered a soundtrack example of Falu's rendition of the Dum Maro Dum song from the film Hare Rama Hare Krishna released nearly 35 years ago.
She does not like the label 'fusion' for her music. The word sounds like experimental, she says.
'It is not like, 'Let's try mixing this chutney with the pasta sauce and see what happens,'' she told Ego magazine a few years ago. It is experiential, she said, 'which means that what you're in for is a carefully orchestrated journey where the East and the West gently overlap like waves.'
But what is experiential music?
"I think the best example I can give is that of North Indian classical music, which came into being in present form perhaps 600 years ago," she says. "And which draws beautifully from Carnatic music elements as well as Persian and Arabic music elements, and is an experience, not an experiment."
Falu's band draws from Indian classical, alternative rock, contemporary pop, and electronic styles, she says, to create "a tight mix of East and West, of ancient and modern.
The band members are Gaurav Shah (vocals/harmonium), Mark Tewarson (guitars), Borahm Lee (keys), Justin Wallace (bass), and Ramsey Jones (drums).