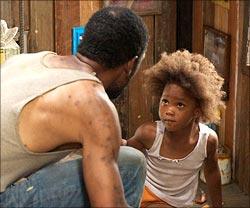 The Mumbai Film Festival -- held from October 18 to 25 -- aims to be less of a niche event and more a genuine melting-pot.

First things first: whoever curated the line-up of the Mumbai Film Festival (MFF) 2012 deserves a medal.

One look at the 200 films that are being screened makes it quite clear that MFF aims to be less of a boutique, niche event and more a genuine melting-pot, hosting cutting-edge international films.

All films are broadly good to excellent. A few might be the talk of the town.

Benh Zeitlin's Beasts of The Southern Wild, the Sundance darling, is an apocalyptic coming-of-age tale of a six-year-old kid in Louisiana who has an epiphany of frozen prehistoric beasts breaking free and, consequently, destroying her sloppy habitat.

With the magical realism of Beasts, you could partake of some Falstaffian meditations on the shortcomings and possibilities of old age in Michael Haneke's Amour, with Alain Resnais' Vous N'Avez Encore Rien Vu (You Ain't Seen Nothing Yet).
However, the larkiest take on old age has to be Abbas Kiarostami's Like Someone in Love, shot in Japan. A student who moonlights as call-girl goes to an elderly client -- who, it turns out, is not interested in her body; and, to turbocharge the drama, there is a tantrum-prone fiancé.
If low-key humour is what you looking for, there's Ken Loach's The Angel's Share, about a Glasgow vagabond who wants to turn his petty life around; and becomes convinced that the best way is to lay hands on the world's costliest whisky and sell it. With his trademark humour -- as cold as the North Pole -- Mr Loach weaves an intricate tale that tastes very much like any supremely elegant single malt would: hints of sweet spice, figs and a long fruity finish.
But it's the documentary section that looks most interesting.
The House I Live In and The Invisible War paint a broad-brush picture of America's political woes.
Then there's the Sundance Special Jury winner, Ae Weiwei: Never Sorry. Alison Klayman's debut doc is a remarkable portrait of a remarkable man. By trailing him for close to three years, Ms Klayman has been able to capture the most intimate of take on the man who's become a cause célèbre outside China.
Then there are historical dramas: Benoit Jacquot's Farewell, My Queen, for example, about intrigue in the retinue of Marie Antoinette (played by Diane Kruger).
And, for pure magic-of-cinema sake, there's the Brazilian film Neighboring Sounds and the French auteur Leos Carax's new movie Holy Motors. The former is a bizarre portrayal of the chasm that exists between the upper and lower strata of a gated community in the coastal town of Recife; the latter is a fantastically distasteful film about a hit man who transmogrifies into various characters, all in the span of one night.
The bit about the protagonist chauffeured along Paris is reminiscent of David Cronenberg's Cosmopolis, which is also being shown at MFF. Cronenberg chose the most unfilmable of writers (Don DeLillo) to put across his views on the internal decay of the urban human.
In a recent New Yorker piece, David Denby lamented that Hollywood studios are hell-bent on churning out the battery chicken-like blockbusters -- animated features for families and genre movies. He ends his piece saying that he keeps his eyes open for 'that surprise, which springs out of nowhere and takes your breath away'.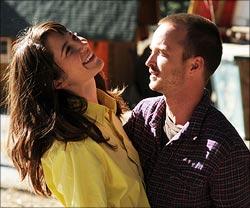 Two such surprises at MFF 2012 could be Smashed and California Solo. Off The Black's maker James Ponsoldt, Scott Pilgrim actress Mary Elizabeth Winstead and Breaking Bad's Aaron Paul come together in Smashed, the doomed romance of a married couple bonding over their mutual love of booze. But when Winstead goes sober, cracks appear.
In California Solo, Robert Carlyle delivers a soulful turn as a Britpop-era guitarist for fictional band The Cranks, now scratching out a living at a farmer's market outside Los Angeles.
Writer-director Marshall Levy subverts the usual rock'n'roll clichés for this touching tale. However, the coup of MFF 2012 has to be the opening film Silver Linings Playbook. The joke doing rounds in Hollywood circles is that there's a war going on inside Harvey Weinstein's head, now that his dark horse, Silver Linings Playbook, may have better Oscar prospects than The Master. Its director, David Russell, is quite adept at heartfelt drama. He has The Fighter, Three Kings and I Heart Huckabee on his resume.
But if you want to get ahead of the curve and try to see movies by directors who might be the greatest in a decade or so, the new movies of Jacques Audiard and Cristian Mungiu need to be given a look.
The Mumbai Film Festival 2012 is being held from October 18-25 in five different venues in the city.