Be sure you don't miss out on this once-in-a-lifetime chance to quiz India's biggest director!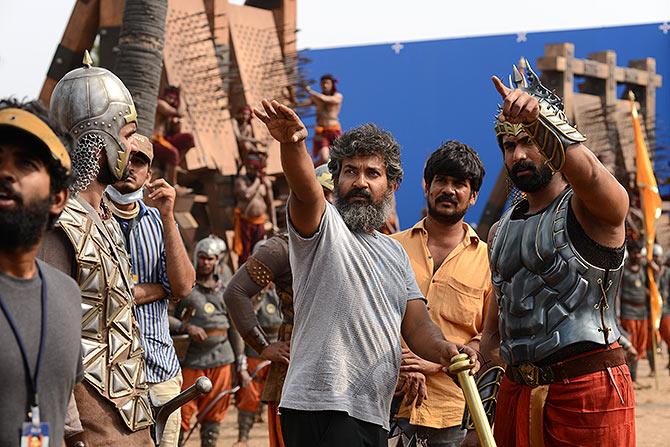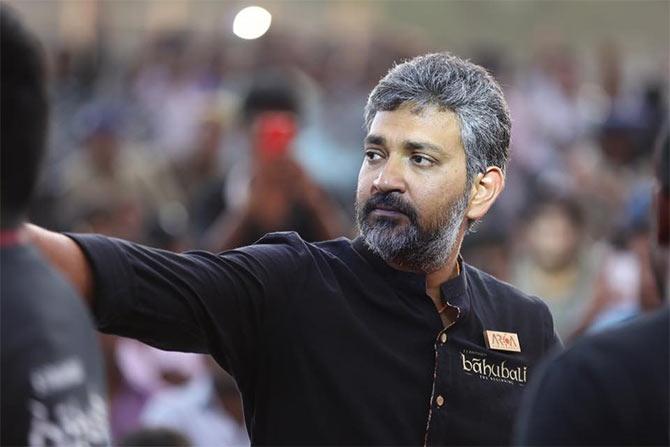 The audiences, it seems, simply cannot have enough of Baahubali: The Beginning, film director S S Rajamouli's epic film that is still running to a full house five weeks after its release.
Dubbed into Tamil, Malayalam and Hindi, the Telugu Baahubali, in its surcharged box office run, has netted more than Rs 500 crores (Rs 5 billion), becoming the first South Indian film to do so.
In a record, even its Hindi version crossed Rs 100 crore (Rs 1 billion) at the box office, with even superstar Salman Khan's Bajrangi Bhaijaan failing to halt its march.
What is it about Baahubali that has touched a chord with Indians cutting across regions and languages?
Its story -- of cousins, warfare, heroism and treachery that harks back to our ancient epics?
Its treatment -- of a scale that brings to mind epic Hollywood films whose cutting-edge CGI work Indians have for long admired and envied in equal measure?
The cast -- chosen with unerring precision? Superstars Prabhas as the hero, with Rana Daggubatti as his rival, not to omit the impeccably cast Sathiyaraj?
Or, all of the above?
No wonder Bollywood is stunned and amazed. Who is this director who, for many, came out of nowhere to show what a pan-Indian film is all about, 23 years after another film from the deep south, Mani Ratnam's Roja, generated nationwide frenzy?
India's most expensive film (Baahubali cost Rs 250 crores/Rs 2.5 billion to make) was certainly no fluke.
Rajamouli's film Magadheera (2009), which Bollywood now plans to remake with Shahid Kapoor, showed the director's epic vision and execution. His Eega (2012), in which the protagonist is killed and reincarnates as a house fly that wreaks revenge, was toasted by the box office and showcased his ease with CGI.
Baahubali clearly is the crowning glory for this fine director. And the blockbuster's cliffhanger climax has ensured that its sequel is the most awaited film of 2016.
What makes S S Rajamouli tick? Where does he draw his inspiration from? Is there a ready formula for a pan-Indian blockbuster?
Answering these and more questions on the Rediff Chat will be the red-hot director himself, on Wednesday, August 12, 2015, at 4 pm IST.
Be sure you don't miss out this once-in-a-lifetime chance to quiz India's biggest director!

Director S S Rajamouli, exclusively on the Rediff Chat!
Don't miss our Baahubali series!