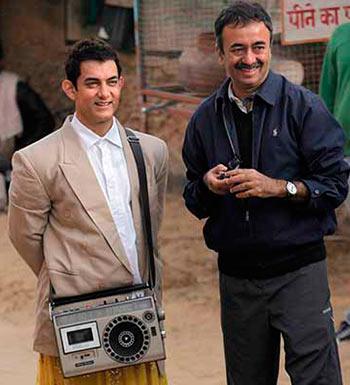 'People say Aamir Khan cries on Satyamev Jayate and it's fake. But that is not true.'
'Whenever I have narrated a script to him, he has cried often. If I narrated the same script five times, he cried five times at the same point.'
Patcy N/Rediff.com speaks to director Rajkumar Hirani for Rediff.com's Aamir, 50, series.
Rajkumar Hirani has directed Aamir Khan in two of his finest films, 3 Idiots and PK. The two men appear to share a close bond.
As we celebrate the actor's 50th birthday on March 14, Patcy N/Rediff.com spoke to Hirani about his friend, Aamir Khan.
'I told Aamir my first script was not worthy of him, so he told me to make the Munnabhai film'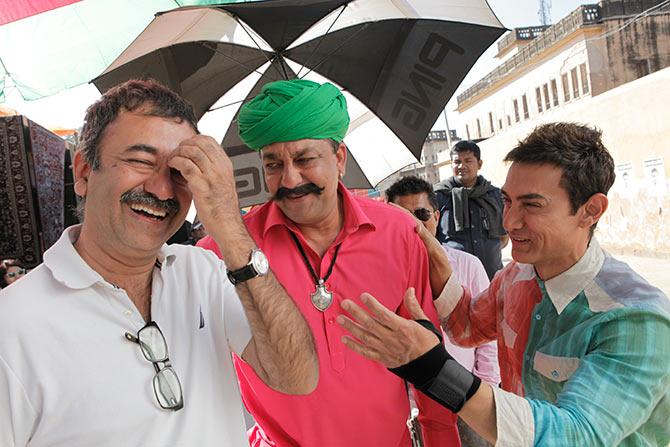 Image: Rajkumar Hirani, Sanjay Dutt and Aamir Khan on the sets of PK.
I met Aamir for the first time when my first film Munnabhai MBBS released.
He hadn't been able to watch the film when it released because of his shooting schedule, so we organised a screening at the Ketnav preview theatre in Bandra (north-west Mumbai).
I was very keen to meet him, and to see his reaction.
He loved the film. We chatted after the screening and he said if you have a script, let me know.
I was very excited. I told him I was working on a script, that it was something he would love to do.
I started working on the script, but soon realised that it was not working.
That script later turned into Lage Raho Munnabhai.
It was about a guy in the 1940s, who followed Mahatma Gandhi and then went into a coma. It was set part in the present and part in the past.
If Gandhi were alive today, how would it change society? It was seen through the eyes of the man in a coma.
It was turning out very grim. Then I had this thought: What would happen if Munnabhai met the Mahatma?
Two months later, Aamir called and asked if I was ready with the script.
I said I would meet him because I did not want to tell him on the phone that the script was not ready. I was in a fix.
I told him about both stories. He said the one where Munnabhai met the Mahatma is good.
I told him the first story was not worthy of him, so he told me to go ahead and make the Munnabhai film (with Sanjay Dutt).
During the shooting of 3 Idiots, he told me one day, 'Do you realise what you did that day when you came to my house? I was waiting to hear a script from you and you basically told me "I can't work with you!" I couldn't believe somebody was telling me that.'

'Aamir spoils you completely'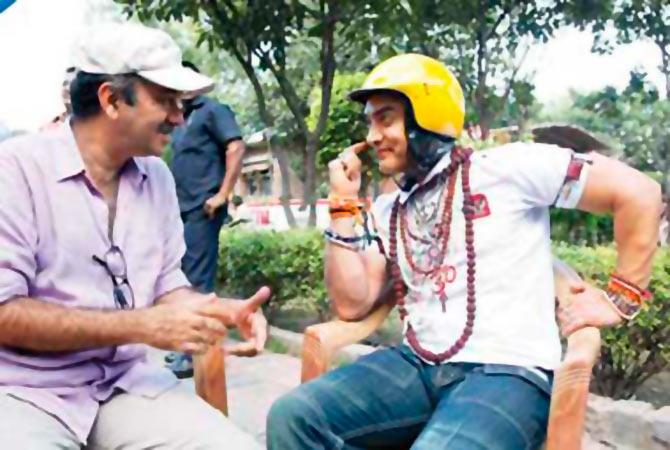 Image: Aamir Khan chats with Rajkumar Hirani on the sets of PK.
Aamir never made me feel that he was senior in the industry and I was just two films old.
When I started shooting for 3 Idiots, I was afraid. I had heard so many times that 'Aamir will dominate', 'Aamir will interfere'.
I realised with experience that he completely submits himself.
He is very careful that he should not interfere in any way. He will give you suggestions once in a while, but he won't feel offended if the suggestion is not used.
He is aware that there should be only one person heading the team and who has the vision to do it.
Once we became friends, I asked him why people think he is dominating.
He said, 'When my career started, I made some bad choices after QSQT. I signed a couple of films that were not good. The directors were also not so good.'
'Whenever I asked the director a question -- which I ask my directors even now -- a good director has the answer because he understands his business. But there were some directors who did not have the answers, and they would say I am very interfering. They wanted somebody to just come and work and not question.'
Once that impression goes out, he said, it becomes like a rubber stamp.
This was completely shocking for me because Aamir is such a delight to work with.
He spoils you completely, he gives you all the time, he is there for you all the time right till the end of the film.
He treats it like his own film. He will promote the film and he will even come for the DVD releases, which is many months after the film's release.
'The food Aamir ate was so bland that I couldn't eat it'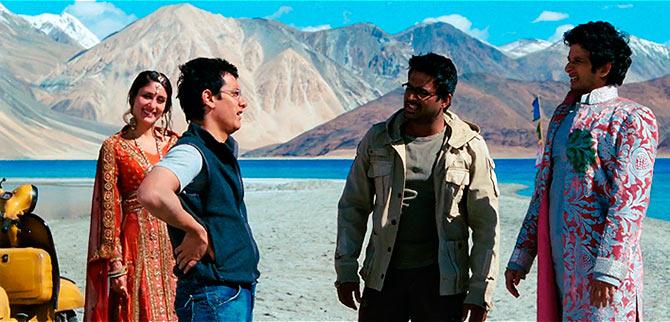 Image: Kareena Kapoor, Aamir Khan, R Madhavan and Sharman Joshi in 3 Idiots.
He is a perfectionist, but that is good. It only enhances my film. I need perfection. I am a promoter of perfectionism.
For PK, he had to retain the body that he had for Dhoom 3. In the scene where he lands on earth and is naked, he had to show off his body.
To get that body he would get up at 3 am and work out for two hours, then come on the sets and get ready for the 7 am shoot.
After pack up at 7:30 pm, he went to bed. During the entire Rajasthan schedule, he woke up every day at 3 am.
That is his level of perfection. The food he ate was so bland that I couldn't eat it.
For 3 Idiots, he had to look like a young college boy. He had just finished shooting for Ghajini where he had a beefed up body. And he was 44 years old.
I told him to lose that body and look boyish. In fact, I told Sharman (Joshi) and Maddy (R Madhavan) that too. Kareena was very thin because of her film Tashan, so I asked her to put on some weight.
'Being considerate comes from his mother'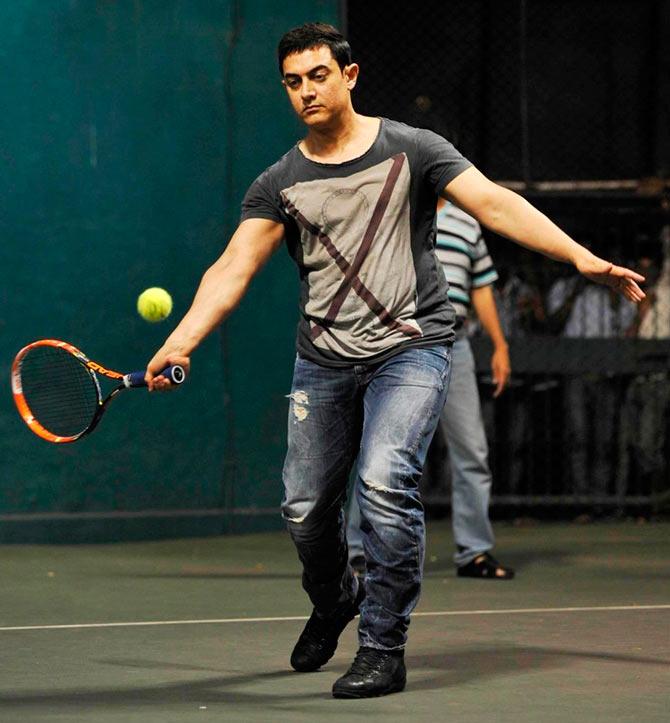 Image: Aamir Khan. Photograph: Abhijit Mhamunkar.
Aamir is very intelligent. He is considerate and constantly thinks about the other person.
He is always worried that what he says will affect other people, so he is very careful about what he says. Everything he says is measured.
We have done two films together. I have never seen him shouting or raising his voice, never seen him aggressive.
I think being considerate comes from his mother.
He tells this story about when he was a kid. He played tennis very well and when he came home from a match, his mom would ask him what happened and he would say 'I won.'
She wouldn't say anything, but at the dinner table that night she would say, 'Just think how the person who has lost the game today must be feeling. He too must be having dinner with his family now.'
He has grown up in an environment where he was too aware. You can't be like Aamir unless you have grown up in that environment.
You can't spend two years doing Satyamev Jayate unless you believe in it. He could have done an easier television show, not one that requires so much effort.
'People say Aamir cries on Satyamev Jayate and it's fake. But that is not true'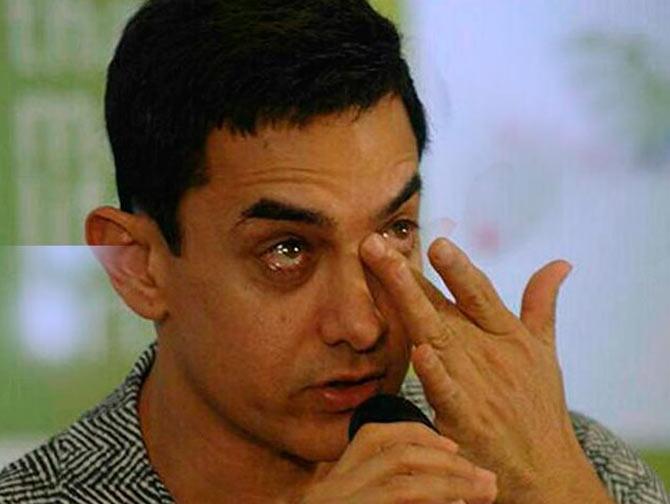 Image: Aamir Khan on Satyamev Jayate.
People say he cries on Satyamev Jayate and it is fake. But that is not true.
Whenever I have narrated a script to him, he has cried often. If I narrated the same script five times, he cried five times at the same point.
I was delighted because I knew the film would work. So he was our barometer.
He even cries during the screening of his film.
In 3 Idiots, in the scene where Maddy and Sharman say they can't become engineers, he cries every time.
He is very emotional by nature.
'Aamir did not give Junaid any special treatment during the shooting of PK'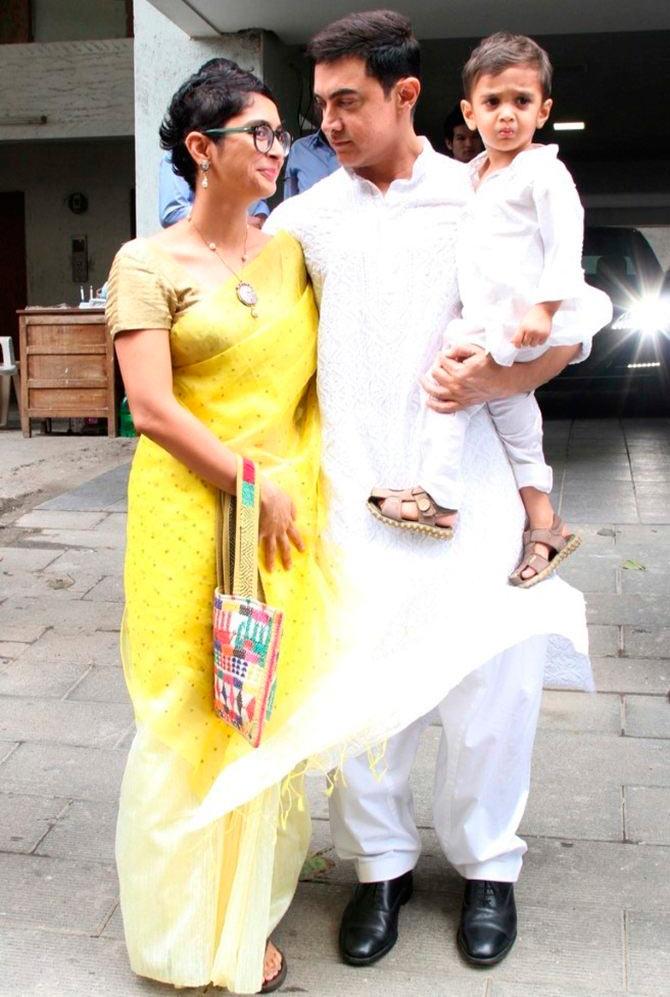 Image: Aamir with wife Kiran Rao and son Azad. Photograph: Pradeep Bandekar.
I have spent a lot of time with him, visited his home many time. He keeps calling Kiran (Aamir's wife Kiran Rao) all the time, even when he is on the sets.
They chat through the day. He brought (his son) Azad on the sets many times. He is very close to his daughter Ira.
He called me one day and asked if his elder son Junaid could work with me.
He has a way of putting things. He said, 'Junaid wants to learn cinema and I thought of you and what better place than yours to learn? But only if you are comfortable. You have to treat him like a normal assistant. You don't have to give him any special treatment.'
That is how Junaid worked with me on PK.
Aamir did not give him any special treatment either.
We were shooting in Jaipur and on our day off Aamir asked me, 'Can I take Junaid out for lunch? I want to bond with my son.'
Junaid lived in the hotel with the other assistants; he shared a room, he ate with all of us.
'Aamir's favourite is the Mahabharat'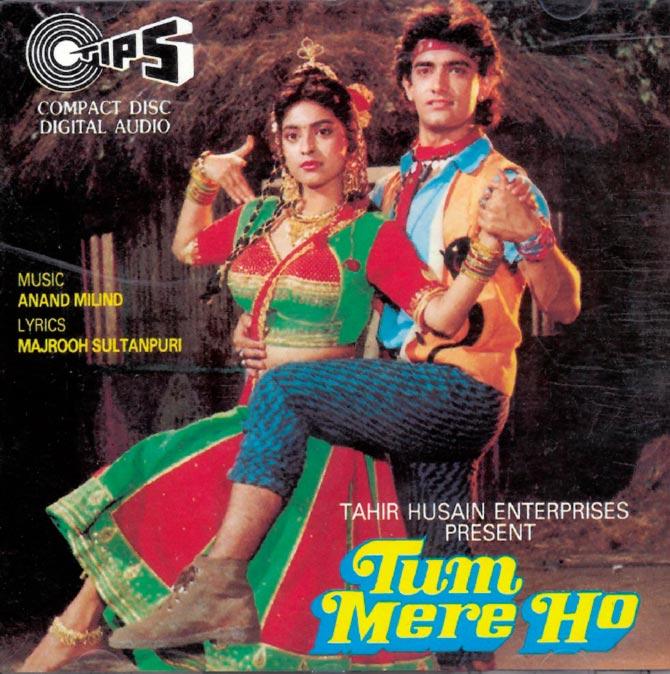 Image: Aamir Khan Juhi Chawla on a Tum Mere Ho poster.
My favourite Aamir Khan film is Lagaan.
It was unique. It is the perfect script theoretically. There is a protagonist, there is a problem, there are obstacles and there is a final resolution.
Post Lagaan, whatever film Aamir did was good. Immediately after Qayamat Se Qaymat Tak he did some bad films: Awwal Number, I would say, was a film that Aamir should not have signed.
When I was shooting for 3 Idiots in Bangalore, I switched on the television one night and there was an Aamir Khan film playing.
Aamir was dressed as a saphera (snake charmer) (in Tum Mere Ho).
I saw a little bit of the film and I laughed so much. When I told Aamir about it, he said 'Yaar, that was my father's film.'
Aamir makes the right choices as far as scripts are concerned, but his personal favourite is the Mahabharat. He wants to do it.