Check out the movie releases, and make your pick!
Four Kannada films will be releasing today, on January 23, a week after the Sankranti festival. Most of the films are directed by newcomers barring Siddhartha, which is directed by Prakash Jayaram of Milana fame.
The other three films releasing this Friday are: Ondu Chance Kodi (directed by Satyamitra), Suvvi (directed by Raja Reddy) and Mirchi Mandakki Kadak Chai (directed by Sanjotha).
Let's see what all these films have to offer to the audiences.
Siddhartha
Director: Prakash Jayaram
Cast: Vinay Rajkumar, Apoorva Arora, Ashish Vidyarthi,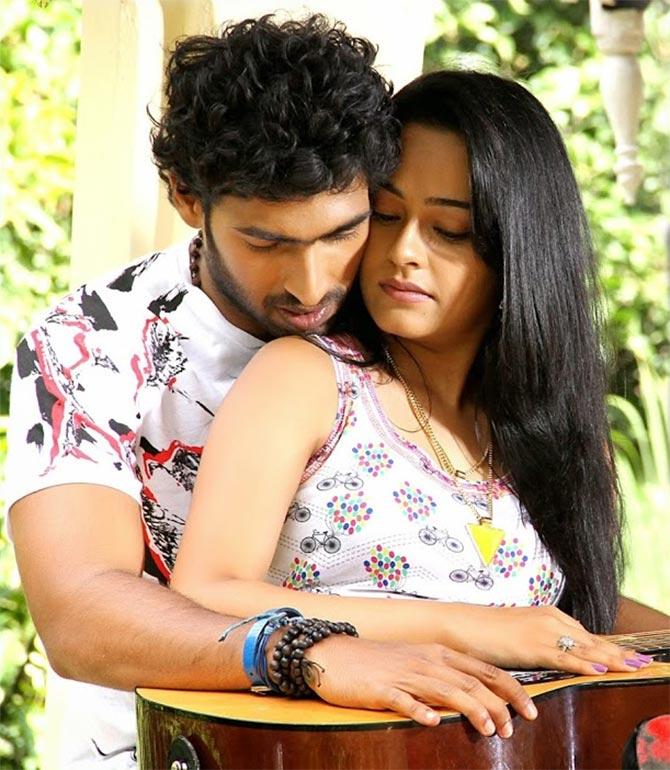 Image: Movie still from Siddhartha
Siddhartha marks the debut of third generation actor Vinay Rajkumar in Dr Rajkumar's household. Vinay Rajkumar is Dr Rajkumar son Raghavendra Rajkumar's son. According to director Prakash Jayaram the film is about a normal college-going guy who is of today's age. He says the film is not only for the youths of today but ideal for family viewing as well.
Siddhartha, played by Vinay, is a rockstar in college and he has to deal with his problems as he is at crossroads of his life – career and love. Nikki Galrani makes a special appearance in the movie and Deepika Das plays the heroine's friend.
The film has been shot in Bengaluru, Mysuru, France and in Singanalluru (Dr Rajkumar's birthplace). Krishna Kumar is the cinematographer. Harikrishna has scored the music. Raghu Samarth has penned the dialogues based on Jayanth's story. Mahadev has assisted Prakash in writing the screenplay.
Ondu Chance Kodi
Director: Satyamitra
Cast: Ravishankar, Ajit, B C Patil, Shruthi, Linto, Dr Nandini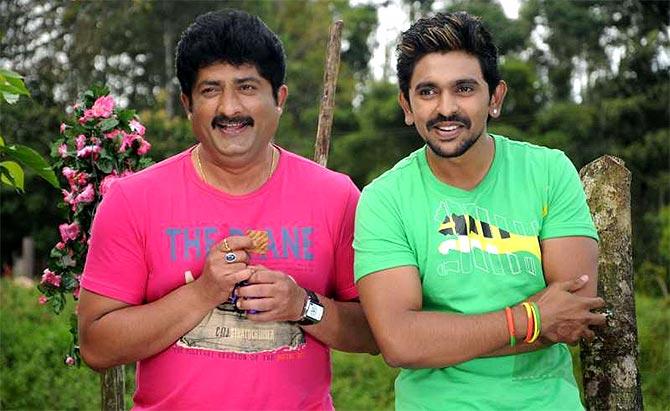 Image: Movie still from Ondu Chance Kodi
Ondu Chance Kodi (give me a chance) is a fun film with a lot of comedy and is a total entertainer, according to the director. The film is about two friends who happen to go to an estate where the story unfolds.
Director Satyamitra says the friends visit the estate in their effort to make a movie but get into trouble. The whole film is about how they come out of their trouble and whether they succeed in becoming film-makers. Satyamitra says the film is a lesson for new directors with an important message as well. Shruthi plays an important mysterious role in the film.
Satyamitra says the film has a host of comedians like Umesh, M N Suresh, Mohan Juneja, Mandeep Rai and Layendra to add to the fun and confusion. B A Madhu has penned the dialogues. Mysore Mohan has scored the music. Mathew Rajan is the cinematographer. The film has been shot in Chikkamagaluru, Kudremukha, Kalasa, Bengaluru and Mysuru. R N Sunil Kumar has produced the film. Laiju Raghavan has written the story.
Suvvi
Director: Raja Reddy
Cast: Arjun, Manasi, Ramya, M D Kowshik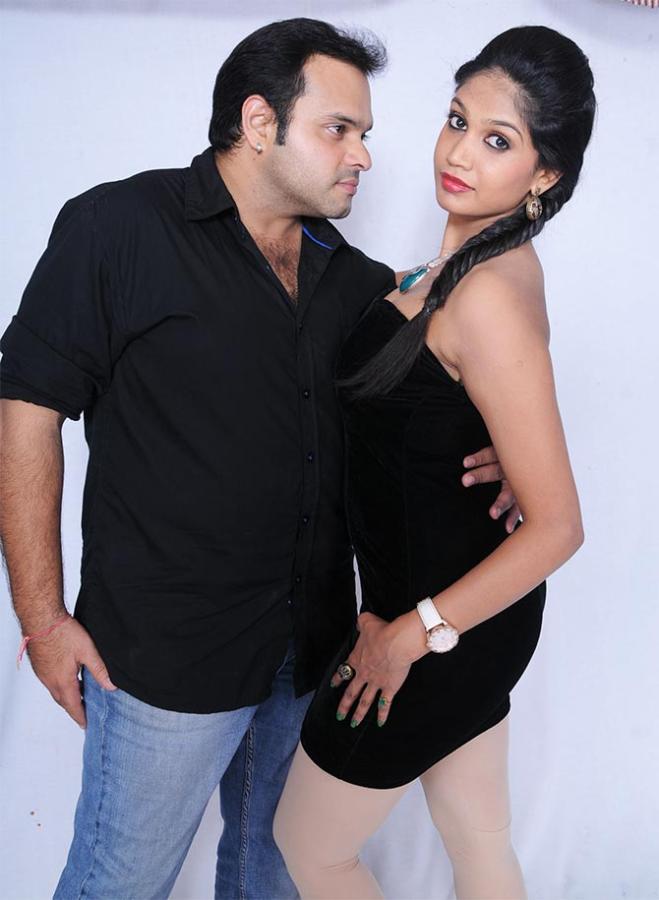 Image: Movie still from Suvvi
Suvvi is a love story with a difference, according to its director Raja Reddy. The film runs on just four main characters. It is a kind of a rectangular love story, according to Reddy. Director Raja Reddy says the film is an entertainer with suspense and comedy with a message about technology plays spoilsport.
The hero is in love with a girl and the heroine is in love with another guy. The hero and heroine come together on a journey and fall in love with each other.
According to Manasi, who plays a bubbly girl comes out of her home, meets the hero, becomes friendly with him and begins to fall in love. Manasi says she would have never seen the guy with whom she was in love previously as they were always conversing on whatsapp or through text messages.
The film has been shot in Karkala, Sakleshpura, Mundgod, Dharmasthala, Dandeli, Savadatti, Gokak and Bengaluru. Raj Bhaskar has scored the music. P K H Das is the cinematographer. B Shankar has penned the dialogues based on Raja Reddy's story. Padmanabha Reddy has produced the film.
Mirchi Mandakki Kadak Chai
Director: Sanjotha Prashanth
Cast: Pradeep, Namratha, Sachin, Vishal Nair, Apoorva, Nimisha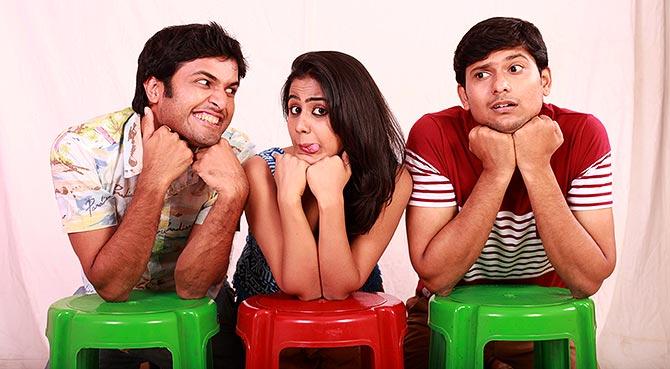 Image: Movie still from Mirchi Mandakki Kadak Chai
The film revolves around three characters – Mirchi, Mandakki and Chai – two guys and a girl. A guy who symbolizes Mirchi is played by Pradeep and Mandakki (puffed rice) who symbolizes softness is played by Sachin while Chai is played by Namratha. The film is directed by a techie-turned-filmmaker and debutante Sanjotha.
According to Sanjotha, Mirchi Mandakki Kadak Chai is a fun film and an adventurous film for the youths. The film has been promoted on social networking sites with the songs going viral on the net. Pradeep who is the hero makes his on-screen debut as an actor and as a singer as well. Hari Kavya has composed the music and Ratish is the cinematographer. The film has been shot in Bengaluru and surrounding areas.