What you need to know about M S Sathyu's classic Garm Hawa.
Any discussion on Hindi cinema's great Indian classics will invariably bring up a mention of M S Sathyu's flawless directorial debut, Garm Hawa.
Based on legendary Urdu writer Ismat Chughtai's short story, Sathyu's film poignantly examines how the events of Partition in 1947 and Mahatma Gandhi's assassination in 1948 affect a North Indian Muslim family in Agra because of their unwillingness to migrate to Pakistan like many other members of their community.
Its intricate portrayal of complex human emotions pillared by Balraj Sahni's keen performance and Sathyu's masterful execution makes it a must-watch for every cinema aficionado.

Garm Hawa, which released in 1974, isn't as easily accessible as other acclaimed Hindi films.
The origins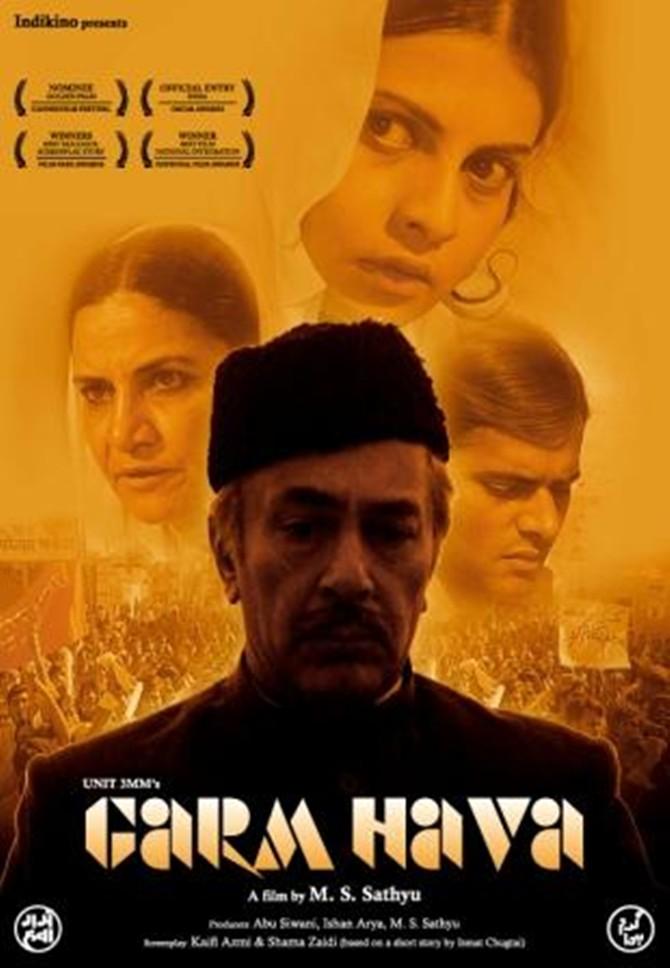 IMAGE: The Garm Hawa poster.
Made on a modest budget of Rs 10 lakh (Rs 1 million) using an Arriflex camera, Garm Hawa wasn't the film Sathyu planned to turn director with.

He approached the Film Finance Corporation (now the National Film Development Corporation, NFDC) with another script that was turned down for being too dark.

As an alternative, he pitched the subject of Garm Hawa, developed from Ismat Chughtai's story into a full-fledged script by poet Kaifi Azmi (also at the helm of its dialogues and lyrics) and Sathyu's better half, Shama Zaidi (credited for costumes as well).
The cast

Speaking of better halves, Kaifi Azmi's actress wife Shaukat Azmi plays Balraj Sahni's wife.

All five key figures (along with many other members of its then little-known cast) shared a common thread in the Indian People Theatre Association, IPTA, and their similar sensibilities contribute largely to the rich aesthetics of Garm Hawa.
Balraj Sahni's finest
Easily a milestone in his latter years, Balraj Sahni did not live to see the acclaim his performance, marked by restraint, intelligence and personal grief (he lost his daughter a year earlier), would garner in India or abroad.

The actor, just a month short of turning 60, passed away in April 1973, a day after he finished dubbing for Garm Hawa where his last lines happened to be 'Insaan kab tak akela jee sakta hai? (How long can a human being live alone?)'
Farooque Shaikh's debut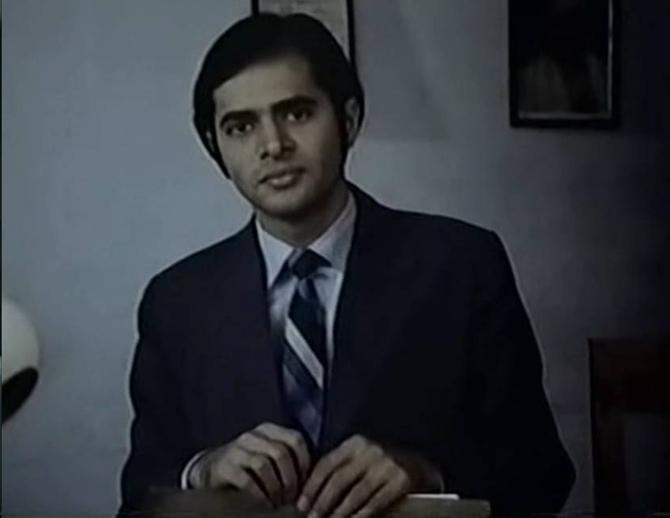 IMAGE: Farooque Shaikh in Garm Hawa.
The charming Farooque Shaikh made his acting debut as Balraj Sahni's rebellious youngest son.

How much remuneration did the then 24-year-old debutant receive? Rs 750.

Truth is, Sathyu didn't have enough money to make the film, but friends from various fields endorsed his vision enough to contribute in every capacity.
The lesser known cast members
The romance between Sahni's darling daughter and her two suitors forms an important track in Garm Hawa.

Gita Siddharth -- later married to television personality and Surabhi host Siddharth Kak-- is best known for playing Sanjeev Kumar's second wife in Trishul and Mithun Chakraborty's mom in Disco Dancer.
She is the beti in question. Jalal Agha is cast as one of the two aspiring suitors while Jamal Hashmi -- father of one of Bollywood's most respected actress, Tabassum Hashmi aka Tabu -- is the other.
A K Hangal and group
Other key members of its cast include A K Hangal, Yunus Parvez and India's pioneering fitness expert Ramma Bans as Jalal Agha's screen mum.
The reluctant contenders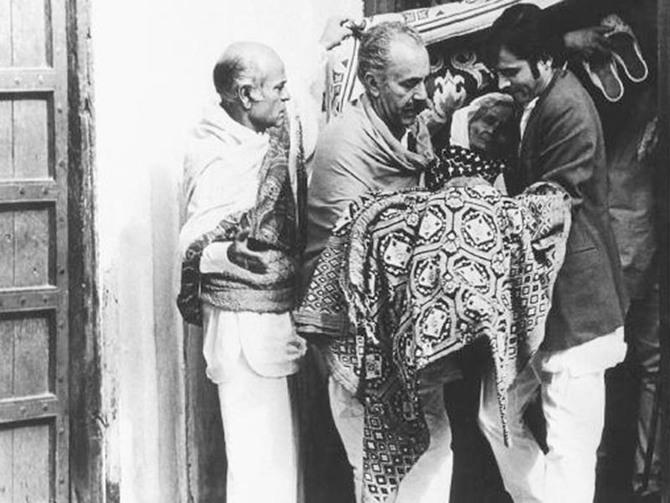 IMAGE: A scene from Garm Hawa.
Ghazal queen Begum Akhtar was Sathyu's original choice to play the role of Balraj Sahni's mother. But her husband objected to the same and had to decline.

Sathyu discovered the perfect candidate for the part in Badar Devi in Agra's Kashmiri Bazaar.
Of happy accidents
When Sathyu offered her the role, Badar broke down and revealed the irony of the moment, given how she ran off to Mumbai as a starry-eyed teenager for a break in show business, but found work only as an extra in Wadia Movietone's productions.

With the saved salary, she returned to Agra and was compelled to take up prostitution only to be approached for her dream moment after many years.

One of the best scenes in Garm Hava is Badar's last one. And yes, that is Dina Pathak's voice in the movie.
Commendable camerawork
Among its other notable features is co-producer Ishan Arya's poetic camerawork along with sarod player and (a frequent collaborator of Bengali filmmaker Ritwik Ghatak) Ustad Bahadur Khan's exquisite soundtrack.
Location troubles
Filming on location extensively in Agra and its historic landmarks -- the Taj Mahal and Fatehpur Sikri -- brought its share of challenges for Sathyu prompting him to send a second unit with a fake shooting set-up to deflect attention from the real deal.
Censorship woes
IMAGE: A scene from Garm Hawa.
Sathyu's film struggled with the Censor Board.

The first 10 months he failed to obtain a certificate to show his film in India.

A committee in Mumbai felt the film deserved to be banned as it could rouse communal disharmony. A review committee was more reasonable, but not enough to get things rolling.

Desperate to get his creation in theatres, Sathyu arranged a screening for then prime minister Indira Gandhi.
Theatrical release
Her approval aided its initial limited release.

Though its premiere was hosted in Paris, Garm Hawa first opened in two theatres of Bengaluru (Sagar and Sangeet), where it met with a promising response, followed by Mumbai and eventually, the rest of India.
International recognition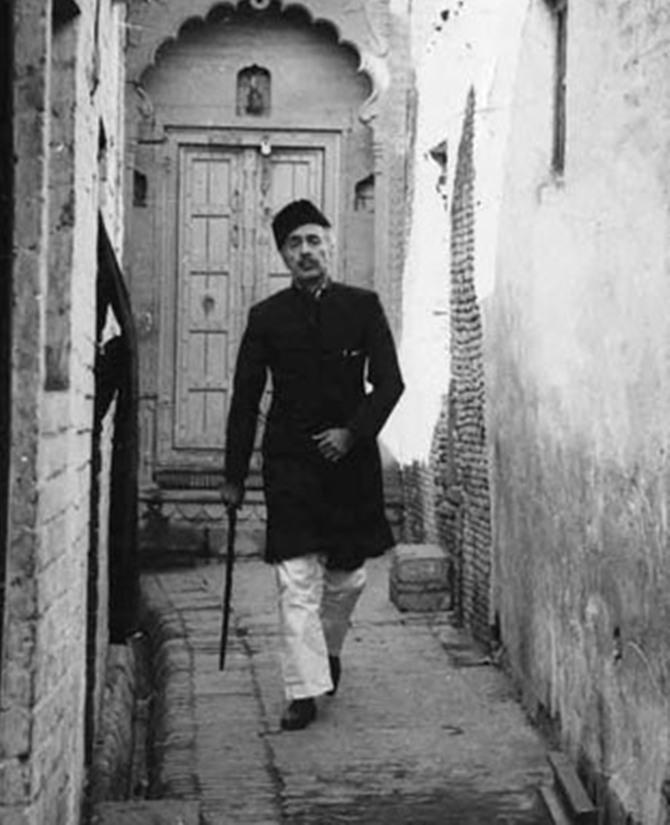 Image: Balraj Sahni in Garm Hawa.
Garm Hawa competed for the Palm d'Or at the Cannes Film Festival, but lost out to Francis Ford Coppola's psychological thriller, The Conversation.
National Award glory
From facing a near ban for its potentially inciting content to winning a National Award for Best Feature Film on National Integration, Garm Hawa's solid storytelling makes its point in true cinematic style.