'Truth is stranger than fiction. You cannot think these things up.'
'What happens is weird enough.'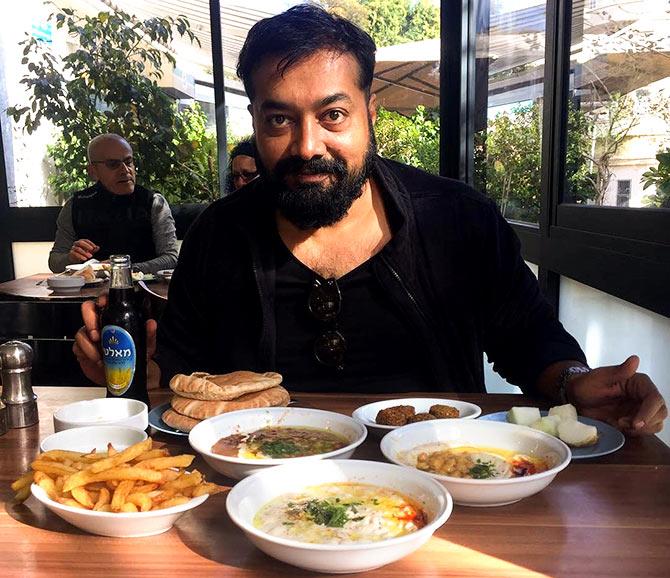 IMAGE: Anurag Kashyap digs into the 'best' hummus in Tel Aviv. Photograph: Kind courtesy Anurag Kashyap/Instagram
Anurag Kashyap isn't one to waste time during interviews.
After wrapping up a couple of conversations, the director breaks for a quick lunch and resumes chatting after 15 minutes.
As he nears the end of the interview, he asks the PR, grin plastered on his face, "Ab main so sakta hoon? (can I sleep now?)"
Anurag is busy promoting Mukkabaaz, which has won accolades at film festivals in Mumbai and Toronto, and will be released on January 12.
The gritty film-maker has another side: As a dad. He loves to post pictures of his teenage daughter Aaliyah, and tells Rediff.com's Jahnavi Patel how he embarrassed her recently.
Mukkabaaz received a standing ovation at MAMI. It got a positive response at TIFF. How excited are you about the film's release in Mumbai?
I am very anxious. I want to see how people react to it. I am excited, nervous, all things.
Any expectations?
No, not expectations. I obviously want the film to work because there are so many new people involved in it.
For me, they matter.
When they take off, I will feel happy.
When my people take off, I feel very happy. It empowers me a lot.
The success of my actors, music directors, empowers me.
Is that why you choose to work with new talent?
No, I pick new talent because I am selfish.
I want them to give me the kind of time only new people can give me.
I want them to be fully available during the shoot.
I want them to give me years of preparation.
Vineet (Kumar Singh) and Zoya (Hussain) gave me eight months before the shoot and all the time after the shoot.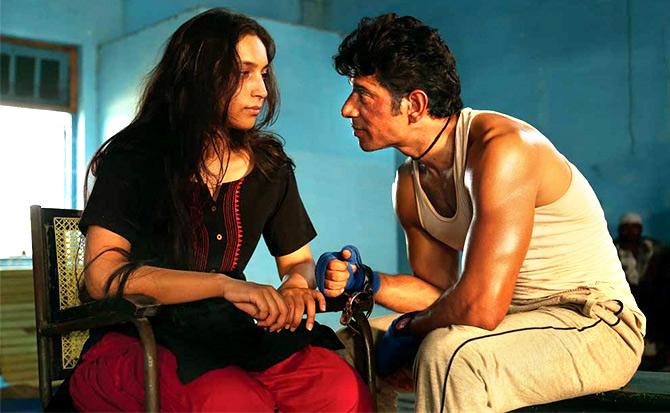 IMAGE: Vineet Kumar Singh and Zoya Hussain in Mukkabaaz.
Vineet was struggling to find a producer for the film for almost three years. What made you co-produce, direct and co-write the film? How do you know him?
I have known Vineet a long time. He's a distant cousin. But my family is very scared of me because I am so anti-family! I am tougher on the family.
He has been in Mumbai since 2000, but he didn't dare meet me till 2010.
I was like first go and do something on your own. Then, meet me.
After he had done some 10 years with Mahesh Manjrekar, he came to me.
I told him I would give him a small role, but he had to test for it.
He gave a good test but was fat. So I told him to lose weight. I gave him a month to lose 10 kilos and he did it.
That was for Gangs of Wasseypur. That's when I realised yeh aadmi kar sakta hai (this man can do it).
I have been trying him out with experimental roles and he has always delivered.
He asked me, 'Why don't people give me big roles?' I told him if he really wanted to do a bigger role, he should do it himself.
So he went and wrote a script. I refused to read it and he tried the script for two years.
Then, he asked me to help. I took the script, and the problem was very apparent.
It wasn't dishonest. But then came those 10 pages in the script which were very honest.
I told him your film lies in these 10 pages, the rest is bulls**t. In the rest, you are trying to be Salman Khan.
Those 10 pages were so interesting that I said I would work on it.
He asked me if I would direct it, and I said yes.
The condition was if he doesn't become a boxer, I will not make the film.
How satisfied are you with your leading man?
I am very happy. Half the battle is won with the right casting.
He becoming a boxer was beyond my expectation. I wanted him to look authentic, and he actually became a boxer. It made my film better.
The same thing goes for Zoya. I wanted her to learn sign language. She gave eight months and did that.
I have magical actors.
The film has a political angle to it. How much of it is inspired from true events?
All of it is (inspired by true events). I always get inspired by true things.
Truth is stranger than fiction. You cannot think these things up. What happens is weird enough.
Everything is political today... the price of vegetables, a small bottle of mineral water...
You are making another sports movie, recreating the 1983 World Cup victory.
There is a lot of excitement! Kabir (Khan, director) is super excited and trying to create it.
Every day is going to be exciting. We found our (Sunil) Gavaskar, Roger Binny, Madan Lal, Mohinder Amarnath...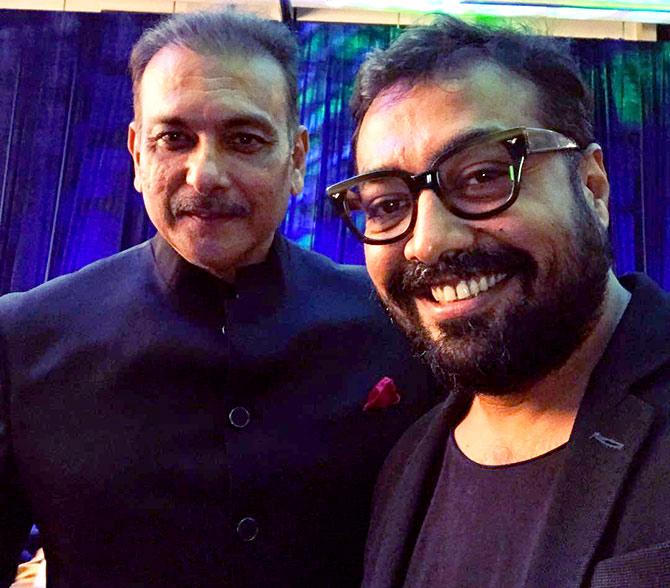 IMAGE: Anurag Kashyap has a fanboy moment with Ravi Shastri. Photograph: Kind courtesy Anurag Kashyap/Instagram
Cricket is religion in India and people get offended very easily these days. How cautious are you about the script?
The whole team is involved with the film. It's all based on facts.
How much they can remember and tell us is on them. Everything is based on their account.
You couldn't control your inner fanboy from clicking pictures with Sourav Ganguly, Sachin Tendulkar and Ravi Shastri...
And they know me!
I walked up to Ravi Shastri and he was like yeah, of course I know you and they took my number.
They also sent me a message. I was so happy! My day was made!
My daughter was going mad. She was like 'Papa, you are behaving like a child!'
I said, 'Do you know who Ravi Shastri is?'
She said, 'Papa, relax, chill. Don't embarrass him.'
I was fawning over Sachin and Sourav and she was clicking the pictures. She found me very embarrassing!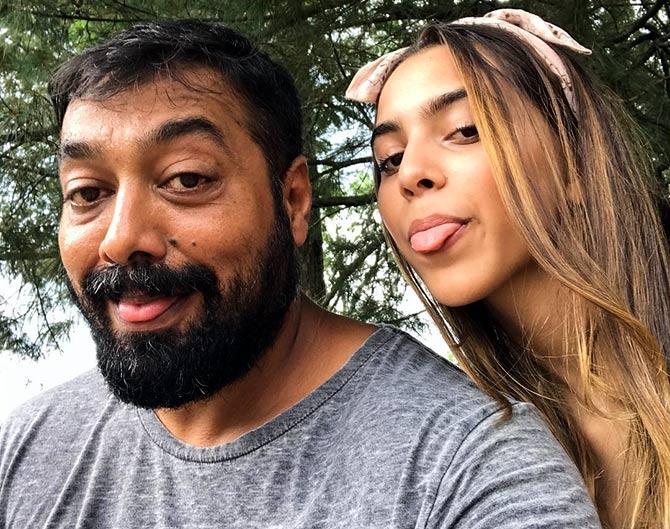 IMAGE: Anurag's daughter Aaliyah makes him 'pose like a teenager'. Photograph: Kind courtesy Anurag Kashyap/Instagram
We love seeing your pictures with your daughter on Instagram. Are you a very protective father?
I love her to death.
Protective, matlab? What is protective?
She does what she wants to do; I don't control her life.
I think I am like her best friend; she is not scared of me.
We talk about things, we goof around, we have fun.
She is my life.
Has your daughter shown interest in the movies?
So far, no.
She has shown more interest in fashion.
She has done the costumes for Ira Ali's short film, Lift. Her interest is mostly in fashion, I think. I haven't even asked her.
She is too young to decide.
She's a celebrity already. How does she deal with it?
She does it better than me! Kids today know how to handle things. She is smart.
I saw your short film, Churri.
Why? Why did you see it? Total exploitation (laughs).
Tell us more about it.
Tisca (Chopra) just called me and asked me to do it. She told me, 'You are the only guy who can laugh at yourself. You can make fun of being a man.'
I said 'that doesn't mean you exploit me'.
It was an all women crew. They kept me in my boxers all day!
I don't have a body like Vineet Kumar Singh. I have my little paunch.
I was like at least get a man with a decent body; at least do a body replacement for me.
But they kept me like that and didn't let me wear anything else but the boxers. They were laughing at me all day.
'All the men who exploit women in this industry,' Tisca said, 'you are paying for them.'
Does box office matter to you?
Yes, it does. One day I want my film to be a clean box office hit.
Is there a recipe for that?
I have tried everything in Mukkabaaz. Let's see if the recipe works.

IMAGE: Anurag tucks into Turkish food. Photograph: Kind courtesy Anurag Kashyap/ Instagram
How do you measure success?
I think I am pretty successful because my idea of success is: Do I have the freedom to do what I want to?
Do I take that freedom when I write a film? I get it made easier than most people.
My budgets are less, I work with newcomers, I do things other people don't.
For me, these are measures of success. I make more films.
I am constantly busy.
If that is not success, what is?
I might not have a lifestyle, but it doesn't matter.
I am still obsessed with shoes. I like my jackets. I drink good whiskey. I drink good coffee.
By that measure, I have success.
Yeah, I don't have a fancy car or a fancy house or live in a fancy apartment. I have my whiskey, my coffee, my shoes and my jackets!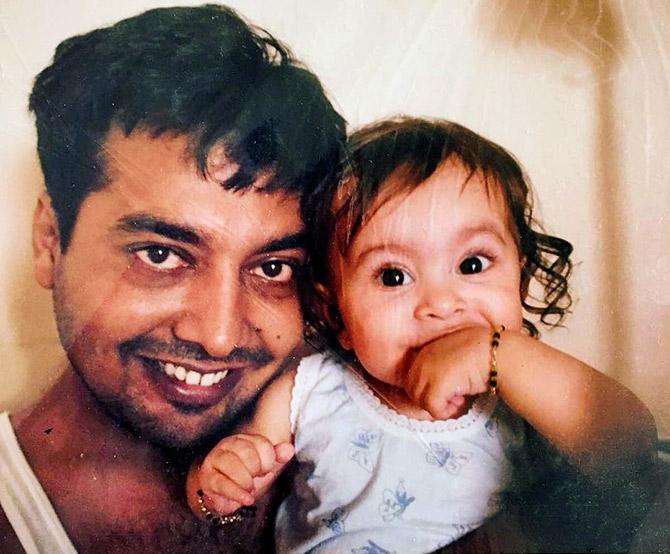 IMAGE: Anurag Kashyap, in flashback mode with little Aaliyah. Photograph: Kind courtesy Anurag Kashyap/Instagram
Your Bollywood journey has had a lot of ups and downs...
I complete 25 years on June 3. 25 years in this city. I am going to celebrate it.
How would you sum it up?
It's been beautiful. I would not change a thing.
Yes, there have been a lot of ups and downs. But everything gives you something.
I have had a very satisfying journey.
I have a lot of stories to tell.
I have had a great life.
What was the turning point of your professional life?
My turning point is when people who meet you, they kind of become your mentors.
I have had three moments like that -- meeting Makrand Deshpande, Ram Gopal Varma and Shivam Nair.
These were my big turning points in life.
My fourth turning point was that one phone call when I wrote a script for Shivam Nair.
I asked, 'Can I direct my own script?'
He asked, 'Can you?'
I said, 'I want to try.'
So he said, 'Go ahead.'
That was Last Train to Mahakali. And I decided I wanted to direct.
Which film is closest to your heart?
It's always the abandoned ones, the ones that people killed, like No Smoking or Bombay Velvet or The Girl In The Yellow Boots.
Ugly and Yellow Boots were close to me.