'... but I am waiting for the right script.'
'The day I get the right script, I will work with him.'
'One person I would love to work with is Mr Bachchan.'
'The day I get the right script, dekhna main kya kar doonga!'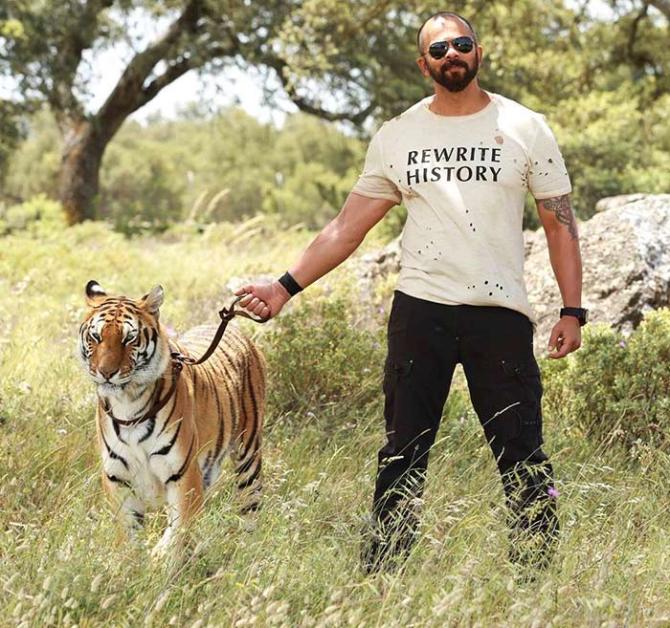 IMAGE: Rohit Shetty. Photograph: Kind courtesy Rohit Shetty/Instagram
Rohit Shetty is undoubtedly one of the most successful commercial filmmakers in Bollywood.
Despite the fact that his films cross the coveted Rs 100 crore mark effortlessly at the box office, his brand of cinema is termed as 'brainless' by a certain section of the critics.
Challenging them year after year, the director this time is all set to tickle your funny bone with the fourth installment of his successful franchise, Golmaal.
Ahead of its Diwali release, Rohit Shetty settles down for a quick chat with Urvi Parikh for Rediff.com to talk about Golmaal Again, working with Salman Khan and Ranveer Singh and being panned by the critics.
The fourth installment of Golmaal took almost seven years. What took you so long?
We had cracked the idea during Golmaal 3, but couldn't crack it at the level we wanted to.
The basic idea was in place, but then we started making Singham, Bol Bachchan, Chennai Express and all the other films.
During Singham Returns, we felt that there is a need to revisit Golmaal again.
We started working on it and it took around two to three years for it to get made.
Horror-comedy isn't explored in Bollywood. Was it a conscious thing to make Golmaal Again a horror-comedy?
The plan was to make a horror-comedy.
What was the motivation behind it?
My face (laughs).
When I looked at the mirror, I felt I need to make a horror-comedy.
It has been a long time since there has been a horror-comedy with a big cast.
In the south, of late, there have been a lot of successful horror-comedies.
This is a genre not explored much over here and I think it would work.
If you see the promo of our film, the positive response we have got is mostly because of the horror elements.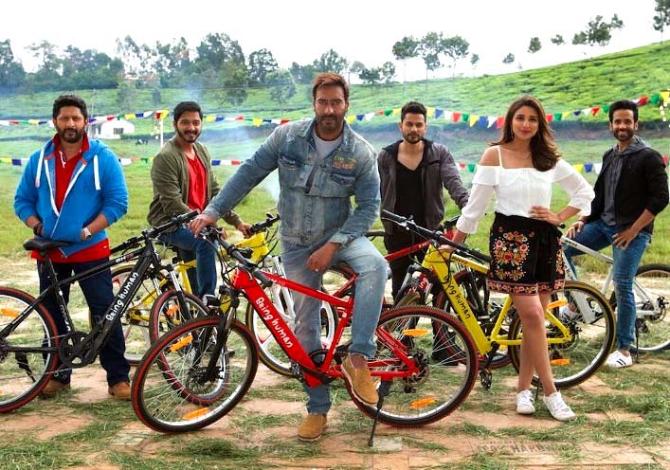 IMAGE: Arshad Warsi, Shreyas Talpade, Ajay Devgn, Kunal Kemmu, Parineeti Chopra and Tusshar Kapoor.
Is it more of a pressure to live up to the audience expectations from the Golmaal series?
This was the most difficult Golmaal for us to write.
I wanted it to be bigger and grander because I didn't want the audience to feel this is similar to Golmaal 3 which released seven years back.
It won't be right on our part to cash in on the title and the characters.
So, apart from the scripting, we have even upped the technical part.
Are you relieved that Judwaa 2 has done well at the box office?
We (Ajay and I) wanted Judwaa 2 to do really well because it was a starter to change the whole perspective. It always helps.
If you want your film to work in a lull period, there should be one film which does well so that the audience start coming to the theatres.
Judwaa 2 did that for us. I'm really happy that it did well.
Will there be a Golmaal 5?
It depends on what happens this Friday.
If people like Golmaal Again, there will definitely be a Golmaal 5.
I think Golmaal Again is in a good space and, as a director, I think it is in a happy space.
The Golmaal audience will enjoy the film; this is something I am confident about.
Kids are the biggest audience for my films and that's an audience base I don't want to disappoint.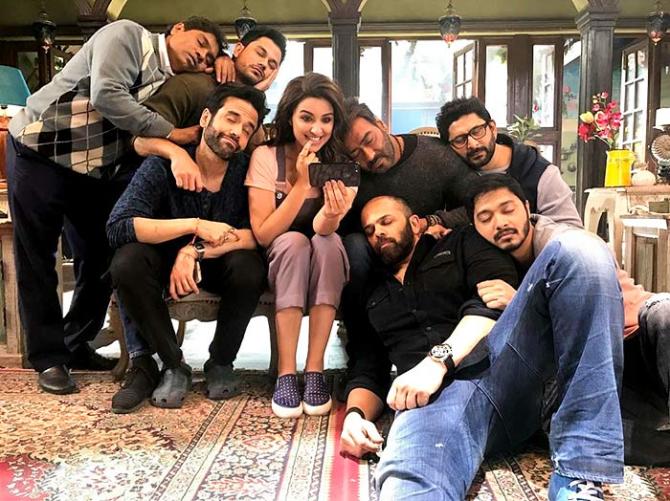 IMAGE: Johnny Lever, Kunal Kemmu, Tusshar Kapoor, Parineeti Chopra, Ajay Devgn, Arshad Warsi, Shreyas Talpade and Rohit Shetty. Photograph: Kind courtesy Rohit Shetty/Instagram
Rohit, does the pressure increase when you are called one of Bollywood's most successful commercial filmmakers?
The pressure is there, but you have to deal with it by working hard.
I will be nervous to see the audience reaction to Golmaal Again, but I don't have the pressure with regards to the content of the film.
I have worked hard on this film and there is a lot of honesty in the work. Rest, the audience will decide.
Your films perform extremely well at the box office. Despite this, not many critics appreciate you or your movies...
I am that father who brings in the money, but has no value in the family.
I think, the day we change the functioning of the industry by focusing on footfalls, things will change.
That day, people will not say, 'Arre, paisa banaya toh kya hua? (So what if the film made money?)'
It's not about the money, it's about the number of people watching the films.
What is the status of Ram Lakhan 2.0?
We wrote a draft, but I wanted two big heroes to do the film.
Someday, I will make that film. Right now, it is on the backburner.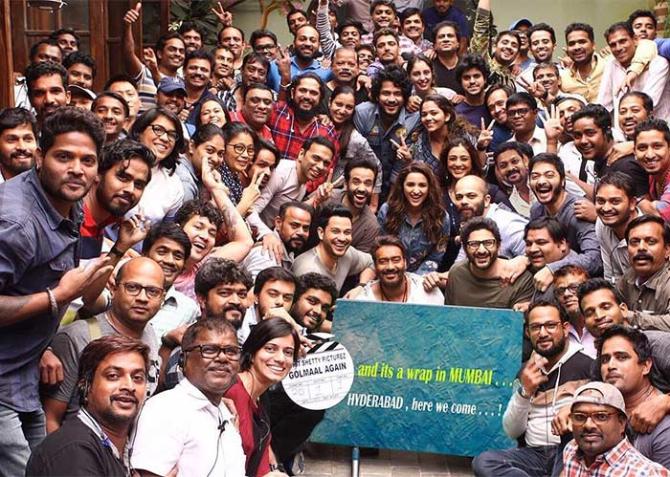 IMAGE: The cast and crew of Golmaal Again after their Mumbai wrap up. Photograph: Kind courtesy Rohit Shetty/Instagram
Your films are generally multi-starrers. Any reason why these kind of films aren't being made much in Bollywood these days?
I don't know why people are not working together.
There should be multi-starrers as, business wise, it is a safer preposition.
The audience wants to see two heroes work together and that definitely adds on to the buzz.
Ajay Devgn, Akshay Kumar and Suniel Shetty have done so many two hero films, so I think even the younger lot of actors should start doing them. It will definitely work.
Ultimately, it's the film which has to do the talking, but two hero films have a definite audience.
Do you think the younger actors don't understand cinema the way seniors did?
I have worked with Varun (Dhawan) and I have interacted with him a lot. He is one of the young actors who understands our cinema.
He is balancing his work by doing a film like Judwaa 2 as well.
Apart from him, there is Ranveer (Singh). I will work with him soon.
I know these two boys personally and they have that sensibility.
Varun, Ranveer and even Arjun (Kapoor) for that matter are on the right path where they want to do all kinds of cinema.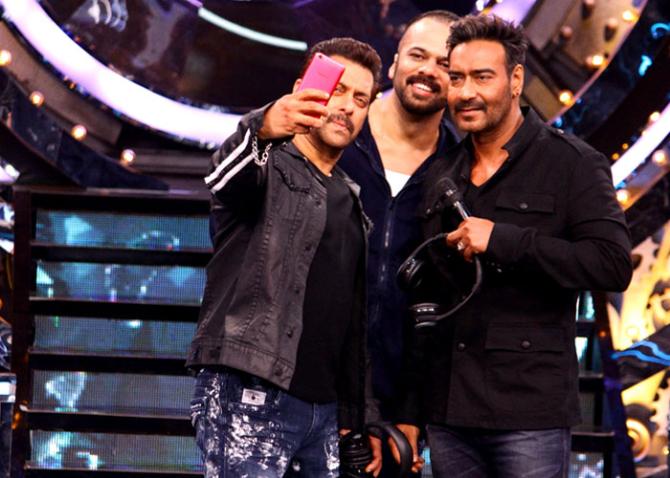 IMAGE: Salman Khan takes a selfie with Rohit Shetty and Ajay Devgn on the sets of Bigg Boss.
Any actor who has been on your wishlist?
One person I would love to work with is Mr (Amitabh) Bachchan.
The day I get the right script, dekhna main kya kar doonga! (look at what I do!)
How about doing a film with Salman Khan?
You are the 10,000th person who is saying that you guys should do a film together.
Everybody says that Salman and I would make a lethal combination, but I am waiting for the right script.
The day I get the right script, I will work with him. He is such a big star.
Haven't you ever thought of a Singham--Dabangg crossover?
I have that in mind, but I won't tell you what it is.
I want to make something like that some day. We should cross-brand films.
Gradually, whatever is happening in the West will happen here as well.
There is no script in place now, so I can't say when it will happen.