'The audience will make you a superstar or will reject you, no matter whose son or brother-in-law you are.'
Salman Khan launches newcomers Aayush Sharma and Warina Hussain in his new production, LoveYatri, releasing October 5.
Aayush is his brother-in-law; he is Salman's youngest sister Arpita's husband.
Salman takes us through LoveYatri, his own days as a newcomer, and also talks about his love at first sight experience: "It happens again and again!"
Rediff.com contributor Ramesh S takes notes.
A newcomer from a filmi family comes with advantages as well as disadvantages, and Aayush Sharma feels it too. What's your take?
That's why I am staying as far away as possible from LoveYatri, so much so that my sister might think I don't like Aayush and am not supporting him! (laughs)
When we did Hero with Sooraj Pancholi, I just did one promotional song for him.
I sing that song wherever I go for shows, but these things do not translate into people going to the theatre to watch a film.
The film has to be good.
The trailer must make you want to watch it. After that, comes word of mouth.
Sometimes, even our films don't work well.
When people ask me to do guest appearances and think the film would do well, it brings me back to earth.
These cameos might just be a new element to sell a film, that's why we do such things.
It brings us closer to each other as an industry and that's a good thing.
Sohail (Khan, his youngest brother) saw Aayush in a gym. If not me, somebody else would have launched him.
He has been training and working really hard.
Because I worked with (director) Abhiraj (Minawala) in Sultan, I thought he was a very sorted guy.
I knew this nepotism topic would crop up.
He (Aayush) is the son of a politician. How can you put him into this nepotism thing?
This is the only one place where nepotism cannot work at all.
The audience will make you a superstar or will reject you, no matter whose son or brother-in-law you are.
I am a writer's son.
Ajay Devgn is an action director's son.
It's the audience who decides what they like and what they don't.
You may be the best looking guy or the best actor, but they may reject you.
It's become very competitive today.
At the end of the day, it's all about hard work.
You need to change your weakness into your strength.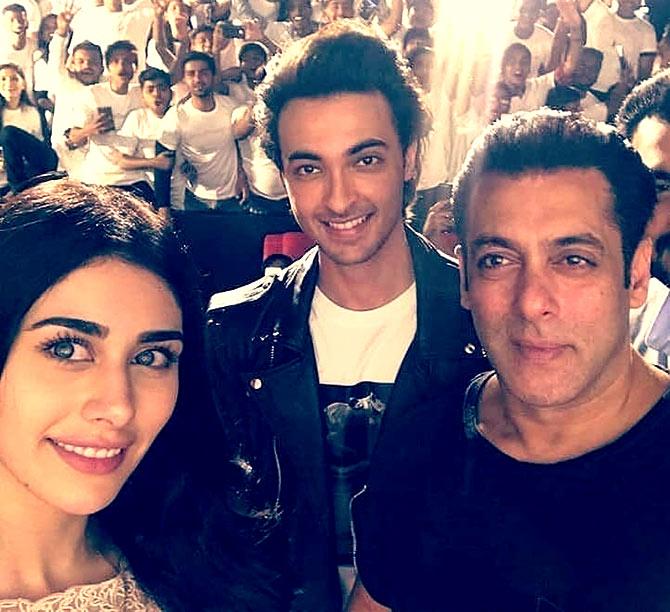 You made your production debut with the successful film Chillar Party. What challenges do you face as a producer?
When you are launching somebody, it's a huge responsibility and you need to be very careful.
If they make it, it is the happiest feeling.
Whoever you have launched or worked with, I believe you should never stop working with them.
People keep coming in, but you worked with them because you thought there was something in them.
Maybe it did not work, but you should keeping working with them.
Now, we have a production house and we are even doing TV.
There will be a lot of work for everyone.
You can work on TV for years and years, there's steady income.
TV actors, who have been in the industry for just a year, already own a 3BHK-4BHK flats.
Television is looked down upon, but the reach of that medium is phenomenal.
I remember we did a Dus Ka Dum episode with Aamir, and got a rating of 3.2.
But when these four actresses from TV -- Sara Khan, Pratyusha Banerjee, Ratan Rajput and Ragini Khanna -- came on the show, the ratings shot to 5.8.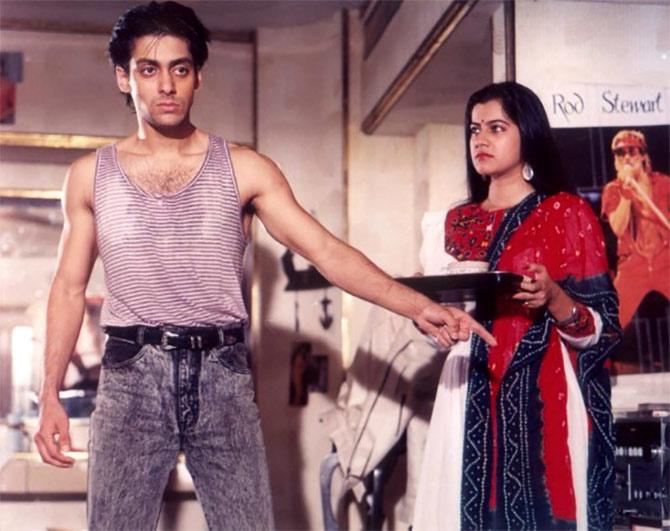 Can you tell us about the time you made your debut with Biwi Ho To Aisi?
I remember my friend Rajeev -- whom I used to fondly call Mithun because he resembled Mithun Chakraborty -- and I went on a bike to the Minerva theatre.
We reached after the film had started.
Somebody recognised me during the interval, and I just ran away from there. They kept following us downstairs.
My friend was really happy for me. That was one of the most happiest moments for me.
Then, we went to the Satyam Shivam Sundaram theatre. David Dhawan's film had released then (Sunny Deol-starrer Aag Ka Gola), and both our films were running simultaneously.
I had gone to him at one point to ask for work because he has worked with my dad.
He told me he couldn't give me work because he too was out of work.
I remember him looking at me, clearly thinking, 'What will happen with this poor chap? His film just has 18 prints."
But when he opened the door of the theatre hall, he got the same reaction and he was like, 'Aapni gayi!'
I am fortunate that even my flop films do business of over Rs 100 crores.
Yesterday, I told Aayush and Warina that even if you deliver a flop film, it should make Rs 170 crores at the box office.. So now they have the pressure of a flop film. (laughs)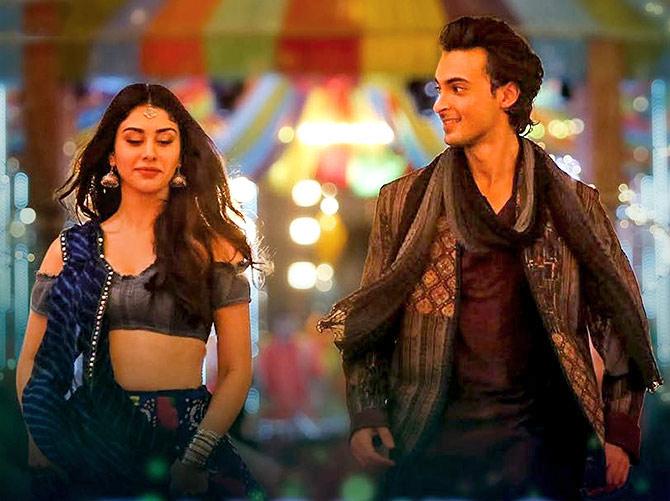 The Dholida song from LoveYatri is getting a good response, just like your song Dholi Taro from Hum Dil De Chuke Sanam .
That will take a long time.
If LoveYatri turns out to be a Maine Pyar Kiya, it will still take 10 years to reach that place.
As far as Warina, Aayush and Abhiraj are concerned, I think they have done a fabulous job.
I was quite shocked to watch Aayush dancing.
He went through a lot of rehearsals. He is competing with actors like Tiger Shroff and Varun Dhawan. These guys dance really well. So, you need to be that good.
LoveRatri was changed to LoveYatri. Was that a conscious decision after some people got offended?
If a film worked purely on the basis of a title, you would have seen just the title outside the theatre. But it's not like that.
LoveYatri is a beautiful, sweet love story, like how films were made earlier.
Because it is a love story around a festival, we titled it LoveRatri, but some people got offended.
So we went to the censor board and they suggested that we change the title.
We said there is not one thing in the film that will hurt people's sentiments. They agreed and told us not to change the title, but instead add a tagline to it.
But I felt let us change the title.
In fact, we even joked about how no would want to watch such a clean film today.
Aayush and Warina's characters in the film fall in love at first sight, your fans would like to know your 'love at first sight' experience...
It happens again and again.