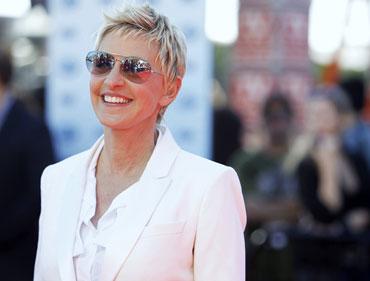 Like infamous judge Simon Cowell before her, Ellen Degeneres is leaving her position as judge on Fox's hit show American Idol, saying it was not the 'right fit' for her.
Earlier, Degeneres has signed a five-year contract worth millions of dollars; but the actor, comedian, and talk show host on Thursrday announced she's ready to leave the show after just one season.
Web site Deadline.com reported singer and actress Jennifer Lopez has been tapped to replace DeGeneres, and said a deal had been reached between the two parties.
The New York Times reported that Fox declined to comment on the report, but added that 'a person familiar with the deal confirmed the report'.
Other names being floated on websites and in magazines include musicians like Chris Isaak, Elton John, Jessica Simpson and Justin Timberlake.
Now, just two judges remain: Randy Jackson and Kara DioGuardi. With singer auditions already underway for its 10th season, the show stands a crossroads.
How to go forward?
American Idol's former executive producer, Nigel Lythgoe, who now produces and judges another Fox reality show, So You Think You Can Dance, had said earlier this year that if he were still calling the shots at Idol, he would replace every judge on the show.
Still, despite its slow decline in ratings, American Idol remains a massive success. The New York Times says the show generates at least $800 million in advertising revenue per year.
Reports say that one reason Ellen has left the show is that she felt uncomfortable judging -- and crushing the dreams -- of so many contestants.
Image: Judge Ellen DeGeneres arrives for the 9th season finale of American Idol in Los Angeles in May, 2010. Photograph: Mario Anzuoni/Reuters