Dulquer Salmaan has chosen a career path very different from his father, the iconic Mammooty.
"It had to be different from his," he explains to Subhash K Jha.
"I couldn't possibly do what he had already done. He has a larger-than-life image. It made no sense to walk in his footsteps.
"There is a nothing like a 'born actor'. It's all about honing the skills. Duplication never works for anybody. Why would it have worked for me?" Dulquer asks.
"I chose my own path because that was the only way to go. At the same time, I have to admit that there was an advantage in being my father's son. The debut film came easier to me than it would have if I was an outsider."
So would he like to do a film with his father?
"The thought has crossed the minds of many film-makers," Dulquer replies.
"We have had quite a few offers to work together. But no. I don't think that's a good idea. The comparisons would be unacceptable to me. So unless it is something that offers a truly special challenge for us to come together, it is unlikely that we will work together."
While we wait for that unlikely event to happen, Subhash K Jha lists four interesting Dulquer movies on his birthday on July 28.
Mahaniti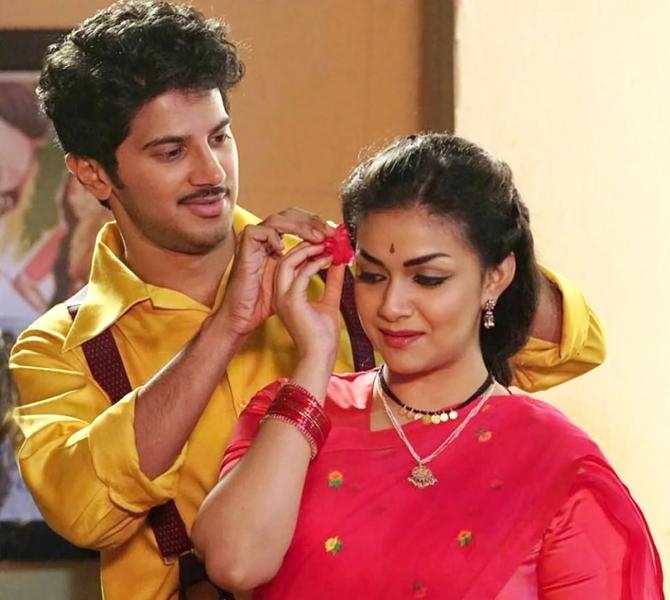 Dulquer's Gemini Ganesan is a masterly portrayal of the male ego swathed in superficial compassion.
Again, like Keerthy, Dulquer steers the performance away from being imitative.
Bravely, the film does not gloss over the unpleasant aspects of Savitri's life.
The marriage to the much-married Tamil matinee idol Gemini Ganesan (played with an endearing vigour by Dulquer) and the subsequent clash of egos, her lapse into alcoholism and her eventual plunge into penury are all dealt with a blend of melodrama and poignancy.
The mix can be infuriatingly overblown for the uninitiated but highly satisfying for those who are familiar with the drama of deceit, depression and descent that governs many success stories of the entertainment world.
OK Kadhal Kanmani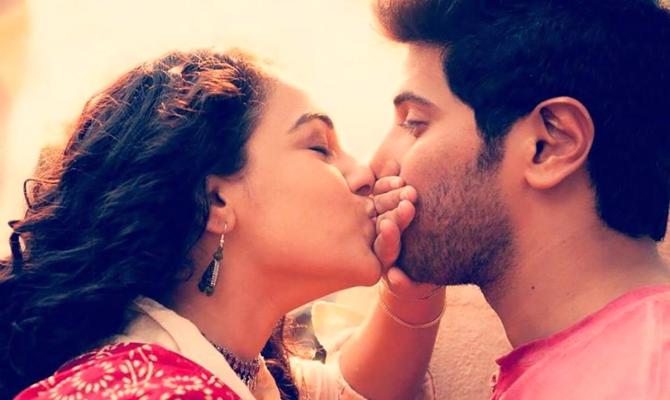 I was reminded of Vivek Oberoi and Rani Mukerji and the life they tried to make together in Saathiya after marrying under trying circumstances.
In Mani Ratnam's delightful drama of love without commitment Aditya (Dulquer) and Tara (Nithya Menon) don't just shy away from marriage and the accompanying obligations, the splendidly scripted drama makes a valid case for the Mumbai couple to stay unmarried.
Ratnam's lovers ooze a poised charm without getting overly cute.
Dulquer and Nithya are so compatible together that you wonder what's keeping them from taking the plunge.
They look made for each other.
Mani Ratnam remains the master of vignettes. He weaves in precious little scenes of distending drama that exude passion.
The romance is vast in scope but not immeasurably 'epic'.
The young actors know their job and do it with a flair that tenders a deep empathy for their characters.
We can't help falling in love with the love that Aditya and Tara feel for one another.
Railway tracks and compartments crowded with impatient commuters serve as a meeting ground for Mani Ratnam's young lovers in Ok Kadhal Kanmani.
Karwaan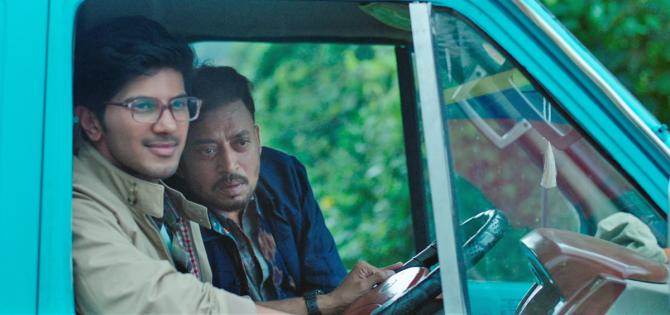 Irrfan and Dulquer together is reason enough to sink your teeth into this tale of a weird yatra.
In a sequence that would have been amusing if it were not so tragic, a beautiful lady (Amala Akinneni) looks at two coffins and tells Dulquer, 'The right one is your father.'
Dulquer says after a sigh: 'So far, the right one was the wrong one for me.'
Excavating humour from the innards of mortality is never easy.
Writer-Director Akarsh Khurana attempts the near-impossible and comes up with a film that never offends, even when it poses some serious problems of pacing.
You know that the film is looking for ways to keep the journey going when there are unnecessary detours on the way. And why not? Dulquer's Avinash is a repressed, unhappy geek, who hates his bullying boss (Akarsh Khurana) and wants to break out of his dungeon and just shoot pictures with an actual camera, not its digital doppelganger.
Karwaan has much that is wrong with it.
But it also has plenty that pleases, a warmth and an empathy for the misfits that makes it a very endearing road trip.
The Zoya Factor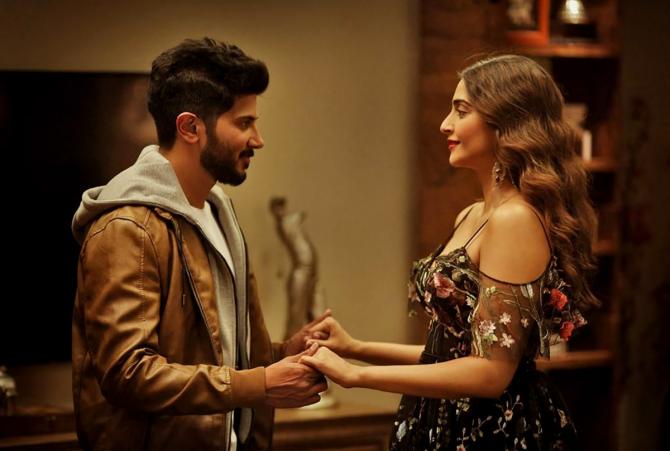 Dulquer plays the captain of the cricket team which 'adopts' Sonam Kapoor's Zoya as their lucky mascot.
He's the only saving grace in this adaptation of an interesting novel.
Dulquer's reined-in performance works to pan out Sonam's excessively exuberant portrayal of a girl, who is so hellbent on creating a stir that she ends up courting chaos.
So far, Dulquer has not been lucky in his choice of roles in Hindi cinema. That needs to be rectified.