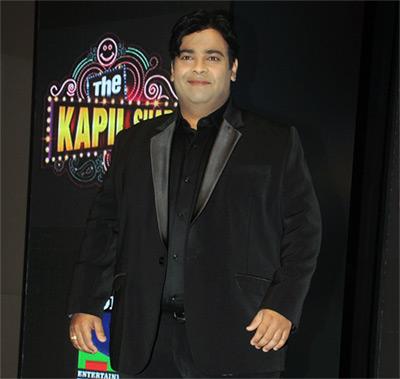 'We crack jokes and our motive is to make people laugh. We do not deliberately try to hurt anybody.'
Comedian Kiku Sharda gives some good advice.
After playing the annoying but hugely popular neighbour Palak on Comedy Nights With Kapil, Kiku Sharda is all set to return to the small screen in a completely new avatar.
The actor will join Kapil Sharma in his new comedy series called The Kapil Sharma Show.
Ali Asgar, Sunil Grover, Navjot Singh Sidhu, Chandan Prabhakar and Sumona Chakravarti also feature in the show that will go on air on April 23 on Sony Entertainment TV.
As Kiku Sharda gets ready for his new outing, he talks to Rediff.com contributor Rajul Hegde about The Kapil Sharma Show and his infamous arrest for mocking Gurmeet Ram Rahim Singh.
People loved your character Palak in Comedy Nights With Kapil. What will you play in The Kapil Sharma Show?
I could play a women character again. We have not narrowed down exactly what the characters would be like on the new show. Palak was loved because of her style and attitude.
As an actor, I would like to explore other things too. I interact with people on a daily basis, and observe them and new ideas come to my head. Plus, we have good bunch of writers too.
Will your new show be a family set-up like the earlier one?
This time it's not a family set-up. It would be more like a street where people are living.
There will be different people coming in, like how Palak and Gutthi used to come on the show, they were not family. So it may be something like that.
Since CNWK was successful, will it be easier for viewers to have a recall value when you come back with a new show? Also, will there be more pressure as people will compare your new show with the earlier one?
We are popular enough or big enough to attract the audiences. They might compare us to what we have done before but that is not the pressure an actor should be taking.
Personally, I have been doing fiction shows for a long time (14 years), and I have played multiple characters. Some have worked and some haven't. I don't feel low if they don't work.
It's the team that makes the show a success. I am pretty confident about my team of actors and the bunch of writers that we have. I think we are on the right track.
There was so much of criticism when the team left Comedy Nights. Did it hurt you?
You love the house you're living in, but for whatever reasons, you can change it. You need to respect the surroundings of a new place that you have come to. For me, they are actors and so are we. Our motive is to entertain the audience, and make them laugh.
Nobody needs to take digs at each other. If someone does, it's unnecessary.
You throw me into any new show and tell me this is the setup, and the actors. My job is to sit with them and discuss ways to make people laugh. That is all I need to focus on, not what others are saying. I respect all the channels I have worked for. I have no love lost or preference for any particular channel.
Amidst all this, you were arrested for spoofing 'godman' Gurmeet Ram Rahim Singh. How much did it affect you and your work?
It was tough for a couple of days. I was irritated, and it's not the best thing to happen to anybody. We crack jokes and our motive is to make people laugh. We do not deliberately try to hurt anybody. I said sorry to them because they didn't like it.
But the way it happened, the series of events, was quite unfortunate and unnecessary.
But even after that, I tell people not to take your life so seriously. Be easy. I invite jokes on me on being fat. There are times when I suggest lines they (the writers) can say about me.
I would suggest, just take it easy.
The case is on, the channel (Zee TV) and the lawyers are handling it.
Will you be cautious with jokes hereafter?
I am not going to be extra careful because I have always been careful. My motive is not to hurt anyone. If someone says this joke is going to make people angry, not laugh, I will probably avoid that joke.
I had only seen the promos and the poster of the MSG film. That's all I knew. I didn't know that he is a godman and has followers. I am not dying to do stuff which will hurt thousands of people. Why should I?
What are you doing apart from TV shows?
I have almost finished shooting for the comedy thriller 2016 The End. It's about four friends and I play one of them.
It has been directed by Jaideep Chopra and will probably release in May or June.