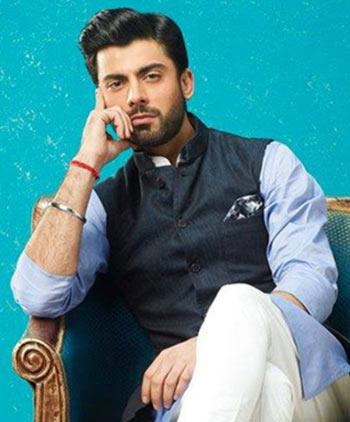 The forced ban on Pakistani actors sends out a disturbing message, says Saibal Chatterjee.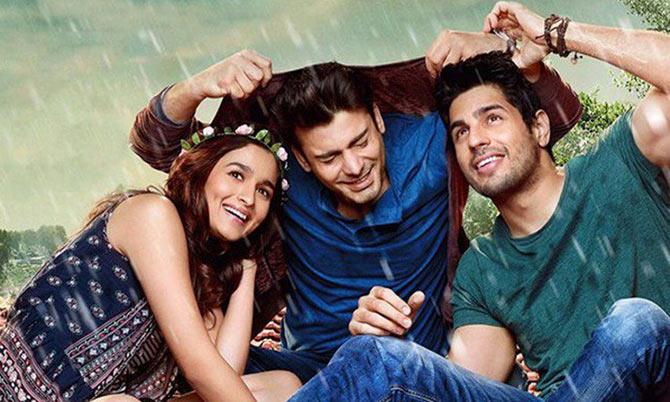 IMAGE: Alia Bhatt, Fawad Khan and Siddharth Malhotra in Kapoor & Sons.
Fawad Khan wasn't producer Karan Johar's first choice for the character that he played in Shakun Batra's Kapoor & Sons. He was the seventh.
'Six Bollywood actors rejected the role because they were scared to play gay,' Johar told an audience of subcontinental expatriates in Toronto on September 10.

Fielding questions at an In Conversation with... programme on the sidelines of the 41st Toronto International Film Festival, he added: 'Fawad is not only a great actor, he is a brave one.'
The Uri terror attack that left 19 Indian soldiers dead was still more than a week away and no eyebrows were raised over the Mumbai industry A-lister's unstinted praise for a movie star from across the border.

A month on, the script has changed drastically.
The scenario is far more fraught.
Indo-Pak relations are fickle at the best of times and can go from restlessly tense to overtly antagonistic in the flash of an eye.
The two neighbours are at daggers drawn once again and the Mumbai movie industry is suddenly out of bounds for Fawad, who has a significant fan following in India.

Earlier this year, the Pakistani heartthrob was the toast of Bollywood in the wake of the critical and commercial success of Kapoor & Sons, a film in which he dared to go where no Mumbai lead actor had gone before.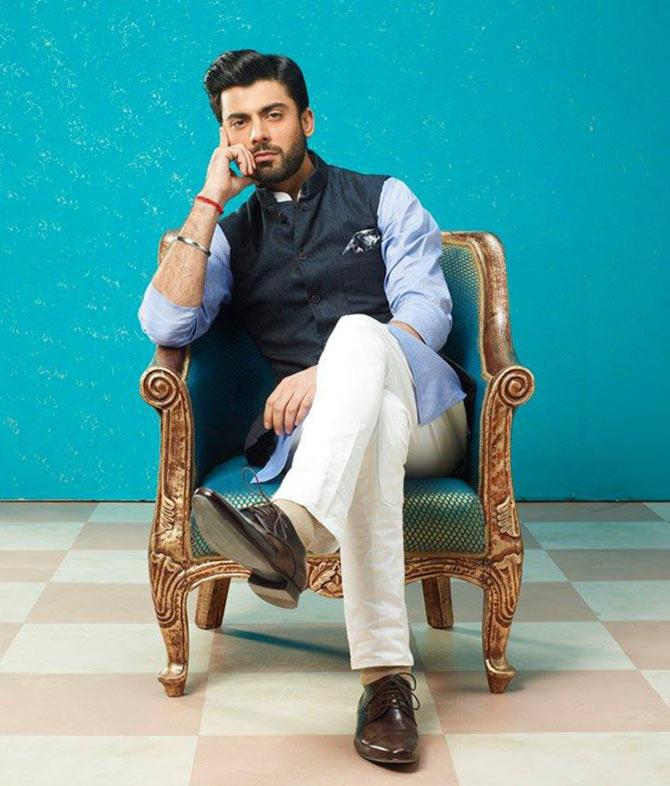 IMAGE: Fawad Khan in Khoobsurat.
In 2014, Fawad had put his best foot forward in his first Bollywood outing, Khoobsurat, a breezy rom-com co-starring Sonam Kapoor that yielded impressive box office numbers.
None of that is going to count now that the Maharashtra Navnirman Sena is baying for his blood. It asserts, with all the shrillness at its command, that the Mumbai movie industry will sully the memory of the Uri martyrs if it continues to work with Fawad and his compatriots.

Of course, there is no dearth of elements within Bollywood and elsewhere outside the MNS fold who will settle for nothing less than a total boycott of Pakistani actors and singers.
The industry has quickly dropped Sufi crooner Rahat Fateh Ali Khan, who, like Fawad, was riding high in Mumbai until recently, and singer-actor Atif Aslam, who was avowedly keen on kick-starting a Bollywood acting career, from its immediate plans.

But there is reason to be alarmed when a movie industry, whose principal job should be to dissolve boundaries and divisions, acts unthinkingly to strengthen the hands of war-mongers on both sides of the border.

In the long run, Bollywood's 'temporary ban' on Pakistani actors will have little impact.
But in the short term, it is bound to wreak commercial havoc. Although Fawad is not in the league of a Salman or a Shah Rukh Khan -- he reportedly charges a measly Rs 1.5 crore (Rs 15 million) a film and, despite swooning fans who swear by him, cannot carry a Bollywood production on his shoulders -- his name in a film's star cast does ensure a definite pre-release buzz.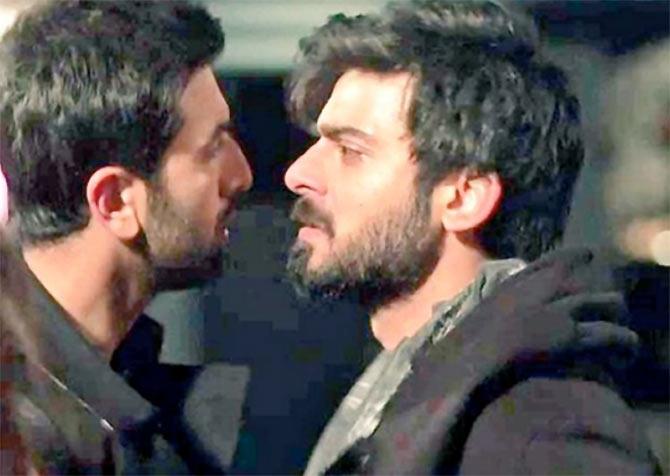 IMAGE: Ranbir Kapoor and Fawad Khan in Ae Dil Hai Mushkil.
It is going to be no different with the upcoming Ae Dil Hai Mushkil. But even as Johar's Dharma Productions gears up for the release of the high-stakes film, which has Fawad in a pivotal special appearance, there is trouble ahead.

The Rs 55 crore production, starring Ranbir Kapoor, Aishwarya Rai Bachchan and Anushka Sharma, has much more than just money riding on it.
Ae Dil Hai Mushkil, scheduled to open on the Diwali weekend, is Johar's most 'personal' film.
'The film is an ode to myself without being self-indulgent. It is about the angst of falling in love without reciprocation. I am the brand ambassador of this emotion,' the producer-director revealed in the course of the TIFF event.
But that obviously isn't the only reason why Johar is determined to take the fight to its logical conclusion and defend his right to release the film without impediments.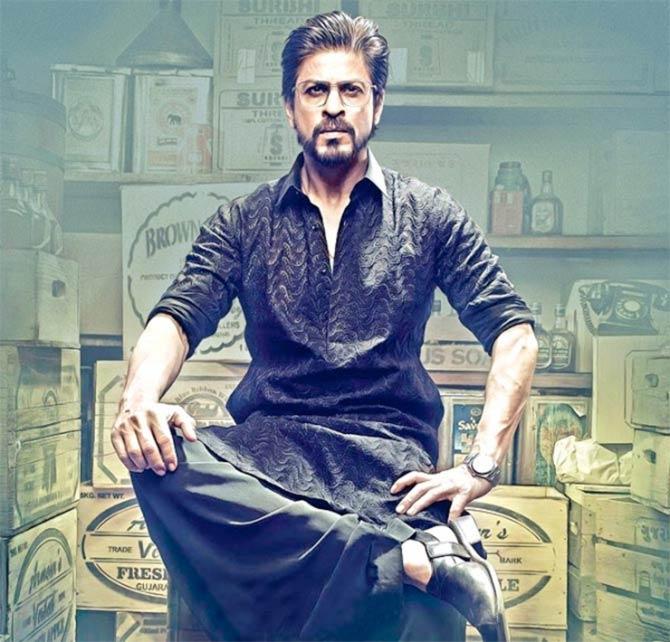 IMAGE: Shah Rukh Khan in Raees.
An even bigger Bollywood film, Rahul Dholakia's Raees, with Shah Rukh in the titular role, is in similar jeopardy.
Scheduled for release in January 2017, the film marks Pakistani actor Mahira Khan's Bollywood debut.
A cloud also hangs over Gauri Shinde's Dear Zindagi, a Johar-Shah Rukh co-production that features the superstar alongside Alia Bhatt, Aditya Roy Kapoor, Kunal Kapoor and Pakistani singer-actor Ali Zafar. The film is slated for release in November.

Together, Ae Dil Hai Mushkil, Dear Zindagi and Raees have at least Rs 150 crore (Rs 1.5 billion) at stake.
If Raj Thackeray and his MNS go through with their threat to not let theatres screen films with Pakistani actors, Bollywood is looking at a major showdown, at least in Mumbai and other cities of the western state.

What is particularly worrisome is that the Indian Motion Picture Producers Association, which should ideally be standing up for the freedom of film makers and actors to work unhindered, has jumped on to the anti-Pakistan bandwagon and now seems to be on the same page as the MNS.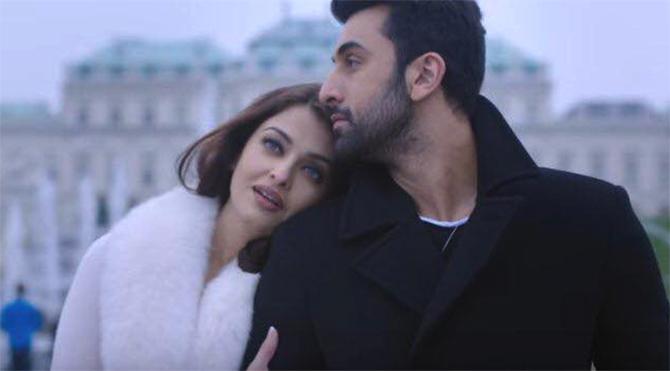 IMAGE: Aishwarya Rai Bachchan and Ranbir Kapoor in Ae Dil Hai Mushkil.
If Ae Dil Hai Mushkil suffers the consequences of the MNS threats, it would certainly be a setback for Johar. But more than that, it would be a huge blow to the spirit of freedom that drives, or should drive, the Mumbai movie industry.
Bellicose noises in times of disquiet are best left to the politicians. The film industry should have closed ranks and told the faux patriots where to get off. Continued cross-border cultural engagements can only help bring down the temperature.

It is not as if Bollywood's fortunes hinge on Pakistani actors and singers. Far from it.
With the exception of Khoobsurat and the 2010 Zafar-starrer Tere Bin Laden, no Hindi film featuring an actor from Pakistan has been a runaway hit.
IMAGE: Emraan Hashmi with Pakistani actress Humaima Malik in Raja Natwarlal..
Raja Natwarlal (2014), starring Humaima Malik opposite Emraan Hashmi, was a damp squib. So was Sanam Teri Kasam (2016), in which Mawra Hocane was horribly miscast as a South Indian girl.

Mikaal Zulfiqar, who was expected to follow in Fawad's footsteps and even had a critically applauded role in Neeraj Pandey's espionage thriller Baby, vanished from Bollywood after a couple of nondescript outings.
Pretty much the same fate befell Imran Abbas, the lead actor of Vikram Bhatt's Creature 3D.

So, it isn't really a Pakistani invasion that Bollywood is facing nor is it a fact that the likes of Fawad and Zafar do not have work back home.
If they opt to work in Bollywood, and are hired here, it is only because there is mutual benefit in the collaboration.

By throwing them out in a knee-jerk reaction to what is happening in Kashmir, the Mumbai film industry is only exposing its own lack of confidence.
Those behind the tirade against the Pakistanis working in Bollywood today want them to articulate a firm stand against terrorism. They point out that Fawad, Zafar and Mahira were quick to tweet against the Paris terror attacks and the Orlando nightclub shooting, but have kept mum post-Uri.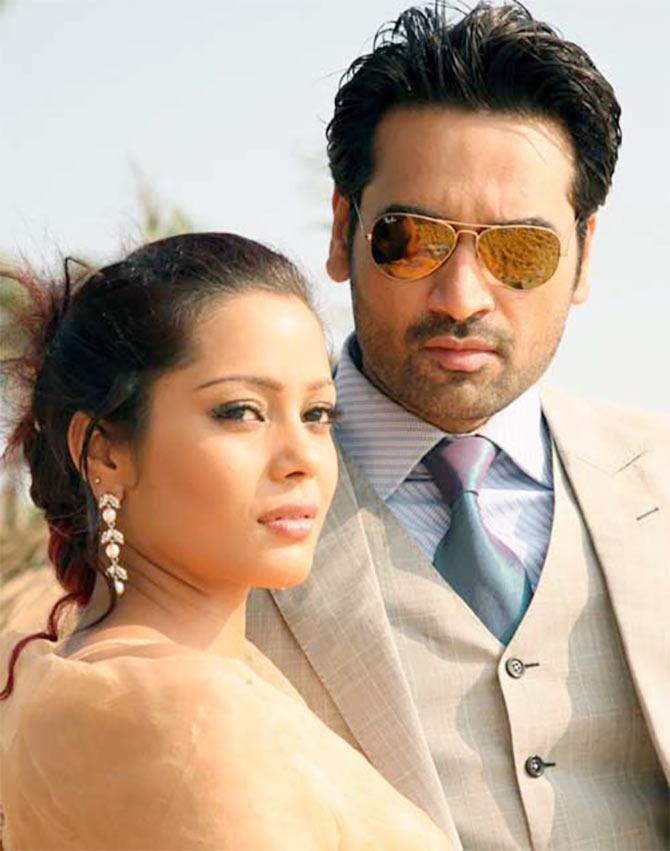 IMAGE: Humayun Saeed and Shanana Goswami in Jashnn.
Veteran Assamese film maker Jahnu Barua, in a Facebook post a few days ago, wrote, 'All true artistes are humanists and terrorism is against humanity. Thus artistes should be the first ones to condemn not only terrorism and terrorists, but also their supporters -- individuals and countries.'

Sounds perfect in principle, but we do not live in an ideal world. Actors and singers should be allowed to speak through their craft and not through brownie points-earning declarations.

In Pakistan, the government has done no better. It has banned Indian films and Indian television channels.

The fallout of the mounting strains on the border will actually be far more deleterious for the film industry in Pakistan. Therefore, just as Mahesh Bhatt, Salman, Nagesh Kukunoor and Radhika Apte have spoken out about the sheer futility of barring Pakistani actors and singers, Pakistani star Humayun Saeed, who was seen in the Bollywood dud Jashnn (2009), has taken a stand against the banning of Indian films in his country.

'Since we believe that India's step to ban Pakistani artistes is wrong, we shouldn't reciprocate by banning their films as well,' the actor has been quoted as saying.
Saeed believes that a blanket ban on Indian films might have an adverse impact on cinema halls in Pakistan.
'At this juncture, Pakistani cinema needs Bollywood films because the Pakistani film industry isn't strong enough to sustain the cinemas,' he has said. 'A cinema needs one new film every week. Our industry makes only a handful of films every year.'

It is unlikely that anybody is in the mood to listen to him. For the moment, we are all trapped in a warped narrative.