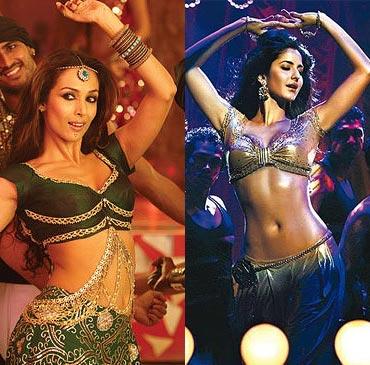 I
f Nutan Thakur has her way she'd probably ban Munni Badnam Hui and Sheila Ki Jawani will be banned on the grounds of indecency.
Tell us
if you believe that these two songs have crossed the line and should be banned completely? Post your comments on the
discussion board
below and we will publish the most interesting comments right here on rediff.com
PTI reports that a woman today filed a PIL in the Lucknow bench of the Allahabad High Court seeking an immediate ban on Bollywood item numbers
Munni Badnam Hui
and
Sheila Ki Jawani
alleging the songs were "against "decency and morality.
As an interim relief, the petitioner requested the court to order a halt to the release of Hindi film
Tees Maar Khan
as long as the song
Sheila Ki Jawaani
is not removed from the film.
In her PIL, which will come up for hearing after the winter vacation, the petitioner Nutan Thakur through her counsel Ashok Pandey has sought an order to immediately stop the public exhibition of these two songs as they have a bad impact on the society.
Producers of upcoming flick
Tees Maar Khan
Twinkle Khanna, Shirish Kunder and Ronnie Screwvala, its producer Farah Khan, producers of
Dabangg
Arbaaz Khan, Malaika Arora Khan and Dhillin Mehta, its director Abhinav Kashyap, Censor
Board and Union of India through the Secretary of Information and Broadcasting have been made respondents in the PIL.
The petitioner has alleged that in the movie
Dabangg,
which has
Munni Badnaam Hui
and
Tees Maar Khan
, as in almost all other Hindi films and films in other languages, many indecent, immoral and vulgar songs, dialogues and visual representations, were being disseminated to general public through the means of channels of mass media before the issue of certificate under the law of the land.
"This is completely against sections Cinematography Act 1952 because in many cases such songs, dances, scenes, dialogues do not get certificate later on but by that time they have been publicly exhibited to a very large extent," she said.
The petitioner requested the court to direct the Censor Board and Ministry of Information and Broadcasting to intervene and issue directives to the film-makers in all the languages and all other concerned bodies not to display anything (including songs, dances, dialogues, audio inputs, sequences, prommos or other such materials of the film) before the required certificate is issued to the films.
Thakur also argued that in Munni Badnam Hui and Sheila Ki Jawaani, there is the specific problem of use of such songs which are against decency, morality and public order and which can incite commitment of offences.
"Such unfortunate events have already started taking place where helpless and poor girls studying in schools and colleges, working women in all kinds of establishments, institutions and organizations and even housewives are being teased, molested and sarcastically treated, more so when the name of the women/girls is Sheila/ Sheela/ Munni/ Muniya or other similar sounding ones," she said.
The petitioner also sought a court directive to stop the screening and public exhibition of Dabangg as long as the song Munni Badnaam Hui is not deleted from the film.