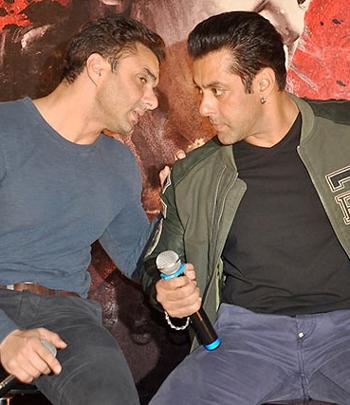 All the trivia about Salman and his directors.
Salman Khan has always enjoyed a successful partnership with Sooraj Barjatya.
But do you know with which filmmaker he has worked the maximum number of times?
It's comedy king David Dhawan. Salman has collaborated with him in eight films!
While the Being Human star is working with Sooraj on their fourth film together, Prem Ratan Dhan Payo, any guesses about the only other man who has directed the superstar in four films? It's Salman's younger brother Sohail Khan.
Kabir Khan takes the honour when it comes to generating maximum cumulative moolah at the box office with Salman, with just two films.
But the one who has given Salman his second biggest money-spinner ever, the man on the hot seat is Sajid Nadiadwala.
Read on for more trivia on Salman and his directors.
Note: The collections below are the numbers at the time of release and inflation has not been taken into account.
Kabir Khan: Rs 520 crore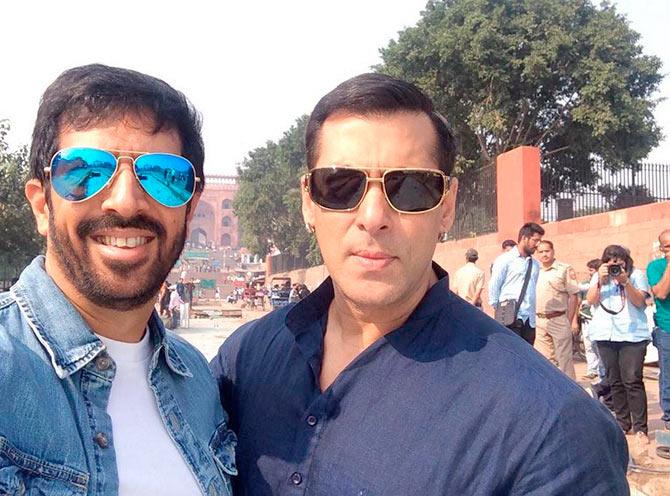 Image: Kabir Khan and Salman Khan on the sets of Bajrangi Bhaijaan
Kabir Khan's Ek Tha Tiger isthe hottest outing from the house of Yash Raj Films. With Katrina Kaif joining them, the film was as big as it could get.
Though there was a difference of opinion between Salman and Kabir during the film's making, the result was entertaining enough to be lapped up by the audience. The film's blockbuster success ensured that the two collaborate yet again.
This time around, it was a smoother experience and Bajrangi Bhaijaan was commercially successful as well as critically acclaimed.
Box Office collection
Ek Tha Tiger: Rs 199 crore
Bajrangi Bhaijaan: Rs 321 crore
Sajid Nadiadwala: Rs 232 crore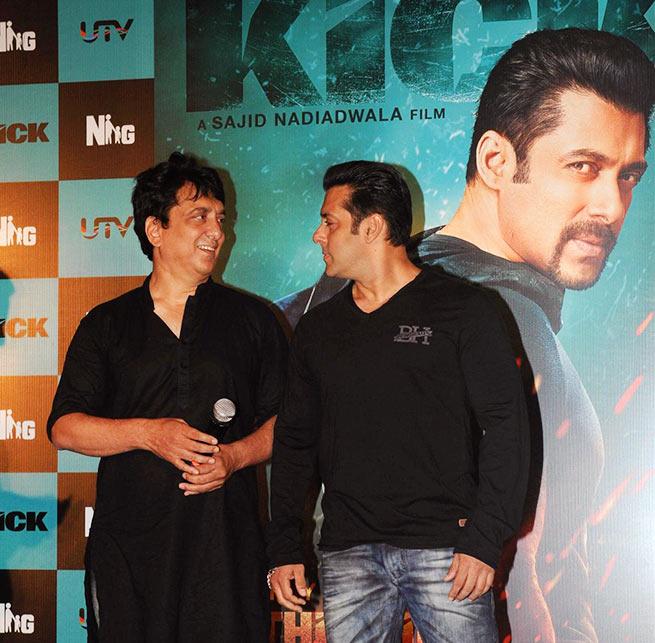 Image Sajid Nadiadwala and Salman Khan during the promotions of Kick. Photograph: Pradeep Bandekar
A producer of many Salman Khan films over the years, Sajid Nadiadwala has forged a close friendship with the actor.
When Kick was announced, it was supposed to be directed by Farah Khan's husband Shirish Kunder. However, after an unexpected turn of events, Kunder opted out.
It was pretty much a 'luck by chance' moment for Sajid as Salman picked him to don the director's hat.
So Sajid directed Kick, and made it a huge blockbuster.
Box Office collection
Kick: Rs 232 crore
David Dhawan: Rs 190 crore
Image: David Dahwan and Salman Khan on Dus Ka Dum
Eight films and a 75 percent success ratio later, David Dhawan and Salman Khan can look back at their association quite fondly.
They came together for Judwaa at the time when David Dhawan and Govinda were a hit team. The film's success meant that the filmmaker now had two heroes to choose from. While he continued to deliver hits with Govinda, there was a good partnership building with Salman as well.
While Chal Mere Bhai and Yeh Hai Jalwa are the only two flops given by this pair, they have the maximum number of hits, at six. Their last film Partner featured Govinda too.
Box Office collection
Partner: Rs 60 crore
Maine Pyaar Kyun Kiya: Rs 26 crore
Mujhse Shaadi Karogi: Rs 28 crore
Yeh Hai Jalwa: Rs 6 crore
Chal Mere Bhai: Rs 12 crore
Dulhan Hum Le Jayenge: Rs 19 crore
Biwi No 1: Rs 26 crore
Judwaa: Rs 13 crore
Anees Bazmee: Rs 165 crore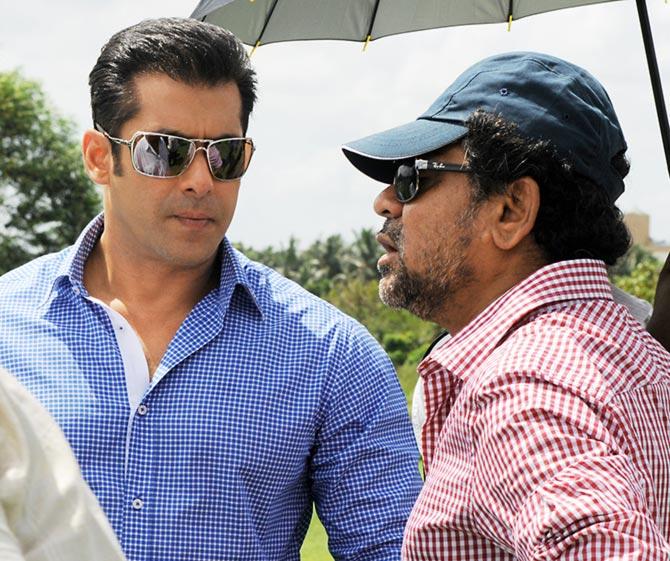 Image: Salman Khan and Anees Bazmee on the sets of No Entry
Anees Bazmee had been working extensively with Ajay Devgn but he cast Salman for a special part in No Entry.
The film turned out to be a big hit, and they got together for Ready, another big hit.
It was announced that the two would collaborate again for No Entry Mein Entry but it's been many years since the film was announced and it still hasn't gone on floors as yet.
Box Office collection
Ready: Rs 120 crore
No Entry: Rs 45 crore
Sohail Khan: Rs 150 crore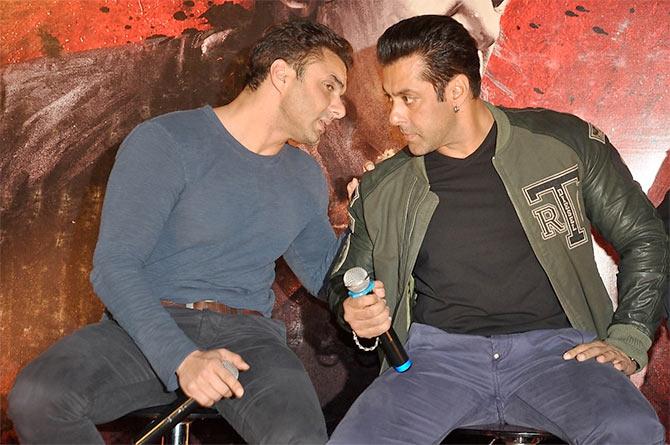 Image: Sohail Khan and Salman Khan during the promotions of Jai Ho. Photograph: Pradeep Bandekar
One superhit, one semi-hit and two flops -- that's the report card of brothers Salman and Sohail Khan, in the four films that they have done together so far.
Pyaar Kiya To Darna Kya was a sweet success, with everything working in the film's favour.
Sohail changed tracks with action movie Auzaar, and failed.
Later, the duo tried comedy with Hello Brother -- and roped in their brother Arbaaz -- but it did not help.
With Jai Ho, Salman and Sohail managed to cross the 100 crore mark but as a film, it hasn't enjoyed as much recall value.
Box Office collection
Jai Ho: Rs 115 crore
Hello Brother: Rs 11 crore
Auzaar: Rs 6 crore
Pyaar Kiya To Darna Kya: Rs 18 crore
Sooraj Barjatya: Rs 115 crore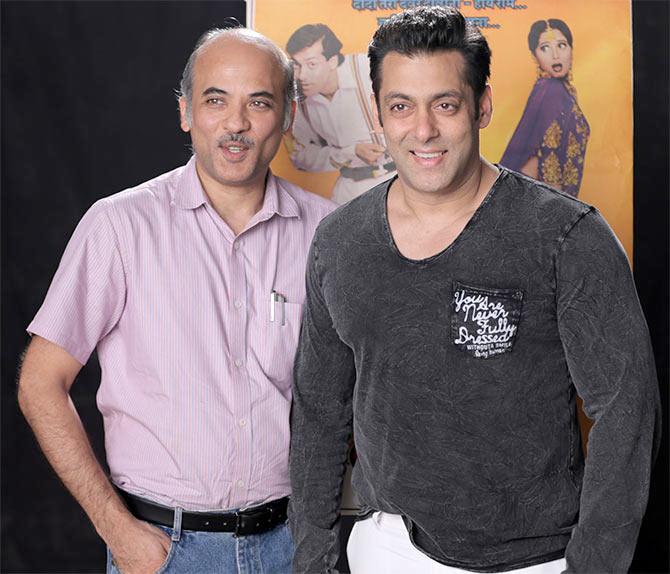 Image:

S

ooraj Barjatya and Salman Khan. Photograph: Pradeep Bandekar
Sooraj Barjatya may seem to be at the bottom of the list here but if one accounts for inflation and footfalls, he would find himself at the very top.
Since he and Salman worked together between 1989 and 1999, the collections may appear less in comparison. However, the fact remains that the Rs 15 crore earned by Maine Pyaar Kiya and Rs 60 crore that Hum Aapke Hain Koun..! garnered are as huge as they can get.
They have been magical in each of their outings, including Hum Saath-Saath Hai, and their Diwali release Prem Ratan Dhan Payo may be another dhamaka for them!
Box Office collection
Maine Pyaar Kiya: Rs 15 crore
Hum Aapke Hain Kaun: Rs 60 crore
Hum Saath Saath Hain: Rs 40 crore