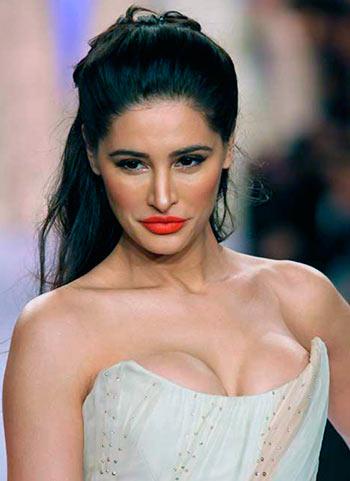 Do these actors suit their parts? Vote!
All hell broke loose last year when Priyanka Chopra played Mary Kom in a biopic, and while Chopra herself was the only good thing in that woeful film, her selection still kicked up an uproar.
The sad truth is that a lot of Bollywood-casting remains star-struck and so lead roles in biopics go to big stars, whether they work for the role or not.
Things, however, are looking a bit more promising in the months ahead.
Before we see Randeep Hooda play Charles Sobhraj this Friday, here's a look at actors who will be playing real-characters in upcoming films.
Do check out the actors and their real-life counterparts and make sure you vote to register your dis/approval.


Randeep Hooda - Charles Sobhraj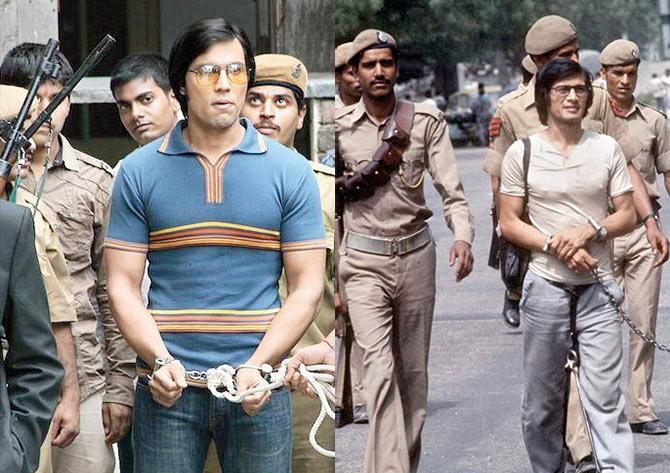 The buff and dark-skinned Randeep Hooda might not physically be a dead ringer for half-Vietnamese half-Indian serial killer Charles Sobhraj, but he sure looks significantly Sobhraj-like in the slick, compelling promos for Prawaal Raman's upcoming Main Aur Charles.
The big glasses, the flared pants, the swagger -- it's all there and Hooda looks to have nailed the look.
We think he did good, but how well do you think Randeep compares to the real Sobhraj?
Aamir Khan - Mahavir Singh Phogat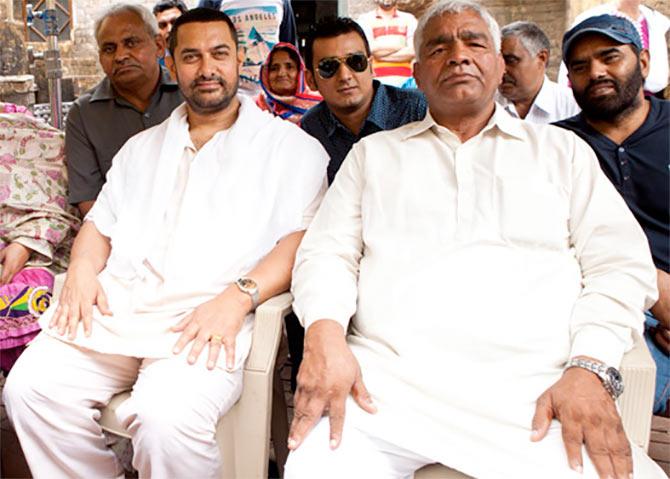 Aamir Khan's been piling on the bulk significantly in order to play Mahavir Singh Phogat, the wrestler from Haryana who trained his daughters and took them to win medals at the Commonwealth Games.
Khan has let go of his sculpted body in order to adopt a more realistically bulky look, and it is one of the most committed weight-gains we've seen done for a mainstream film.
He might not look like Phogat, but Khan does certainly appear quite a heavyweight.
What do you think of Aamir's similarity with the original?
Sonam Kapoor - Neerja Bhanot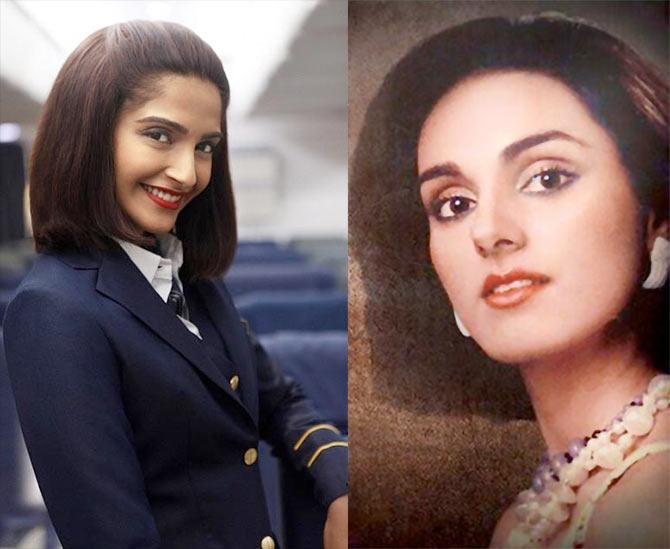 The tale of valiant flight attendant Neerja Bhanot, who sacrificed herself to save her passengers from terrorists, is one that deserves a hearing.
It is only fitting that a girlish, glamorous actress play this real hero who died at the tragically young age of 22. While Kapoor might not bear a physical resemblance to Bhanot, she appears visually well-suited for the part.
How much do you think Sonam looks like Neerja?
Ranveer Singh - Peshwa Bajirao
Singh's been twirling that moustache up for a while now, and it seems to have served him well.
His part in Sanjay Leela Bhansali's next grand production is that of legendary chieftain Baji Rao and Singh has committed to the part, shaving his head and looking suitably old-school.
Old illustrations of Baji Rao himself, however, show an older, more heavy-set figure -- but it won't be the first time a historical icon has been made to look more dashing.
What do you say? Does Ranveer get the look right?
Emraan Hashmi - Mohammed Azharuddin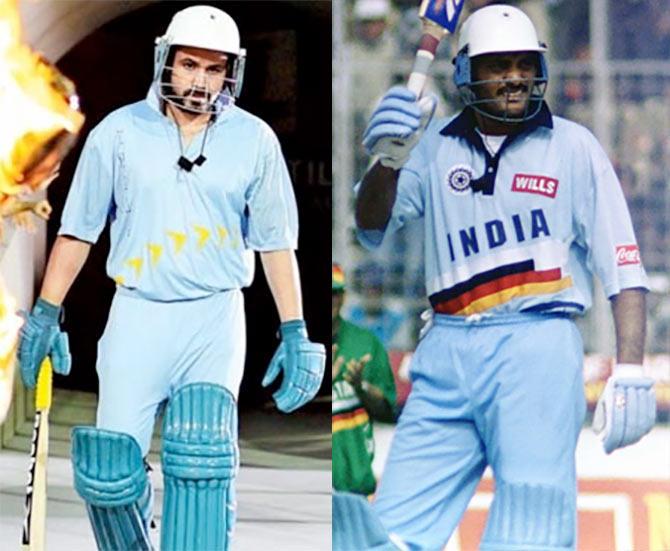 Hang on, hang on, we know Emraan Hashmi doesn't at all resemble India's most wristy batsman and its most disgraced captain, but let us try and figure out why he's been picked for the title role in Tony D'Souza's Azhar.
The amorality must be a big part of it, with Hashmi often playing unscrupulous characters.
The on-screen womanising must have come into play as well, with Azza' scoring with more than his fair share of the fairer sex.
It would be nice, however, if they picked an actor who actually looked more like Azhar, though.
What do you think?
Nargis Fakhri - Sangeeta Bijlani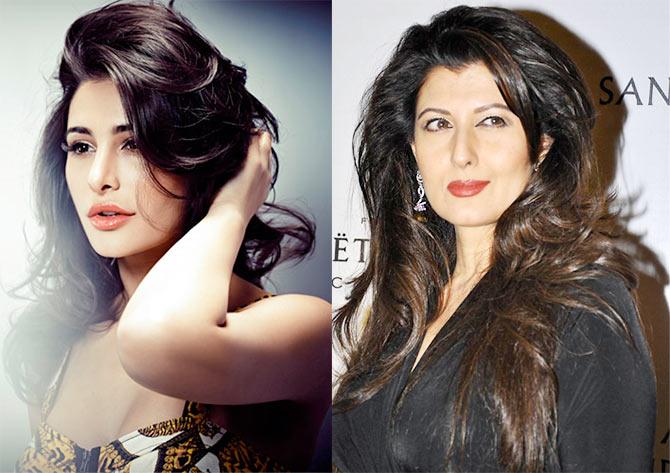 Similarly, the role of Azharuddin's glamorous second wife has been given to Nargis Fakhri, and this seems a bit of a stretch.
Sure, Bijlani, a former Miss India, was a striking model and could well make jaws drop, but her entire look was decidedly Indian -- not least because of her Nirma commercials.
Fakhri, on the other hand, is almost too bizarrely exotic.
Huma Qureshi - Jwala Gutta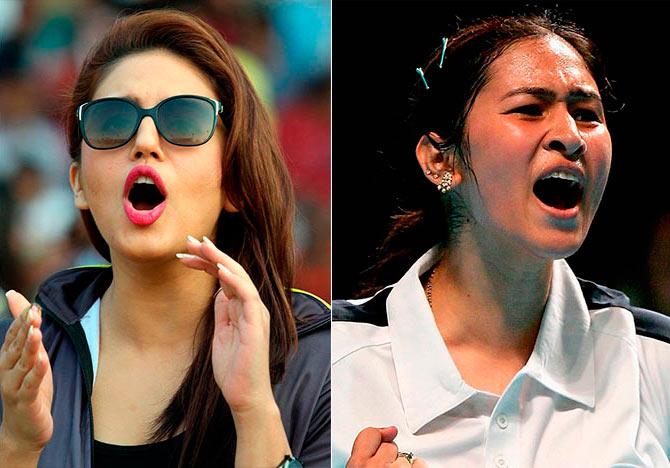 I had to look up just what badminton champ Jwala Gutta has to do with Mohammad Azharuddin, but it appears the two were linked by the tabloids a few years ago.
Despite Gutta's loud denials, the film's makers are apparently carrying on with the angle, and Huma Qureshi will be playing Gutta.
It's not a bad bit of casting, honestly, with the statuesque actress having the imposing build required for the look.
Does Huma look enough like Jwala, dear readers, or would you have liked to see someone else?
Gautam Gulati - Ravi Shastri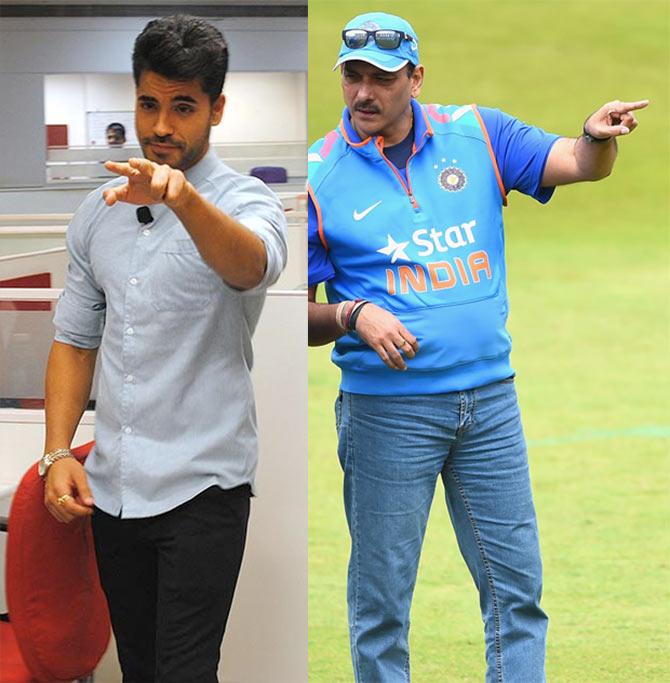 It's always hard to cast actors in parts the public is very familiar with, and everyone knows Ravi Shastri, the former all-rounder and current commentating caricature.
Television actor Gautam Gulati has been roped in by the Azhar filmmakers for the part, and -- despite perhaps being a bit too beefy to suit the lanky Shastri -- this may actually be a strong choice for the part. (Visually, that is. I'm not sure how well Gulati will be able to talk boomingly of tracer-bullets et al.)
Will Gulati do Shastri justice?
Sushant Singh Rajput - MS Dhoni
In Neeraj Pandey's upcoming MS Dhoni The Untold Story -- a Dhoni biopic produced by Dhoni himself -- it isn't surprising to see a swashbuckling young man picked for the main role.
Rajput has acquitted himself well with his on-screen cricketing skills on display in Kai Po Che, and despite no real resemblance to MSD, he is an actor I would back to carry off the part with flair.
Do you think Rajput will make a good Dhoni?
John Abraham - Yuvraj Singh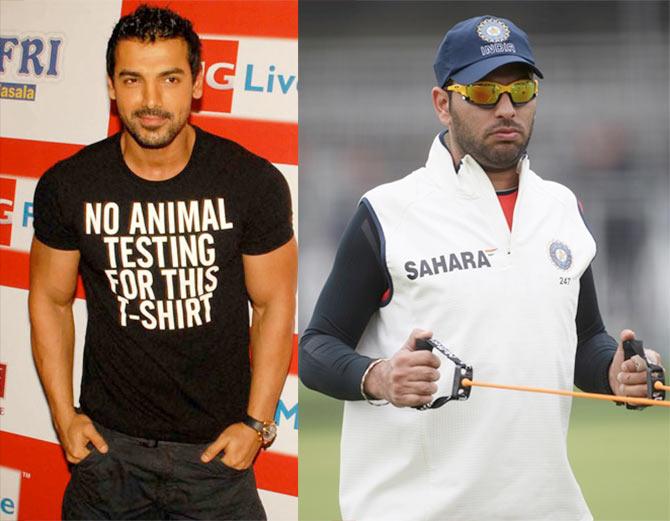 Sigh. Here's a dropped catch if ever I've seen one.
Abhishek Bachchan would make a terrific Yuvraj Singh -- the two have similar build, hair, and an ability to laugh at themselves.
Abraham is better sculpted and more wooden, and looks nothing -- repeat, nothing -- like Yuvy.
Will you be able to believe John Abraham as Yuvraj Singh?