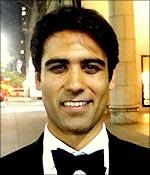 Divya Narendra was a junior at Harvard University when he and his roommates -- twins Cameron and Tyler Winklevoss approached another student Marc Zuckerberg to program a social networking site, originally called Harvard Connection -- a matchmaking site for the university.

As shown in director David Fincher's critically-acclaimed film The Social Network, Zuckerberg stalled the project by sending unsubstantial e-mails to the three, while developing the prototype of what he eventually called Facebook. Narendra and the twins ultimately sued Zuckerberg for stealing their idea and reached an out-of-court settlement with him for $65 million. They are currently involved in another lawsuit with Zuckerberg, claiming that Facebook misled them about the value of the stock they were to receive.

In Fincher's film, based on a riveting screenplay by Aaron Sorkin, Narendra is played by British-Asian actor Max Minghella (the son of the late director Anthony Minghella).

Narendra, 28, is currently pursuing a joint JD/MBA degree at Northwestern University in Evanston, Illinois. He also runs a start-up networking site SumZero that enables hedge fund, mutual fund and private equity analysts to share business and investment ideas. He says it is a cross between Wikipedia and LinkedIn for the investment banking community.

Narendra spoke to Aseem Chhabra from Evanston about his reactions to The Social Network and seeing his life being played on the big screen.

I read that you are originally from Queens.

I was born in the Bronx. My parents are both doctors in New York. Later I grew up in Bayside, Queens. My parents still practice in Richmond Hill, Queens. I attended Townsend Harris High School in Flushing and then left for Harvard in 2000. I was in the class of 2004.

How much can you talk about the Facebook story, since you are still engaged in a lawsuit with Marc Zuckerberg?

The basic story is pretty well covered and a lot of the stuff is well-known. When I was a junior in college I came up with the idea of an online community for Harvard students, alumni community, but also we could build that out for other colleges. Cameron and Tyler Winklevoss were my roommates at that time. I asked them to help build it, with marketing and financing, but none of us are programmers. The first guy I asked to work on it was another Indian, who was a year ahead of me. He wasn't quite committed enough and took up a job at Google. We went through a few other programmers. Marc Zuckerberg was referred to me by a brother of another friend -- also Indians. The younger brother was in Zuckerberg's class of 2006. Marc had a good programming background, but also an entrepreneurial track record. He had started a Web site called FaceMash.

How accurate is the film The Social Network? You have seen the film I suppose.

Yes, I have seen it. The film is more fact than fiction. They definitely didn't make this up. It's not fabricated and the film tells the story from three points of view -- from the ConnectU [the renamed version of Harvard Connect] perspective, from Eduardo Saverin's [co-founder of Facebook; he provided the seed money and who also sued Zuckerberg later for being given the incorrect share] and also from Marc Zuckerberg's side. I thought Aaron Sorkin [who wrote the screenplay] did a good job of researching the facts. A lot of people when they see the film might think there is a certain degree of bias, but I actually think it was a somewhat balanced representation of what happened.

Did Aaron Sorkin contact you at all?I was never contacted about the film.When did you get hear that the film was being made?

I have known for a while, since there have been articles written that the film was being made. I was actually very nervous about the film.

I was going to ask you that.

Nobody ever contacted me about my side of the story. I didn't know how the film will be coloured and also I didn't know anything about my portrayal. Some of that is a personality thing. It's hard to get someone's personality right if you have not spoken to him. I was nervous when I first went to see the film [a screening organised by Sony Pictures in Chicago]. I am in graduate school. I have my whole career ahead of me. Last thing I need is a Hollywood film depicting incorrectly who I am.
You are also in a lot of news because of the film.
We have been in the press for years, because of the lawsuit. But it's just not quite in the mass scale. Now we are a part of the pop culture, as the film is being distributed internationally and I am sure millions of people are going to see [laughs].
Our friends have known the situation, since it has been going on for six years, but I was concerned about our names being thrown around with regard to my career.
So my first reaction was a relief.
What did you feel seeing Max Minghella, and not an Indian actor playing, you?
He is half white-half Asian, which I found even more interesting than if they had cast maybe just a white actor. I actually do not know many other Indian actors, other than Kal Penn, who doesn't look anything like me. In a way Max may look more like me in terms of facial features. But I don't know much about the casting process. I would imagine they just wanted someone who could do a good job. I am not personally offended by the fact that they chose Max to play me. I actually met him, he's a great guy and I think he did a good job in the film.
What do your parents think about all of this? Good or bad publicity, but you have made a nice sum of money and that you are going after more money now?
I think my parents find it exciting. They actually liked the movie. They do look upon it positively. Also I run a company right now and they think it is an opportunity to leverage whatever brand is built around me to help my current start up. But my mom will still say don't let this get in the way of your studies [laughs].
Talking about social networking, are you on Facebook and what do you think about that site?
I joined in 2008. It's a great Web site. It's a fantastic product based on a fantastic concept. That's not the issue with the lawsuit. The whole lawsuit concerns ownership.
Do your classmates and your professor, know about your background?
I think a lot of classmates do, I do not know if a lot of professors know about me. I don't know how many professors are close to the Web 2.0 community. The students are having fun with it. My roommate was [saying] that people are asking him `Do you room with Divya Narendra? Is he really that Facebook guy?' I was recently asked by the India Business Club here to give a talk about my experiences.
I think from my perspective, one of my goals in this school is to know more entrepreneurs and also at the law school who can help with SumZero, and so it will give me some credibility to connect with them. I think they will appreciate my track record.