'Nothing in this house was going right, even in terms of feeling normal, feeling light for a moment.'
'It was very difficult but it made me stronger.'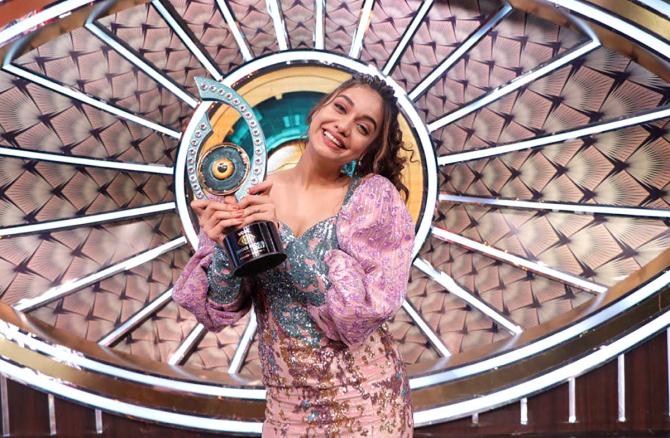 Divya Agarwal entered the Bigg Boss OTT house with just one goal -- she wanted to win. And she did.
She took home the coveted trophy as well as a staggering Rs 25,00,000 as prize money.
Looking back at her journey on the show, Divya tells Rediff.com Contributor Mohnish Singh, "There was nobody in the house who would compliment me for making a good dish for dinner. Even if I dressed well, nobody would appreciate it."
How does it feel to win the first Bigg Boss OTT? Has reality set in yet?
I have won reality shows before as well. Honestly, titles or trophies have never changed my feelings towards anything.
It has always been like, 'Oh, great! One more win under my belt. Now more people will appreciate me.'
For me, reality shows are just a platform to raise my voice against things I do not believe in and to inspire people and show them that, while anything in life can go wrong, you still have to believe in yourself.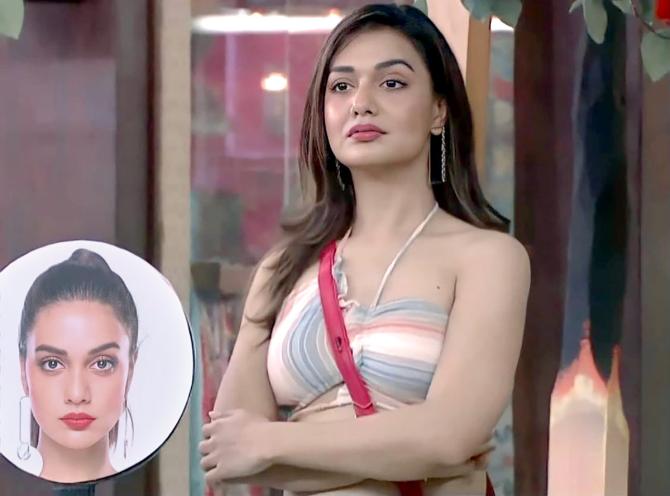 Your journey on the show was loaded with twists and turns. How confident were you of your win?
Despite so many things that happened initially, including the first Weekend Ka Vaar where everything was so confusing, I was confident.
Things looked dicey after I was left with no connection.
But I had the power of truth, and the truth does not see power, position or people.
Had I been naive enough to let others manipulate me or been submissive and let go of my principles for the game, I would have gotten lost in the crowd.
As you mentioned, you had done a couple of reality shows before this. Do you think that experience came in handy in Bigg Boss OTT?
Honestly, no. Bigg Boss OTT turned out to be a completely different ball game.
In my previous reality shows, I had friends supporting me, cheering me.
In MTV Splitsvilla (Season 10), I had a love support. I had a love support in MTV Ace of Space (season 1) as well.
So, in every reality show, I had at least some people I could connect with and open up to. It felt like a family, more like a home.
But in Bigg Boss OTT, it was a different scenario.
Nothing in this house was going right, even in terms of feeling normal, feeling light for a moment.
It was very difficult but it made me stronger.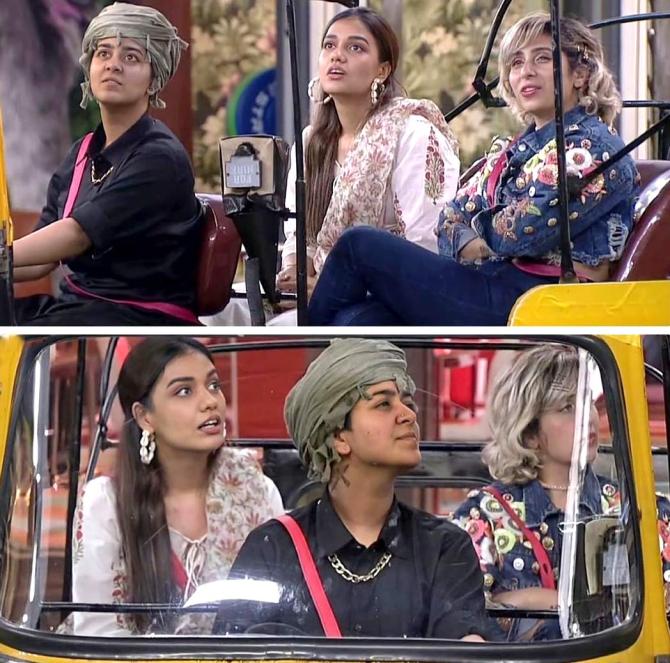 Which housemates will you keep in touch with?
I will keep in touch with Millind Gaba, Raqesh Bapat, Moose Jattana, Akshara Singh and Ridhima Pandit.
These guys were my favourites.
And Karan Nath also.
It was very unfortunate that the moment they would start trying to understand me a little bit, they would face elimination and get out of the show.
What was your favourite moment in the house?
I think my favourite moment was the debate towards the show's end where I gave an extremely heartfelt message to the audience and shared a summary of my journey.
I think I felt relieved that day.
During my journey on the show, there were so many things that I wanted to talk about and share with somebody. But since nobody was talking to me, I bottled up my feelings. I was unable to share what I was going through and feeling at that moment.
Additionally, I did not know how my emotions were being expressed to the outside world.
That debate gave me an opportunity to take a stand and say everything aloud.
I could see the other housemates feeling a little shaken by my words. They were feeling the power of my words.
At that moment, I thought: I do not know if I am going to win this show or not, but I made sure that everybody knows me now.
What are some things you have learned about the show since you have been home?
Honestly, I did not get enough time to watch anything. I have been busy with interviews.
I have definitely come to know about some incidents that happened but nothing shocks me.
Once I left that house, I left all the negativity behind.
I have not forgotten everything but I have forgiven everybody.
Everybody had come with a purpose of making their lives a little better. I understand that human effort very well so I have no grudges, no regrets.
Having said that, it is funny when I look back and see them behaving that way with me for no reason.
How have the six weeks in the house changed you as a person?
They have hit me very strongly.
I have so many friends and people in my life who love me so much that I never felt alone.
In the house, for the first time in my life, I was genuinely alone. I got to test myself.
I thank every contestant for making me go through that because it has made me stronger.
I know one thing for sure. If anything happens in life, I am going to survive and come out with flying colours.
It was my biggest learning experience.
You had a very tumultuous relationship with Shamita Shetty. Was that because she was also a strong contender?
I genuinely could not get along well with her because I am a person who never tries to change somebody's personality.
Similarly, I would not want anybody to change my personality.
I hate it when people tell me to stay quiet, not to raise my voice, not to express my opinions... It goes against my beliefs, against who I am.
Initially, we were friends. But when I saw this (controlling) side to her personality, I could not take it.
I want to fly.
I cannot be pinned down by anything like that. I do not need it.
I guess that's why we had differences.
I would have appreciated it if she had accepted me the same way she had accepted Neha Bhasin. She was her best friend. She accepted her in every possible way.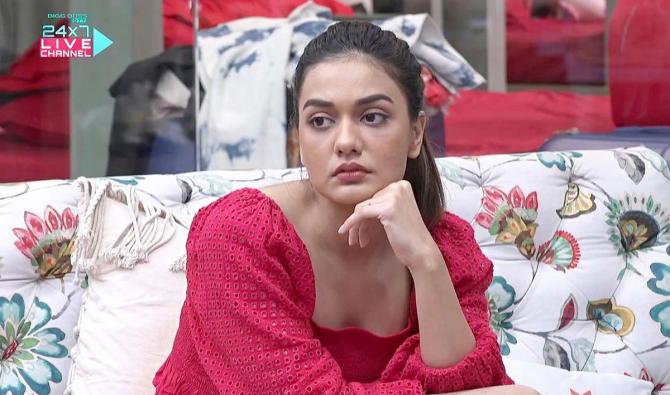 The show did strain your equation with Pratik Sehajpal as well. Will you try to mend your relationship with him now?
I have tried to do that enough on the show.
I feel Pratik becomes a different person when it comes to reality shows.
He is a different person in the outside world.
I would like to connect with him in the real world to understand what is exactly going on.
I know he did a lot of things for the show. I appreciate that. It might work for him.
I just hope he keeps his sanity intact.
Do you think your confidence shot up after your beau Varun Sood visited the house just before the finale week?
Yes. I was very confident about myself but there was a lot of pent-up anger in me.
I was very defensive.
There was nobody in the house who would compliment me for making a good dish for dinner.
I was never appreciated by anybody during my stay in the house.
Even if I dressed well, nobody would appreciate it.
I am human at the end of the day. I wanted somebody to tell me, 'Hey, you are doing well. I am very proud of you.'
When Varun came, he did that. He changed my anger into love and fun. He started making fun of things around me.
That made me extremely confident.
I was lost somewhere in the game; I had started feeling that I should have stayed back at home and chilled with my family and friends.
But my mother's letter brought me back into the game and Varun brought back that lost smile on my face.
Are we going to see you in Bigg Boss 15 now?
(Laughs). I don't know, yaar. The makers have not called me yet.
There are a lot of people who are asking me the same question.
All I can say right now is that I do not know what is going on.
I have just won the OTT version of Bigg Boss and I am quite satisfied with my journey.
People are also happy with my journey. I am sure they want to see me more.
Obviously, Bigg Boss 15 will be a different journey. Salman Khan will be there.
I do not mind buckling myself up for it.
But if that does not happen, I have a lot of things on my plate to look forward to.
Karan Johar or Salman Khan -- who do you think is a better host for a show like Bigg Boss?
Both have different personalities.
I am sure that by the end of Bigg Boss OTT, Karan had become a little affectionate and vulnerable. He had started calling us family.
He was like, you know, a good cop trying to be a bad cop (laughs).
I saw that change in Karan.
Salman Khan is like a gurukul.
There is definitely that side to him where he wants everybody to do well. He will make sure you put in your hard work and that eventually builds your confidence.
If I join him (on Bigg Boss 15), I feel I would be a different Divya Agarwal, a better version of myself.
How shocking was it for you to learn about Sidharth Shukla's sudden demise after you came out of the show?
I was extremely shocked.
I was inside the house, so I had no idea what was happening outside.
But when I got to know about his death, I just looked around the Bigg Boss house, at the huge Bigg Boss logo.
You get everything in life and all of it can come to an end in absolutely no time.
I am so glad that Sidharth saw the love and the madness that fans had for him.
He won millions of hearts, and he deserved that.