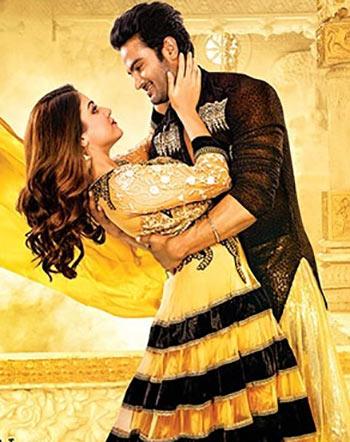 He is a 26-year-old mechanical engineer who worked with Google and Facebook before changing tracks to become a filmmaker.
Sriram Adittya made eight short films (including a few on social issues) and won five awards (some at the national level).
His first feature film, Bhale Manchi Roju, starring Sudheer Babu, Wamiqa Gabbi, Dhanya Balakrishna and senior artistes like Parachuri Gopalakrishna, Posani and Pruthvi, releases on Christmas Day.
The excited filmmaker discusses his debut with Radhika Rajamani/Rediff.com.
How did you get interested in films?
I think it is because of my dad. When I was in school, we used to watch films together on television.
He used to make me sit next to him and explain how each director was special -- right from K V Reddy of Mayabazar, K Vishwanath, Vamsi, Jandhayala and many more. I was lucky to have this insight about films and storytelling.
When did you realise you wanted to be a filmmaker?
In class X, we had The Hound Of The Baskervilles as part of our English studies. I was highly influenced by its narrative style.
I used to visualise the scenes as my teacher explained them. I got to know it had been made into a film in Hollywood. But when I watched it, I was disappointed. I felt my visualisation was a lot better.
Then I started telling short stories to friends. I began writing scripts and dreamt of seeing my name as director on the screen; directing was the most fascinating part of a film for me those days.
Image: Sudheer Babu and Dhanya Balakrishna in Bhale Manchi Roju.
You made your first film without being an assistant director first or undergoing any formal training. How did you manage it?
I had been making short films even during my engineering days, so I had a good idea about the basics of filmmaking. I never wanted to work under someone. And I believe that, to make a film, the first thing is 'know your story' and know what you really want to make.
When I write something, I clearly visualise every shot and scene. Only then do I narrate it to someone else. This helps me communicate my idea to all the technicians and actors clearly.
In this film, it was Shamdat, our cinematographer and a lovely person (his credits include Vishwaroopam and Uttama Villain), who really helped me get the right visuals and understand filmmaking better.
Ramakrishna, our art director, shared his immense knowledge of films and put in great effort to make the film look wonderful.
It was a learning experience and a sheer joy to work with them.
You worked for some time as an engineer before venturing into films. Why?
I want to be a full-time filmmaker; it was something I dreamt of since childhood.
Once I finished my engineering, I worked with Google and Facebook for a while as I wanted to work in a corporate environment for a while.
Simultaneously, I made short films and wrote stories.
At Facebook, I was ready with a full film script and quit my job so I could try my hand in the film industry. It took me nearly a year to get an opportunity and the right team. From now on, it's only films!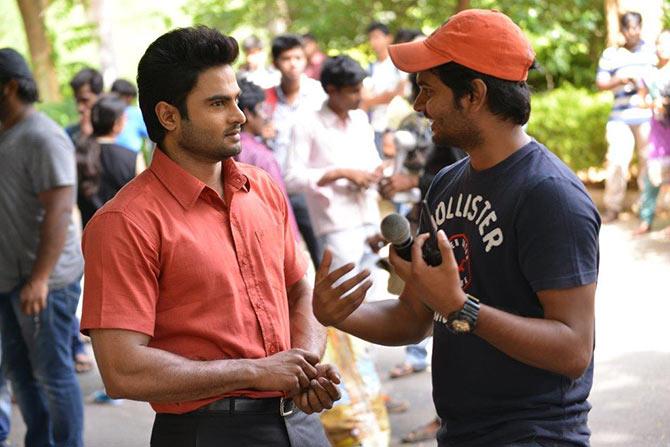 Image: Sriram Adittya explains a scene to Sudheer Babu on the sets of Bhale Manchi Roju.
What triggered the idea for Bhale Manchi Roju?
My first script was for a multi-protagonist film. I met numerous producers and narrated the story. They liked it but were sceptical about doing a multi-hero film as it doesn't work in Telugu.
One day, I had an interesting scene in my mind from which the script of Bhale Manchi Roju took off. The idea was to make a film which happens in a day.
It was challenging to write interesting scenes and characters and an exciting two-hour screenplay which can entertain and keep the audience gripped!
Is it inspired by any of the films made earlier?
Not really. This film is completely non-formulaic and shows a new way of telling a story. The characters, spaces and scenes have their own uniqueness.
Undoubtedly, somewhere in my sub-consciousness, there will be an influence of all the films I have liked in the past. I believe this will make the film even better!
The idea itself was to try something new, but retain the entertainment required. The credit goes to my producers Vijay and Sashi, who believed in a different script and started the film right after the first narration.
When you have someone who is willing to join you in trying to give the audience a new experience, there is nothing to worry about at all!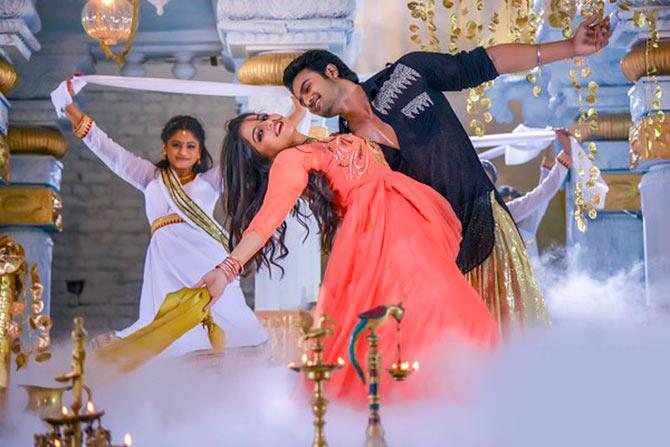 Image: Sudheer Babu and Wamiqa Gabbi in Bhale Manchi Roju.
How did you zero on Sudheer, Wamiqa, Dhanya and the other cast?
When Vijay suggested Sudheer for the lead role, I was more than excited. He's good-looking, a great dancer and an amazing actor. I loved his performance in Krishnama Kalippindi Iddarini.
We had auditioned a lot of people for the female lead role, but we wanted someone who was a performer and was high on energy. Wamiqa was the perfect fit.
Dhanya was on my mind for a particular character in the script. She is a natural and committed actor.
We have senior actors like Sai Kumar, Parchuri Gopal Krishna, Posani and Pruthvi who are going to look completely different and have delivered their best performances ever. Venu and (debutant actor) Sriram have done some extraordinary stuff in this film.
How does it feel as the film nears release?
I am really excited that people are going to watch our work and a little nervous since it is my first film. More importantly, it's a dream come true and will be one of most special days in my life.
Have you thought about your next film?
I have a couple of scripts in hand but haven't finalised anything yet. As of now, the focus is on Bhale Manchi Roju.