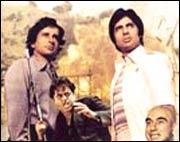 Ramesh Sippy's Shaan has now joined the likes of his blockbuster Sholay and K Asif's mega epic Mughal-e-Azam.
The 1980 Bondesque thriller will be re-released in India on Friday, April 22.
Starring some of the biggest names in the industry at the time, Shaan, however, had not matched Sholay's groundbreaking critical and commercial success.

G P Sippy and Ramesh Sippy made a movie that was unabashedly overinflated -- big budget, big stars, big blasts. And Shaan was an adventure story with state-of-the-art fight sequences, villains and sets.
CREDITS

Producer

Director

Music

Cast

G P Sippy

Ramesh Sippy

 RD Burman

Sunil Dutt, Amitabh Bachchan, Shashi Kapoor, Shatrughan Sinha, Raakhee, Parveen Babi, Bindiya Goswami, Kulbhushan Kharbanda
What this 22-reeler is probably best remembered for today is for being possibly the most expensive Indian representation of all that was typical in the 1970s genre textbook -- Bond-style high jinks, disaster movie-style emergencies, multistarrer style ensemble acting and a plot that takes second place to scale and stylisation.

Story: Shiv Kumar (Sunil Dutt) is a straight cop who gets an action-packed intro courtesy his star status. He saves some hostages by lobbing a grenade and blowing up a water tank. All in a day's work for this happy family man who is married to Raakhee.

Raakhee, who has played heroine to Amitabh Bachchan and Shashi Kapoor in many films, plays their bhabhi here. The roguish brothers, Vijay and Ravi, and their many transgressions in the film's initial stages constitute the most entertaining portions of the movie. First, they outwit an unwitting dupe, then (in a questionable boost for female liberation) the heroines (Bindiya and Parveen Babi) outwit them. For extra fun, they all get together to outwit the general public.

This all-round waywardness is rudely interrupted when angry elder bro gets mad at them and madder still at a bald-pated villain, Shakaal (Kulbhushan Kharbanda), who has him 'car-napped' to his island hideout. He gives Shakaal the slip but, after a North By Northwest-like airplane chase, is shot down.

His younger brothers now want Shakal's bald scalp and they are aided by Rakesh (Shatrughan Sinha), a sharp shooter who has his own axe to grind with Shakaal and by Abdul (Mazhar Khan) a freewheeling informer who feeds them free information about Shakaal.

It all leads to the final showdown on Shakaal's island and inside his gadget-filled den of vice after the leads have disguised themselves. Many punch-ups later, Vijay knows exactly what buttons to press on Shakaal's control panel to finish the villain's tyranny.

Comments: Shaan has just too many characters and too many stars. Also, their individual tracks run parallel and are often not interwoven into one narrative. What results is a collection of vignettes revolving around each major character or star. And also a collection of multistarrer cliches -- not once but twice an actress is tied up for ransom rendering the hero helpless in the hands of the villain.

G P Sippy spares no expense to provide the film a patina of grandeur. Ramesh Sippy directs the action sequences with characteristic flair -- watch a pack of dogs ferociously hound Sunil Dutt -- but where are the tender moments? Sippy prefers to go for the overkill and keeps his characterisations sketchy -- the kind where Bindiya's casualness is sought to be established by constant bubblegum blowing.
| | |
| --- | --- |
| Song | Singer |
| Jaanoo meri jaan | Mohammed Rafi, Kishore Kumar, Asha Bhosle, Usha Mangeshkar |
| Yamma yamma | Mohammed Rafi, RD Burman |
| Pyar karnewale | Asha Bhosle |
| Naam Abdul hai mera | Mohammed Rafi |
| Dariya mein jahaz | Kishore Kumar, Asha Bhosle, Usha Mangeshkar |
| Doston se pyar kiya | Usha Uthup |
The Writing:
Hit yarn spinners Salim-Javed's script surprisingly throws up no memorable dialogue -- not even for the villain. To have the villain respond to the accusation that he knows '
kaafi kuch
' with a line like '
Kaafi nahin, sab kuch
' is all too predictable. 
They use up their imagination conjuring up novel fight situations for the characters -- like dunking a man, car included, in water. In the climax, Amitabh fights a crocodile while Shashi and Shatru share a gas chamber with gas-masked villains.
The villain:
The most imagination is lavished on the creation of Shakaal. Salim-Javed are famous as the creators of larger than life villains like Gabbar (
Sholay
) and Mogambo (
Mr India
).
The background music hums 'Shakaal' in his pre-introduction shot. He is shown with sharks in the background aquarium and crocs to make a meal of  cronies he is displeased with. He taps his bald head effectively but he doesn't score too high on the sidekick score -- there's no Samba to enliven the proceedings. And Shakaal suffers from the fatal flaw common to all villains in adventure flicks -- he never stops when he is on top. He pits the heroes against seemingly impossible odds which, of course, they dutifully overcome.
 
Star performanes: So much time is expended on establishing the mammoth cast, even Amitabh doesn't get adequate scene time. He is, of course, the epitome of cool. It's good to see Johnny Walker still drawing laughs at this late stage in his career. And Mazhar Khan in a cameo shows promise that was sadly never realised.

Music: R D Burman is better known for his score in smaller, more intimate films than the big budget extravaganzas. But the same charge cannot really be levelled against his score in Shaan. Pyar karnewale is a peppy club number as is the underutilised Usha Uthup's Doston se. Janoo meri jaan is a catchy multistar love song so typical of the 1970s and 1980s and Yamma yamma is one of the better climax songs from the heroes-in-disguise-in-the-villain's-den genre.