'If not for the sentiment against Shah Rukh Khan's statements, Dilwale would have earned Rs 10 crore more.'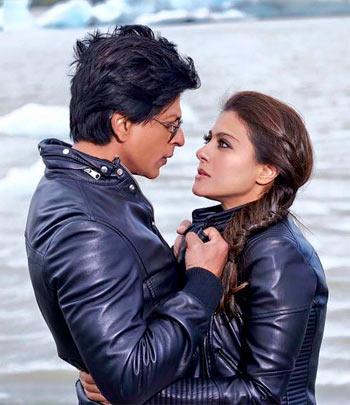 Dilwale has beaten Bajirao Mastani at the box office on the opening weekend.
In three days (India collections) Dilwale made Rs 64 crore (Rs 640 million) at the box office while Bajirao made Rs 46 crore (Rs 460 million).
It is not the first time that a Shah Rukh Khan movie has vanquished a Sanjay Leela Bhansali movie at the box office.
In 2007, Shah Rukh Khan's Om Shanti Om released on the same day as Bhansali's Saawariya.
Om Shanti Om turned out a clear winner at the box office.
The battle between the two films will be keenly observed because there are two long weekends ahead and no big Bollywood film releases till Wazir on January 8.
On day one, Dilwale took the lead at the box office by making Rs 21 crore (Rs 210 million) at the box office.
Despite superior reviews, Bajirao Mastani made Rs 12 crore (Rs 120 million) on Friday.
Bajirao Mastani's collections picked up on Saturday and Sunday, but were not enough to go past Dilwale on the opening weekend.
Both movies had their share of controversies. There were protests from Modi bhakts against SRK's statement on rising intolerance in India. There was talk of the bhakts boycotting the film, which also found an echo on social media.
"If not for the sentiment against Shah Rukh Khan's statements, Dilwale would have earned Rs 10 crore (Rs 100 million) more," says box office pundit Vinod Mirani, who contributes to Rediff.com
Bajirao Mastani too faced protests in Pune, the seat of power of the old Peshwa empire, with many theatres not screening the film.
Medha Vishwa Kulkarni, the Bharatiya Janata Party MLA from Kothrud, told Rediff.com on Friday that Bajirao Mastani portrayed history incorrectly and therefore the protests against the film.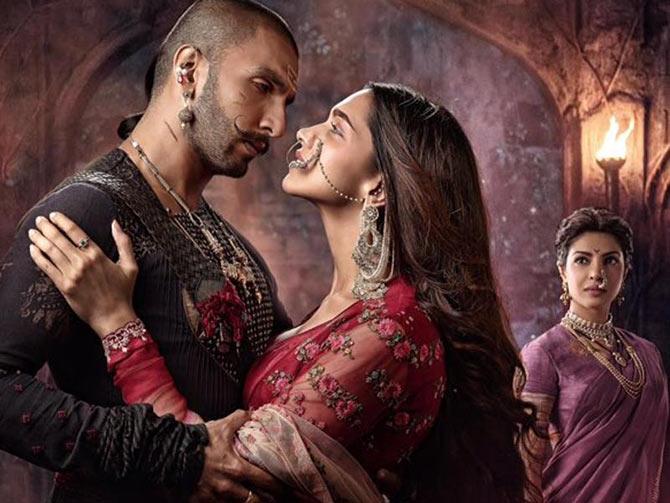 IMAGE: Ranveer Singh, Deepika Padukone, Priyanka Chopra in Bajirao Mastani.
The battle also reached the courts as many theatre owners challenged the distributor Eros' diktat that they had to screen Bajirao Mastani in their theatres.
Eros had imposed a condition during the release of Bajrangi Bhaijan -- which it distributed -- that all single screen theatres would have to compulsorily screen Bajirao Mastani in December.
The theatre owners approached the Mumbai sessions court which ruled that single screen owners were free to choose which film they wanted to screen. Many single screen theatres chose to screen Dilwale, which had better pre-release buzz than Bajirao Mastani.
Bajirao has acquired very good word of mouth appreciation -- critics too have loved the film -- and Sanjay Leela Bhansali's epic could well beat Dilwale in the days to come.