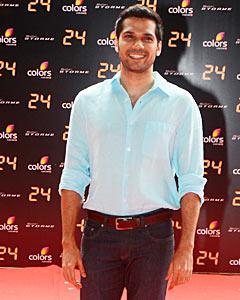 Actor Neil Bhoopalam appears with Anil Kapoor in the television series 24. He has acted previously in No One Killed Jessica and Shaitan.

Neil plays the young aspiring prime minister, Aditya Singhania, the Indian counterpart of David Palmar, the presidential candidate in the original American series.

"I play the role of a person who's running for the post of prime minister, which is by far the most powerful role that I have played in my career. Just a day before his swearing-in ceremony, there's a threat to his life," says Neil.

Anil Kapoor plays anti-terrorism unit chief Jai Singh Rathod whose job is to ensure the candidate's protection.

"I watched a lot of Indian and international politicians talk to get into the character," Neil says, but he did not model himself on anyone in particular like
Rahul Gandhi.
"It's inspired by a bunch of young politicians. I know people will tend to think about the similarities, but it is a fiction show. The portrayal has been done in such a way that the audience can connect."
Shooting with Anil Kapoor and Shabana Azmi was a little nerve-wracking on the first day of the shoot "but I gradually became comfortable. It was great to work with people having years of experience in the film industry."
Currently Neil is shooting for the film
Ungli
produced by Dharma and starring Sanjay Dutt, Kangna Ranaut, Emraan Hashmi and Randeep Hooda. "In
Ungli,
it's a group of people who fight the system and I am kicked about it."
On the challenges he faces as an actor, he says, "I come from a theatre background where the script is prepared one month in advance.
"You rehearse again and again to reach perfection. This is not the case with films or television. Doing many scenes in one day is the biggest challenge."