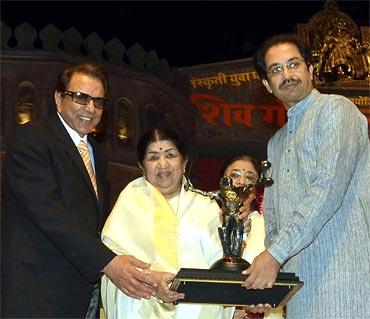 Singing legend Lata Mangeshkar was recently felicitated for her contribution to music in an event organised by Shiv Sena in Thane. 

The event commemorated the 69th death anniversary of her father Dinanath Mangeshkar, and the veteran was presented with a statue of Sachin Tendulkar by Shiv Sena executive president Uddhav Thackrey, as the ocassion coincided with the cricketing legend's birthday.

Mangeshkar, who was visiting Thane after 40 years, was visibly touched with the gesture.
Also present at the cassion were her sisters Meenatai Mangeshkar, Asha Bhosle and Usha Mangeshkar.

Dharmendra and vocalist Ustad Gulam Mustafa Khan were conferred with the Master Dinanath Mangeshkar award for their contribution to the entertainment industry at the function.
Photograph: Arun Patil