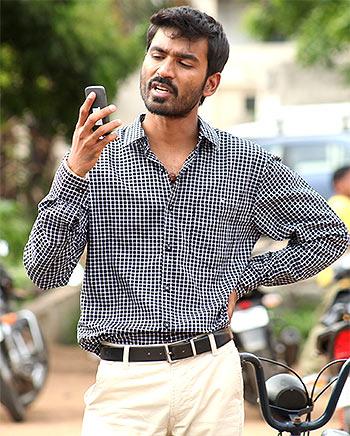 After Raanjhanaa and Shamitabh, Dhanush has signed up for his third Hindi film.
"It is an intense love story, the kind I haven't done so far," he tells us. "When I heard the script, I felt this would take (director) Aanand Rai Sir and me beyond what we did in Raanjhanaa. We will start this film after he completes Tanu Weds Manu 2, most probably in December."
Dhanush, who is back in Chennai, has already moved on to his next film. "I have just completed the promotion of Shamitabh. Now I am here to promote my Tamil film Anegan. I'm also shooting the last lap of another Tamil film. So until March, I have no space to sit back and look at my work."
But he's happy with some of the praise he received for Shamitabh.
"Mani Ratnam Sir texted me to tell me how much he liked Shamitabh. Such praise means a lot to any artiste. I consider myself exceptionally blessed to be associated with artistes, who are constantly re-writing cinematic history," he says.
Working with Amitabh Bachchan has obviously been an experience Dhanush won't forget in a hurry. "I have learnt a lot from him but the most important thing that I learnt is to treat every shot as though it is your first. His level of excitement for every shot is equally high. It can be a long shot where his face won't be seen clearly but he will make sure everything is perfect. This is the kind of passion I want to see in myself when I reach that age."
Working in Shamitabh was not easy task for Dhanush. "I had to emote to the most well-known voice in the country," he says. "I had to make sure I didn't mimic him. I had to change my speaking style. All my own sentence-structuring, punctuations and pauses when I speak had to be accommodated to Bachchansaab's voice. It wasn't easy."
Dhanush recalls how thrilled he was when he was offered Shamitabh. "(Director) Balki Sir is a formidable name, and I got a chance to work with Bachchansaab in my second Hindi film. It couldn't get any better."
He chose Shamitabh to be his second Hindi film for a very good reason. "I am aware I am not a conventionally good-looking hero material. I was offered 33 Hindi scripts but I didn't see myself fitting in any of them. It was only when Shamitabh came to me that I felt an immediate empathy," he says.
Dhanush dismisses talk of his character in the film being based in his father-in-law Rajnikanth. "People are saying just because I start my journey (in the film) as a bus conductor. But that detail from my father-in-law's life is a mere coincidence in the plot. If you see the film, when my character is a child in rural Maharashtra, his mother sells vegetables at a bus stop. Isn't it logical for him to become a bus conductor?"
"I am blessed that I get scripts which allow me the luxury to stretch myself as an actor. Shamitabh is nothing like my previous release Velaiyilla Pattathari. I hope audiences would say the same about my next release."