Watch Devi till the end to know who was on the other side of the door.
Life won't be the same after that, promises Moumita Bhattacharjee.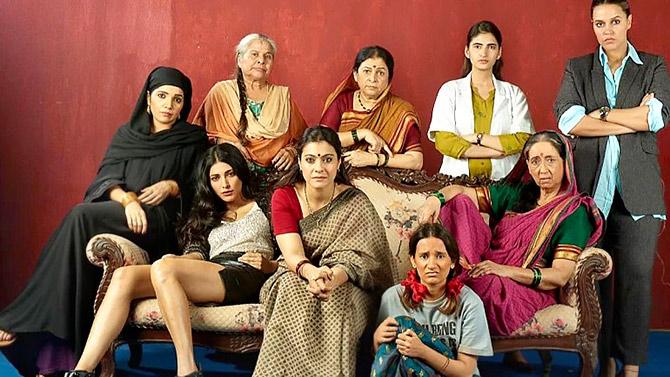 'Just because I don't have injuries to show, it doesn't mean it didn't hurt,' Neha Dhupia snaps.
And with that, Director Priyanka Banerjee explains why Devi is more than the physical wounds.
It's emotional, psychological and extremely disparaging.
The 13-minute film starts with a girl trying to fix a television. There are many more women sprawled across the living room.
They belong to different demographics and social statures and yet, they are huddled together in what turns out to be a shelter for raped women.
So there are Maharashtrian women from the lower-income group playing cards, a classy modern girl Shruti Haasan gulping down alcohol, a timid housewife constantly praying in Kajol, an independent woman in Neha Dhupia, a deaf and mute girl, a Muslim lady and a young girl studying.
Initially, one is clueless as to why so many women, who dislike each other, are locked up in one room.
They are as different as chalk and cheese.
And then their sordid tales pour out of how they were raped and left to die.
The more you hear these tales, the more disturbing it gets.
The doorbell chimes continuously while the women bicker over whether or not to let in another victim in.
And when she does enter, it leaves everybody shocked.
You can almost feel it.
What makes you worried that even in such a state, they are looking to come up with a system to let new ones in.
Banerjee subtly makes it evident that women will always know how to streamline everything even after being horrifically violated.
Devi has been outstandingly enacted by the women in it.
Be it Kajol or Neha Dhupia or Neena Kulkarni, everyone has aced their characters and how.
It's such a delight to watch them in this film.
Devi also works because it's a short film. Had it transformed into a two-hour movie, it would have lost its punch.
While it is poignant and hits you hard without being too verbose, the treatment can get a bit tough to handle.
In the beginning, you are left wondering what's happening. In fact, you are so engrossed in figuring out why they are in that room that you miss an important fact about their existence.
But once you understand that, Devi will no longer remain just a short film on rape victims.
The rapists of Nirbhaya are still evading the death penalty.
A reporter on television mentions how the perpetrators are getting political privileges in Devi.
Indian women today are just statistics, something that the director makes evident towards the end of the film.
Rediff Rating: