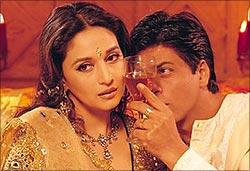 Sanjay Leela Bhansali's magnum opus Devdas has been named among '10 Greatest Movies of the Millennium' by Time magazine which describes it as "a visually intoxicating musical".

Meanwhile, Raj Kapoor's Awara (1951) features among the 20 new entries of the magazine's all-time 100 list of the greatest films made since 1923.

Bhansali joins the likes of Hollywood veterans like James Cameron and Baz Luhrmann in the list with his 2002 love story, starring Shah Rukh Khan, Aishwarya Rai and Madhuri Dixit.

The film is at the eight spot followed by Luhrmann's musical Moulin Rouge and this year's Oscar winning silent drama The Artist.

The 2008 movie Wall E occupies the top slot followed by The Lord of the Rings, Avatar, Crouching Tiger, Hidden Dragon, German film The White Ribbon, The Hurt Locker and Synecdoche, New York.
Bhansali, a self-confessed fan of melodrama, provided a grand backdrop to the tragic hero of Sharat Chandra Chattopadhyay's novel, which has been adapted in Bollywood several times.
Time's Richard Corliss described the film as "a visually intoxicating musical with grandeur the old Hollywood moguls would have loved.
"Devdas is played with such commitment that the tritest plot twists seem worth believing -- and dancing to -- in nine nifty production numbers... It is a visual ravishment, with sumptuous sets, fabulous frocks and beautiful people to fill them."
Bhansali, on his part, is happy to see his film get recognised on the international level alongside Hollywood classics.
"The news couldn't have come at a better time. Devdas completes 10 momentous years. It's a very proud and happy moment for me. For a mainstream Hindi film like Devdas to gain such cinematic recognition and be part of such an illustrious list, is an honour not just for me but for the Indian industry at large."
© Copyright 2022 PTI. All rights reserved. Republication or redistribution of PTI content, including by framing or similar means, is expressly prohibited without the prior written consent.