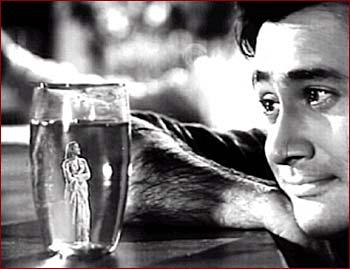 Dev Anand kept the flame of hope alive.

Tarun Vijay salutes the Hero for All Times and a great Indian who united people across faith and boundaries.

Please post Your Tributes to Devsaab here
.
In a world where money reigns through facades, Dev Anand was the original warmth that won hearts. He was a favourite of people across borders, those who belonged to the Indus, on this side of the Line of Control and on the other side. He dazzled both with entertainment enveloped in love.
His biggest contribution was to keep the flame of hope alive. You stay young till your dreams are young.
He was my all time favourite, like he was to millions across the globe, crossing all boundaries of faith and differences. He had a great number of fans -- from Mumbai to Karachi, from Lahore to Kathmandu.
I would watch his movies -- any movie -- with a blind faith and often bunked classes to meet the challenge of 'watching the first day first show.'
Whether the story was good or bad, whether the supporting actors and actresses lived their role well or not, it hardly mattered. Dev
saab
's movie had to be watched, at any cost. He was our hero for all times.
We never celebrated his birthday. He was omnipresent. He was always celebrated. There was no special day marked for it. Every day, whenever we could, we could discuss him, his movies, his songs, his music, the immortal
Guide
, the inimitable S D Burman's magical contribution and his endless new ideas.
He embodied an era and mesmerised his fans. Always searching for new talents, new faces, new stories and a new generation of fans. His style became iconic. Millions would like to speak, dress and walk like him.
He boarded the bus for peace to Lahore, Pakistan
(in February 1999)
. Atal Bihari Vajpayee was his great admirer. Atal
ji
wanted Dev
saab
to accompany him to Lahore, to which he readily agreed. He was a Lahorian in a sense that he studied there and did his post graduation in English literature from the famous Government College.
Rajesh Shah, my friend and steel magnate who accompanied him, told me Dev
saab
kept everyone on the bus engaged with his endless anecdotes about Lahore and Pakistan.
At Wagah, while Prime Minister Nawaz Sharief met Atal
ji
with an affectionate hug, a special request was reserved for Dev
saab
. Nawaz Sharief requested a picture with Dev
saab
, and posed to look 'alright' with Dev Anand.
Later, in Lahore, when Atal
ji
was accorded a welcome, it was there that Dev
saab
murmured in my ear, 'Who is that man in military uniform? He didn't salute Atal
ji
.' We were busy watching the historic event and missed what caught his eye.
Later it was revealed that Pervez Musharraf had refused to salute Prime Minister Vajpayee. Something that was avenged by our Air Chief Marshal A Y Tipnis when Musharraf came to India as president and the chief of the joint services refused to salute him.
Dev
saab
was accorded a hero's welcome at the Government College, Lahore. Young boys and girls mingled with Dev
saab
's old fans with the entire college staff standing in line to see and greet their alumnus.
Dev Anand, with moist eyes, thanked them all, moved by the emotional welcome.
'Where is the boundary?' he asked. 'Where is the animosity?' And the crowd went mad with 'We love you Devsaab' chants.
He always spoke to his young fans with utmost respect and elevated them with his profound love. In Lahore, he said to me, 'Tarunsaab, we are just one people and one land, but we are one heart that throbs across the lines. The Jhelum, the Indus unites us all. It's the bloody army that doesn't want the Pakistani people to be friendly with us. Beware of those men in uniform in 'Pindi.'
History proved that he was right.
He was a Braveheart. He didn't care for the government's revengeful attitude and fought the Emergency, formed filmmakers and actors fronts against the draconian regime and the gagging of the press. He was warned about the negative consequence on his profession for actively participating in a 'political movement' to which he retorted, 'What politics? This is to save India.'
His autobiography, Romancing with Life, released by Dr Manmohan Singh shows him as a person who was romancing life. He lived a full, satisfying and bindaas life. He didn't complain, never used strong words against his worst adversaries or critics.
As a great Indian, he showed the Indian heart that unites all, binds all, and warms up humane chords with limitless love across boundaries.
He was essentially a Star, in every sense of the term, who rose so high and dazzled the people of Indus that he became a Sun of the celluloid world.
Tarun Vijay is a Rajya Sabha MP and national spokesperson of the Bharatiya Janata Party.
Please post Your Tributes to Devsaab here.