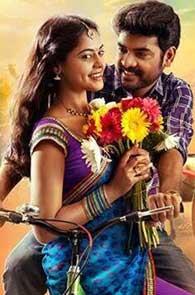 Director Ezhil attempts to infuse a dose of humour into a tale of enemity, writes S Saraswathi.

Vemal and Bindu Madhavi, the hit pair from Kedi Billa Killadi Ranga which recently crossed the prestigious 100 day mark at the box office, pair up once again in Tamil film Desingu Raja.

Desingu Raja is a simple love story set against the backdrop of a deep-seated animosity between two villages, often resulting in violent clashes and death. Director Ezhil, however, treats the script with a good deal of humour.

Idhayakkani (Vemal), who hails from the village of Killioru, is a firm believer in non-violence. The ongoing feud between his family and the family of Seena Thana from the neighbouring village of Pulioru is a source of constant worry for him.

Though their rivalry began on a minor issue, many lives were sacrificed over the years.

Idhayakkani's father is killed by Seena Thana. Angered by the death of his son, Idhayakkani's grandfather retaliates by killing Seena Thana's son.

So Seena Thana vows to kill Idhayakkani.

Meanwhile, Idhayakkani meets Thamarai (Bindu Madhavi), Seena Thana's daughter, at a temple festival and falls deeply in love. Chaos ensues when both realise who their families are and the respective sets of parents and villagers object to their romance.

How Idhayakkani manages to diffuse this volatile situation with his wit, charm and humour forms the rest of the story.
Desingu Raja has music by D Imman with songs by legendary singers S P Balasubramaniam and Unnikrishnan. The pick of the lot, however, is the beautiful sensuous number, Ammadi Ammadi, by Shreya Ghoshal.
Directed by Ezhil and produced by Escape Artists Motion Pictures, the film has been cleared by the Censor Board with a 'U' certificate and has an entertainment tax waiver.
As far as performances are concerned, Ezhil seems partial to his supporting cast.
Parotta Suri, who plays Thamarai's 'murai mama' (maternal uncle) and Singampuli, who is Idhayakkani's uncle, have given an impressive performance. Other supporting cast members include Ravi Mariya, Charle and Aadukalam Narain Vadivukkarasi, while Mukta Bhanu makes a cameo appearance.
Vemal is comfortable with his character and has given a decent performance. Bindu Madhavi is very pretty, but the chemistry the two shared in KBKR is definitely missing.
Director Ezhil tries to convey the message that love and humour can end the vicious cycle of violence. Though the concept is interesting, in the end the enmity between the two families is treated more like a joke. Since this happens after lives have been sacrificed by both families, the sudden camaraderie is hard to digest.
Yet, that's the way Ezhil wants to go and, in the end, everybody forgives each other.
The unconvincing storyline may not hold your attention, but comic elements in the film certainly keep you entertained throughout.
Stars: 2.5