'She gives me constructive criticism and makes my work even better.'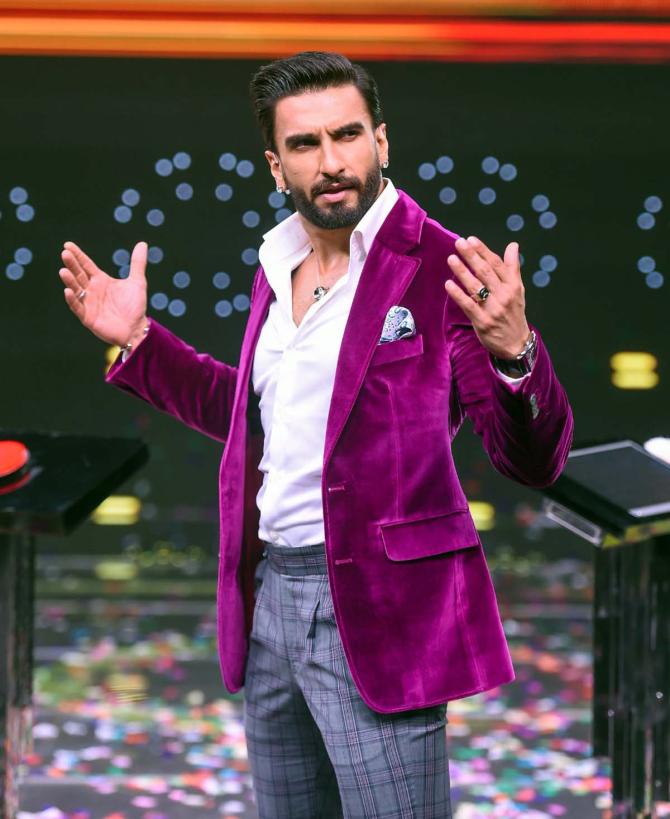 Ranveer Singh is all set to make his debut on television with the quiz show, The Big Picture.
The actor launched the show in his signature larger-than-life style at an event in Mumbai, and gave some witty answers too.
Known for his infectious energy, Singh is thrilled about this new inning of his career and claims that he has taken some tips from wife, Deepika Padukone.
"If my show turns out to be a hit, I will buy a farmhouse in Panvel," he tells the media, as Rediff.com Contributor Mohnish Singh takes notes.
If you had to paint the 'Big Picture' of your life, what would it be like?
The big picture of my life is to have a nice, beautiful house wherein my wife, my children, and the entire family will be living together happily and in the pink of health.
What can I ask for more from Him?
I wish I keep entertaining everyone till the last breath of my life.
If my show turns out to be a hit, I will buy a farmhouse in Panvel (laughs).
How different is the experience of working on television from films?
Very different.
I have just begun my journey on television and I can clearly say that there are a lot of differences.
When you are working on a film, you get some down time where you can sit, eat, and rest for some time.
In television, you have to be on your toes all the time.
You report at 8 in the morning and work till 8 in the evening. So it's a 12-hour shift.
There is no time to eat and chill.
In films, we are playing a character which acts like a shield.
In television, you are the host and on your own. That's a great difference.
In films, we are given dialogues but on a reality show, everything is mostly unscripted. You have to be spontaneous and alert all the time.
Working on television is way tougher than doing films.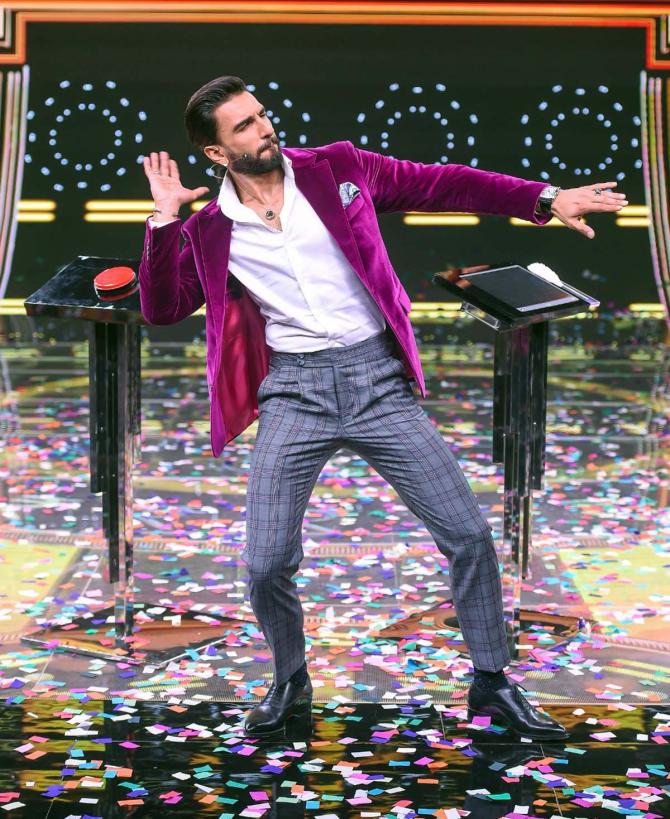 Why did you choose a quiz show to make your television debut?
I was offered multiple TV shows over the past few years, from different channels, different producers.
There were some shows based on international formats.
Some were extensions of the already existing formats.
But nothing ever fell into place.
Some were good, but not great enough for me to take them up.
I have been a huge fan of quiz contests since my childhood. I used to watch Derek O'Brien's Bournvita Quiz Contest as a kid.
I had even qualified for it once. So my GK is also good, you see.
I like the entire format of a quiz show.
So when this opportunity came my way, I jumped at it.
It felt like finally the stars aligned and everything fell in place with The Big Picture.
Even Bhai (Salman Khan) appreciated my hook step for the show.
He is my producer here; what more could I ask for?
I will try to provide a gold standard of entertainment, this is my commitment.
Aur ek baar jo maine commitment kar di... phir kya hota hai? Jo hota hai, manjoore khuda hota hai.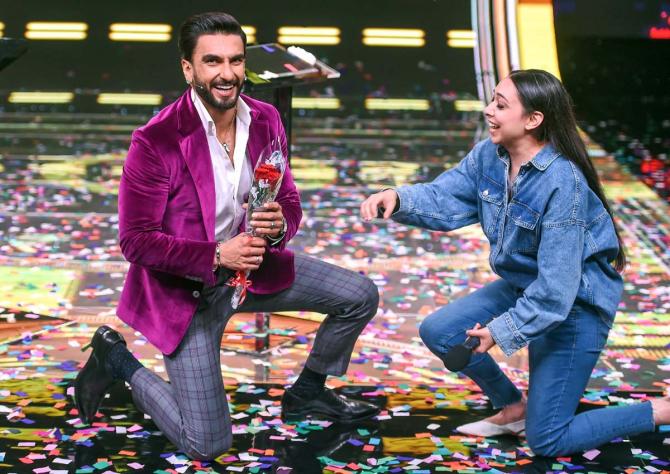 How is The Big Picture different than other quiz shows?
This is unique because it is a visual quiz show.
We all are living in a visual era today.
Everyone has smartphones with cameras.
Everything is about pictography these days.
We are in the era of visuals and that's what our show is based on.
It is a new-age quiz show and that's what makes it unique.
How did Deepika react when she learnt you were debuting as a reality show host on television?
Deepika always has constructive criticism for me, which I take positively.
I showed her my mock sessions.
She had some interesting tips, which I noted down.
I am really grateful that I have such a smart mind as a partner.
She gives me constructive criticism and makes my work even better.
We are each other's creative bouncing board.
We often have deep discussions regarding our work.
Hopefully, with her love and support, I will be able to do the best job and be the best host.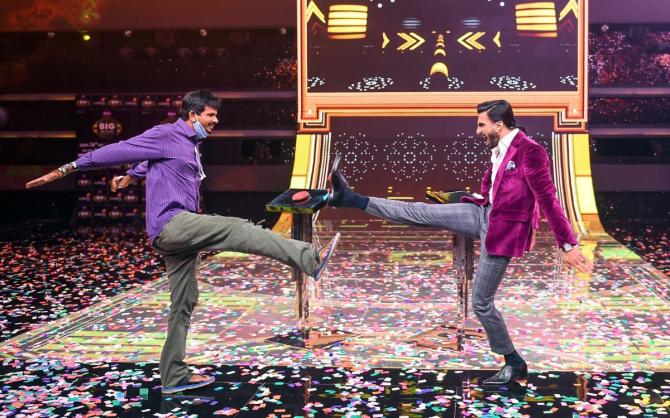 Do you believe that television helps an actor or film-maker to expand his popularity across the country?
Yes. Television is a powerful medium.
People, who cannot go to theatres to watch your films, experience you on television.
Whatever I have learnt in life is from television only.
I have been watching television since childhood.
The idiot box has made me an idiot, in a good way, of course. A 3 Idiots type of idiot.
Television has got the maximum reach.
Today, every Indian household has a television set and I am glad that I have the opportunity to connect with them.
I am really grateful that I am getting the opportunity to entertain so many people across the country.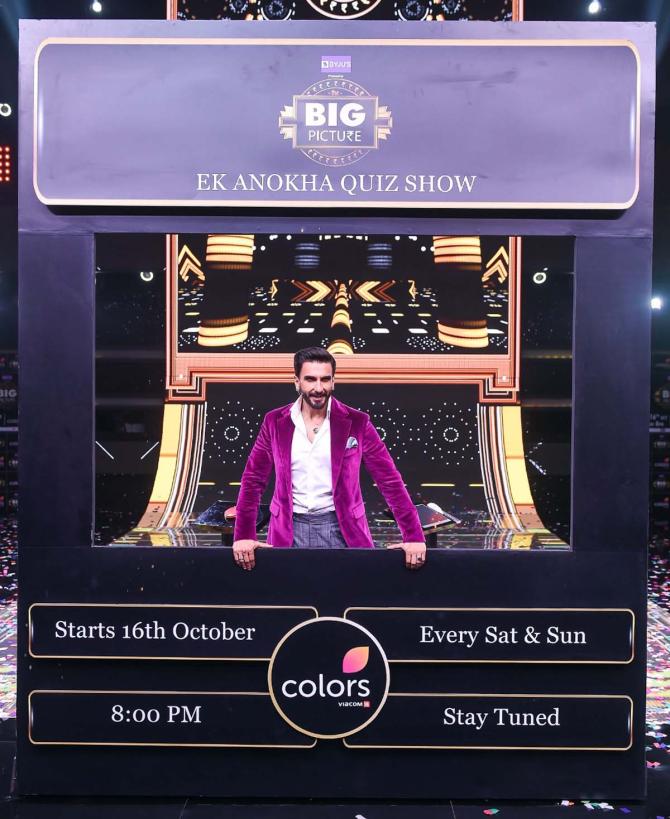 Was your decision to debut on TV motivated by the fact that films and theatres have taken a hit during the ongoing pandemic?
Yes, it is true that it has been a tough time for the film industry.
Cinema halls have been shut for a long time.
But the good news is that they are opening soon.
Sooryavanshi is releasing on Diwali, followed by '83 on Christmas and Jayeshbhai on Mahashivratri.
But my decision to make a debut on TV has nothing to do with cinema halls being shut.
It was an independent decision based on the format and the team.
The rise of OTT is also a great thing, for writers, actors, and going forward, the existing structure of entertainment will change as compared to pre-COVID times.
But they can all co-exist and ultimately, it will all boil down to content.