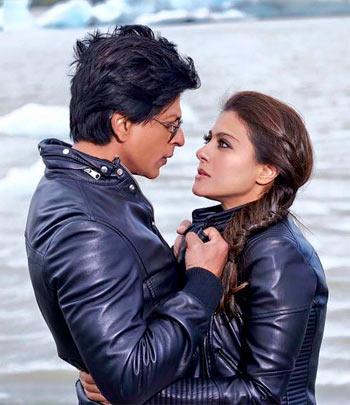 Love them? Then vote for them!
When one thinks of Raj and Simran or Rahul and Anjali, one visualises breathtaking flower fields, a sensual waltz in the rain or a tight embrace against dramatic violins.
Except no sparks flew between Shah Rukh Khan and Kajol the day they met.
The duo cast a pretty lousy first impression on each other on the sets of their first film together, Baazigar. He was grumpy after partying all night at a New Year's bash. She was chatting away nineteen to a dozen in Marathi with the make-up man.
Her spontaneous working style didn't amaze him either.
'She is very bad, no focus, you will not be able to work with her,' he warned his colleague Aamir Khan only to take back his words when he saw Kajol's magic in the rushes later that day.
Having worked together over two decades and half a dozen movies, the duo is hailed as the perfect on-screen pair. Whether they're swearing undying love in Dilwale Dulhania Le Jayenge or dancing to the most absurd steps inside a horse stable for Karan Arjun or paying charming tribute to Raj Kapoor and Nargis in a special appearance of Rab Ne Bana Di Jodi, SRK and Kajol's electric chemistry is a pleasure to witness.
The effectiveness of their responses, the ease in their passion, the freshness they exude every single time, all this and more is why fans are most excited to watch this famous jodi reunite in Rohit Shetty's hugely anticipated Dilwale on December 18.
Meanwhile, you can take this poll and vote for your favourite SRK-Kajol film.

Baazigar (1993)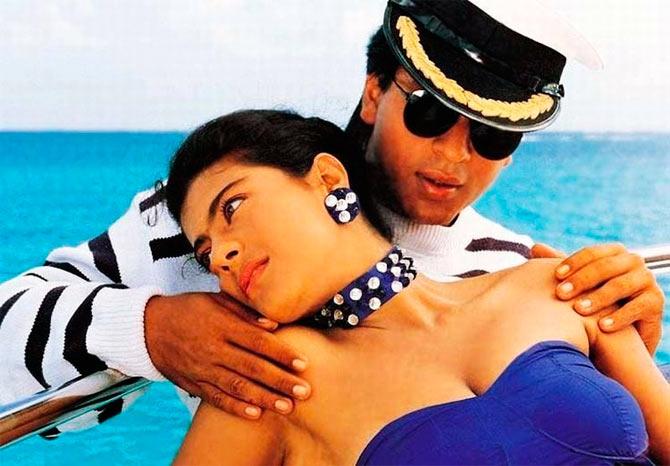 If Shah Rukh Khan went for a change of image as a ruthless, revengeful youngster looking to destroy a businessman responsible for his family's downfall by manipulating his one daughter and murdering another, Kajol got her first taste of success with Abbas-Mustan's enjoyable thriller, Baazigar.
Audiences simply loved when SRK gazed into Kajol's cat eyes and declared his most famous line in the movie -- 'Haar ke jeetnewale ko Baazigar kehte hain' -- and romanced her gallantly in dreams (Baazigar O Baazigar) and discotheques (Yeh Kaali Kaali Aankhen).

Karan Arjun (1995)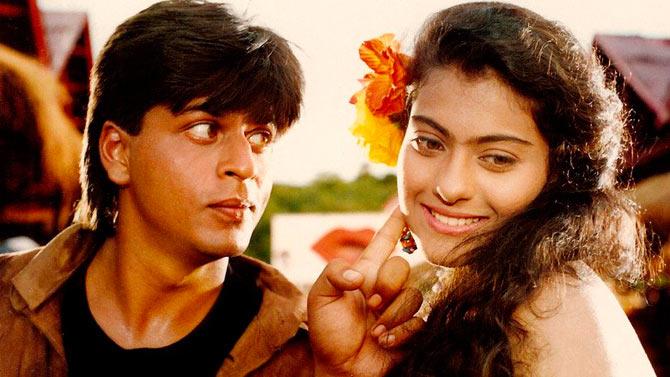 Rakesh Roshan's reincarnation vendetta is all about Raakhee's hysterical belief in her executed sons' inevitable return to settle scores with the wrongdoers.
But even Salman and Shah Rukh's spectacular pairing as brothers couldn't steal the thunder of the SRK-Kajol jodi.
Even though their clichéd romance track got little screen time, they made the most of it to horse around in hay for the chartbuster, Jaati Hoon Main.

Dilwale Dulhania Le Jayenge (1995)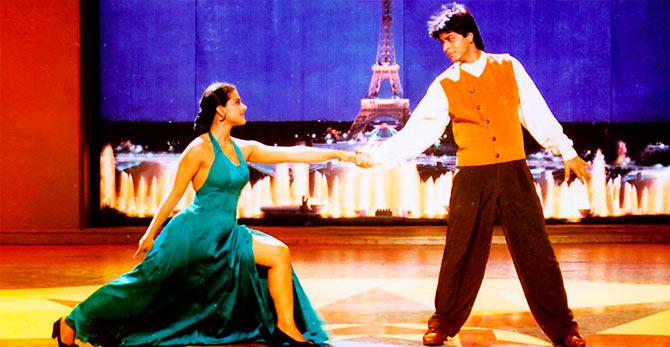 What's not to love about this iconic romance that highlights SRK's enormous charisma and Kajol's striking vulnerability like never before.
It's only after Aditya Chopra cast SRK and Kajol as Raj and Simran, their pairing turned epic. A doting exchange between the two captures what DDLJ represents:
Raj: Pyaar karti ho mujhse?
Simran: Sabse zyada.
Raj: Bharosa hai mujhpe?
Simran: Khud se zyada.

Kuch Kuch Hota Hai (1998)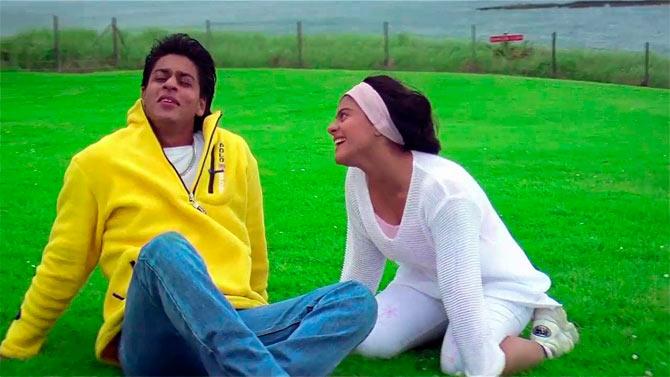 All this while we viewed SRK and Kajol as lovebirds. But in Karan Johar's Kuch Kuch Hota Hai they played inseparable "best friends" who fail to realise the depth of their feelings for each other until Rani Mukerji's hot new admission in college comes along.
Friendly in real life, it wasn't hard for the two to translate their camaraderie on screen, especially when a tomboyish Kajol ribbed SRK's dude over his mundane pursuits or challenged him aggressively for a game of basketball.
Given this is a couple we'd grown so fond of by then, when they finally come together, it's significantly special.

Kabhi Khushi Kabhie Gham (2001)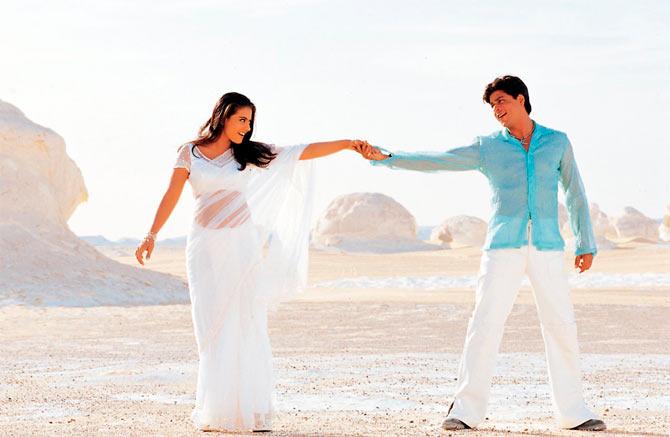 In a story exploring three generations, SRK and Kajol's romance, its disapproval and rebellion moves the story forward.
He's a wealthy man's adopted, attractive son, she's a mithaiwala's chatty daughter. Their marriage creates family friction that leads to estranged ties followed by a long-due melodramatic reunion.
Karan Johar's grandeur packed lesson on loving the parents gets all its active quotient from Rahul and Anjali's vivacious chemistry whether they're bantering at a wedding or demonstrating their scorching star power in Suraj Hua Madham.

My Name is Khan (2010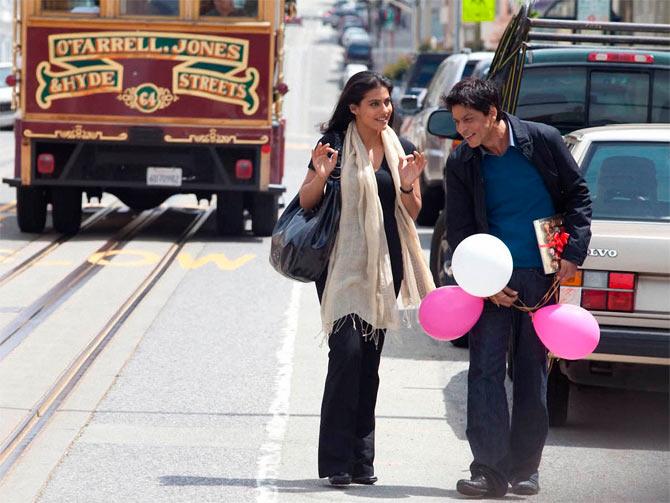 One had to make do with Kajol showing up fleetingly around SRK for a song in KJo's Kal Ho Naa Ho or Kabhi Alvida Naa Kehna until he roped her in for a powerful role in My Name is Khan.
In this US-based drama about discrimination in a post 9/11 world, the actress essays a supremely independent and fiery single mom whose marriage to SRK's Asperger-syndrome ridden Khan hits a low patch after a personal tragedy.
My Name is Khan showcases their attachment in an unusually mature light. But the magic they radiate in each other's company is just the same -- fervent and fine-tuned.