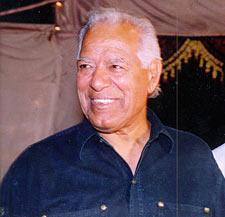 A pall of gloom descended on the ancestral village of Dara Singh upon hearing the demise of the great wrestler-actor.

The streets in Dharmuchak, near Amritsar, filled with young and old, sharing their grief and heroics of the man, who breathed his last in Mumbai today.

For the past five days, the residents have been praying for his recovery.

"We had been fearing the worst, but we had not lost all hope. We can't believe our 'Hanuman' is not amongst us. This news (that Dara Singh has passed away) looks unreal," Sukhraj, a local resident, said.

Singh's nephew Baljit Singh said that they were hopeful that Dara Singh's condition will improve. Now a number of residents are preparing to leave for Mumbai.
"I cannot believe this. This cannot be true," a teary-eyed village elder who recalled the affectionate nature of Dara Singh, said in disbelief.
Dara Singh was born in Dharmuchak in a Jat Sikh family in November 1928 to Balwant Kaur and Surat Singh Randhawa.
Singh, affectionately called 'Bhalwanji' by his followers, was also mourned in Phagwara, Mannanhana and Raipur Dabba villages, the home of his old associates and friends.
Post your condolences below.
© Copyright 2021 PTI. All rights reserved. Republication or redistribution of PTI content, including by framing or similar means, is expressly prohibited without the prior written consent.