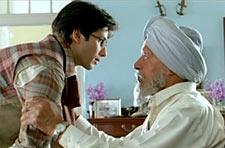 Wrestler-actor Dara Singh was last seen in Imtiaz Ali's enjoyable film Jab We Met (2007), where he played Kareena Kapoor's grandfather.

Imtiaz pays tribute to the late star, and recounts his experiences of working with him.

It is really sad that Dara Singhji is no more with us. It's a big loss. I wish for peace for his departed soul and his family.

I was fortunate to work with him in Jab We Met. It was very satisfying experience. I was looking for someone, who would look like an authoritarian figure and would respect culture and values.
I couldn't have found anyone better than Dara Singhji.
I remember when I had planned to cast him in the film, I tried to get in touch with him but it was a big task because he was a very private person. But once I approached him, he was very co-operative and humble.
Whenever he would be on the sets, there would be pin drop silence. Everyone was so disciplined in front of him.
Dara Singhji will truly be missed.