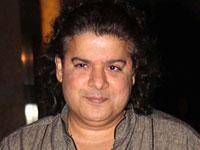 Filmmaker Sajid Khan, whose late father Kamran Khan had worked with the late Dara Singh, pays tribute to the actor.

This is a very sad day for all of us. We have lost such an adored human being, Dara Singhji.

His son Vindoo is like a brother to me. My heartfelt condolence goes to his family.

I remember meeting Dara Singhji two years ago when my sister Farah Khan and I had gone over to celebrate his birthday. He looked so fit, he could give a complex to younger people.

I did not have the opportunity to work with him but he was like a father figure to me.

My father Kamran was a stunt master, and had many wonderful opportunities to work with him. They were like brothers. They worked together in more than 15 black and white movies.

He was not just a great human being, he was also India's symbol of strength. He had an illustrious and an unbeaten wrestling career. He was a champion wrestler and had done some amazing feats in the world of wrestling.
For me, he will always remain immortal.