'I will be present for a few matches, but I won't be doing that on a daily basis like I used to do.'
'A lot of people ask me why I am not doing films. I say I can do only one thing well at a time.'
'Right now, I am back into the entertainment business because I truly wanted to return to it.'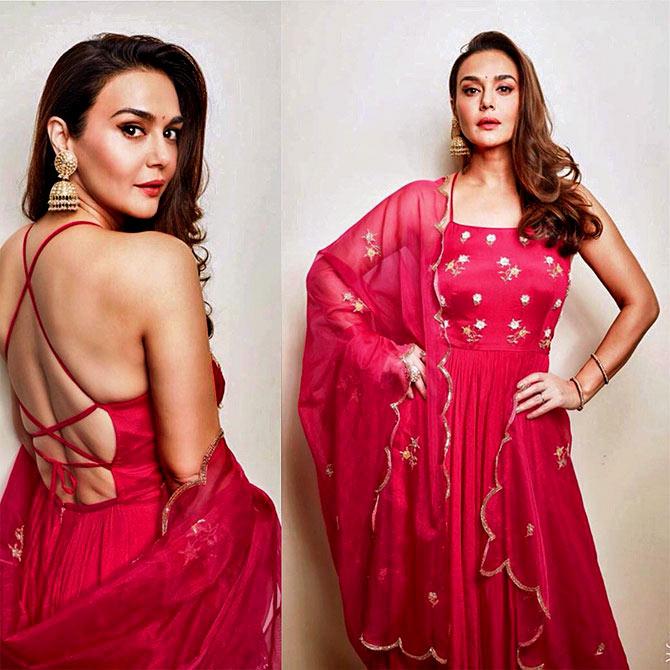 Preity Zinta returns to the movies with Neerraj Pathak's action-comedy Bhaiaji Superhit.
The actress says the film has a lot of firsts for her, including being her first 'filmi film'!
She was last seen in a special appearance in Happy Ending, and Preity admits she's missing the movies.
"I literally forgot how much fun it was to do a movie," she tells Rediff.com Contributor S Ramesh.
We are seeing you on screen after a long time.
When this film was first offered to me, I said I am not working in films anymore.
Also, when I heard the narration, I felt my character is so not me.
But then I thought that I started with Kya Kehna as a mainstream actress, Dil Se.. came out first as my debut film.
After that, I did films like Soldier, Sangharsh, Mission Kashmir, Armaan, Dil Hai Tumhara and so on... Almost every role was character-driven.
At some stage in my life, I went to my friends-turned-film-makers and asked them to cast me in a desi role.
But nobody tried to even think on that line. So, even though I did really well in the movies, I felt like doing something else.
When you have worked with even Yash Chopra, it's time to experiment with your roles.
So since I thought this is definitely not me when I read the (Bhaiaji Superhit) script, that's probably one of the reasons why I said yes to it because I was finally getting a desi role!
I hope people enjoy Bhaiaji Superhit because it is for the people who are worried and depressed.
It's also for those who have opinions on environmental issues, extra taxes, the political situation...
Simply go and have a nice time-pass laugh while watching this movie!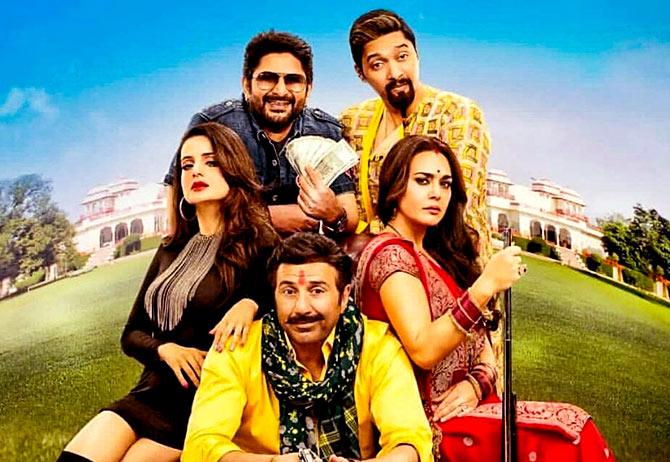 Your character looks very lively in the trailer.
My character Sapna Dubey is a UP-based woman who wears sindoor and a sari all the time.
I never had that in my films; I have always been a modern kind of girl.
But in my heart, I am the biggest desi girl one can ever meet!
I got truly nervous after signing the film because everything was different, like the dialect etc. I had to speak bad English, which was tough.
Sapna Dubey is a double-animated person, so I took inspiration from one of my most mercurial friends who is similar to this character.
Every time I returned from LA, my director (Neerraj Pathak) would tell me to scream the dialogues because my character is loud.
He would literally make me scream at everybody on the sets for at least half an hour!
Suddenly, I realised I was overstepping my boundaries, which is a good thing for an actor.
So thanks to this movie... I literally forgot how much fun it was to do a movie!
Though there were other things in my life, like cricket, which kept me away from movies, I am definitely doing more films now.
What made you dive into cricket?
I know what Zaara (from Veer-Zaara), Naina (from Kal Ho Naa Ho) or Sufiya (from Mission Kashmir) felt like, but I don't know when my brother had a kid and my best friend had children because you put yourself in a safe deposit box.
That's why a lot of actors get lost sometimes when they get older because they don't know where they are.
I had this constant fear in me that I would lose myself in some studio and one day, I would come out with white hair and say my whole life went all in this.
It sounds weird, but that's honestly how I felt.
Also, I wanted to become an entrepreneur and be a part of a billion-dollar company.
In films, the only experiment I tried to do is with Armaan, but that did not work.
And I have no attachment to the star-tab.
You become a star because someone writes a great script and fabulous dialogues, and more than 200 people are working on set. So there are hundreds of people's visions.
That's why I tried to be neutral with my highs and lows.
Luckily, I had more highs and less lows in my filmography.
When I got into cricket, I realised it's a completely different world.
I just knew 10 people every day when you do a film. The rest are fans; you don't interact with people.
But in the cricket world, you have to interact with different people. So I am happy to jump into it.
A lot of people ask me why I am not doing films. I say I can do only one thing well at a time.
Right now, I am back into the entertainment business because I truly wanted to return to it.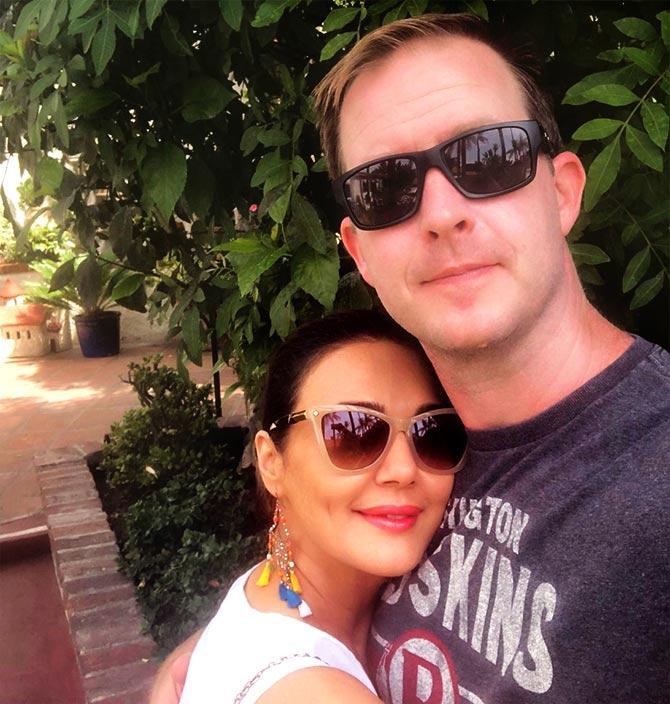 But why choose Bhaiaji Superhit as your comeback movie?
I didn't have that one filmi film in my entire career; Bhaiaji Superhit is just that.
Like Ajay Devgn has Golmaal and Shah Rukh Khan has Chennai Express, which has its own crazy audience.
So in that sense, Bhaiaji Superhit is my filmi film.
Arshad Warsi and Shreyas Talpade are extremely funny in this film. For instance, there is a highly emotional scene for my character, and in that also, they have hilariously dialogues.
So, this is that kind of film where you have to leave your brains behind.
How difficult would it be for you to manage both -- films and cricket?
Earlier, I had cricket on my head, but now, I am going with an open mind.
Cricket is on auto-pilot now.
When your child is young, you hold him and make him walk in the beginning. But once they start walking, they don't need their mother's support all the time.
I am in that zone where I don't need to be there every time.
I will be present for a few matches because I am a part of it, but I won't be doing that on a daily basis like I used to do.
Bhaiaji Superhit had stalled for about four years. What had gone wrong?
To be honest, the makers announced the film then, but did not shoot it.
They shot one sequence with Sunny (Deol), but I didn't shoot anything.
I started shooting last year. Before that, I had only one sequence of walking.
When I got married, the makers called me for the shoot.
So technically, the makers had only announced at that time.
People say the film is too old now, which is not true.
The film was shot during the last two years.
It was tough for me because I used to keep coming from LA for the shoot.
There's a new release for you. How do you feel?
The joy of re-introducing of myself in the part Two of my career is truly exciting.
At first, I wondered why I said yes to the film. But the minute I got into it and started working on my dialect, I felt like a newcomer.
My hands were shaking on the first day; I was so nervous!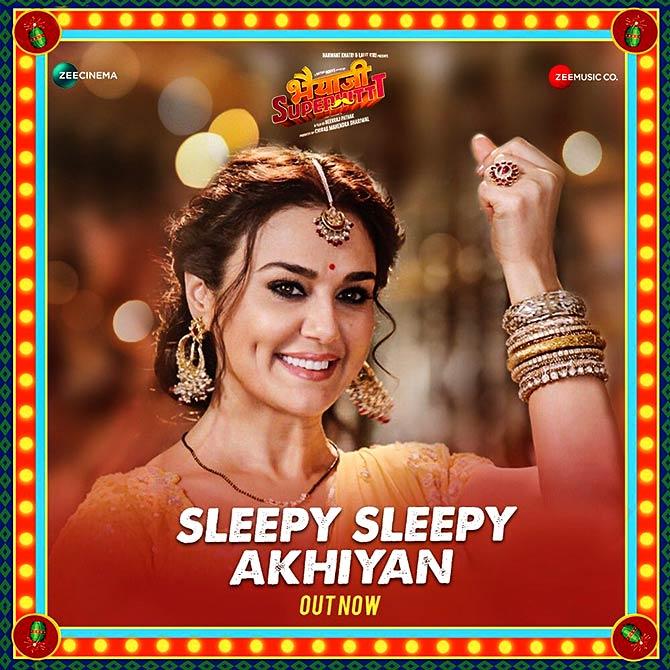 The song Sleepy Sleepy Akhiyan is getting popular.
Sleepy Sleepy Akhiyan was shot in one day. I have never shot a song in in one full day!
We started at 7 am and packed up at 11 pm.
This film has a lot of firsts for me.
Also, besides Sangharsh, I have also done action scenes for the first time.
Did you miss acting?
No. If I had missed it, I would have definitely done some movies.
I was offered many and I even sat for the narration on a few.
I said yes to some scripts too, but then learnt that somebody else did it and won the best actor!
But on the other side, I was also seduced to build a business.
I always felt that as an actor, I have earned a lot and done well for myself.
So it's time to do something different.
I wanted to have that financial stability for the rest of my life in a big way.
That's why I kept myself away from films and focused on other things.
How difficult is it for an actor to stay relevant?
To me, relevance is relevant to me.
My relevance is never for the world; being relevant to yourself is more important.
So I have always been true to myself.
I never knew I was going to be an actor. In fact, I never thought it would be even possible to become one because I was a tomboy in real life.
I was studying criminal psychology.
But when I got an opportunity to get into the movies, I decided to jump in because it was paying me much better.
I have always been relevant to myself because I have been honest to myself.
You were known as a 'bubbly girl' in your earlier days, but you broke that image after doing character-driven films like Sangharsh and Kya Kehna. What was your mantra then?
The 1990s were a different era and it never had content-based films.
I didn't want to go in front of the whole world and make a fool out of myself. I was a criminal psychology student, so I needed a script to do a character breakdown.
Also, there is something fresh about not being a filmi kid where you don't come with film conditioning.
Anything that felt vulgar, weird or awkward, I would straightaway say no.
Luckily, I had success at the beginning of my career, and had the guts of saying no.
When an actress gets married or crosses a certain age, she is usually relegated to playing a mother. But you have handled your career differently.
I started my career playing a mother in Kya Kehna.
The only superhero in our industry, Krrish, is my son.
If you ask me if I will play a bubbly girl now, my answer will be no because I have been there, done that.
There were a few limitations for me earlier, but I don't see any now.
I chose the most exciting project during my not-so exciting phase, so why would I choose thakela projects when today is my most exciting time?
What's the one thing you have learnt from your career?
You always have better choices when you say no.
As a result, this word is a very important aspect of life.
As long as you have that option, your life is great.
Today, things that I want to do are because of my own choices.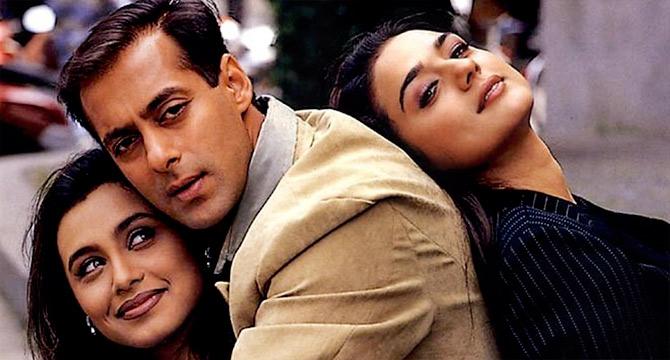 What's your most daring film till now?
Chori Chori Chupke Chupke in which I played Madhubala.
I was acting with the head of the censor board: Salman Khan.
He would change the dialogues or costumes if he felt they were cheap.
Salman is like PG-13 movies and has a very old-school of thinking, in a good way.
He made sure there's decency and that even grandmothers are able to watch the movie.
Also, I have some basic rules in life -- I don't want to do anything that will embarrass my present family or my future children.
If I didn't like the script or don't see myself in a particular role, I would say no.
Have you been offered any Web series?
I have got several offers, but I am not doing this to feed myself.
I always choose content over money.
Today, I am doing this because I want to challenge myself as an actor.
If something excites me, I will definitely do it because I am prepared to go in that direction.