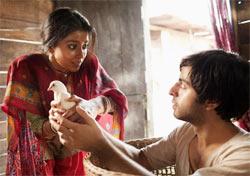 Here's a look at the line-up at the forthcoming Toronto International Film Festival, coming up in September.
Two veteran filmmakers of Indian origin and one comparatively new name will have the honour of a gala premiere for their films at the 37th edition of the Toronto International Film Festival (TIFF).

Deepa Mehta's Midnight's Children, based on Salman Rushdie's bestselling and acclaimed novel, and Mira Nair's existential thriller The Reluctant Fundamentalist, also based on a popular novel, will be screened at the galas.

The third film is English Vinglish by Gauri Shinde. It's the comeback vehicle for actress Sridevi..

The festival, which runs September 6-16, will focus on Mumbai in its 'City to City' programme this year.

"Past editions of City to City explored how filmmakers represented their urban landscape. This year we'll shift the scope of the programme to showcase filmmakers living and working in Mumbai, regardless of where their films are set," said TIFF artistic director Cameron Bailey.
"There's been an exciting evolution recently that's seen local independent films emerge to contrast with Bollywood's dazzling commercial movies. Whether you call it Mumbai or Bombay, this city is a massive player in the global film world, and a place I've grown to love in all its diversity. Toronto audiences are in for a thrill this September," trilled Bailey.
Toronto audiences will be the first to see the world premieres of films from acclaimed world directors including Robert Redford, Ben Affleck, Noah Baumbach, Mike Newell, François Ozon, Sally Potter, Robert Pulcini and Margarethe von Trotta.
Many of the directors featured at TIFF, are Oscar, Cannes, Venice and Golden Globe winners whose films have also found commercial success.
Considered a kick-off to Hollywood's Oscar season, the festival will feature films starring Ryan Gosling, Tom Hanks and Robert De Niro, as well as Dustin Hoffman's directorial debut.
TIFF also serves as a launching pad for international films seeking North American distribution. Over the decades TIFF has enjoyed a solid record of unearthing films that go on to success at the Academy Awards, such as Slumdog Millionaire, The King's Speech, The Hurt Locker and American Beauty.
'Born in the hour of India's freedom. Handcuffed to history,' is one of the taglines for Midnight's Children from Academy Award-nominated director Deepa Mehta (Water).
As millions of readers of the Booker Award winning novel know, at the stroke of midnight on August 15, 1947, as India proclaims independence from Great Britain, two newborn babies are switched by a nurse in a Bombay hospital. Saleem Sinai, the illegitimate son of a poor Hindu woman, and Shiva, the offspring of wealthy Muslims, are fated to live the destiny meant for each other. Their lives become intertwined and are inextricably linked to India's journey of triumphs and disasters.
Rushdie, who also co-wrote the screenplay, has been trying to make a film of the novel for over two decades. At last year's TIFF, Mehta and Rushdie showed a few scenes from the film and discussed it for over an hour before a packed hall of some 200 ticketed audience.
Rushdie said the film had a number of young and new actors whose work alone could make it worthwhile seeing the epic drama. The cast includes new and veteran actors: Satya Bhabha, Shahana Goswami, Rajat Kapoor, Seema Biswas, Shriya Saran, Siddharth, Ronit Roy, Rahul Bose, Kulbushan Kharbanda, Soha Ali Khan, Anita Majumdar, Zaib Shaikh and Darsheel Safary.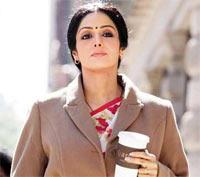 A light-hearted look at a serious problem, English Vinglish by Gauri Shinde marks the comeback of Sridevi, one of the most popular Indian actresses.
It takes a hard look at how money, fame and knowledge of English play a huge role in how society judges an individual. Shashi, who does not know English, is made to feel insecure by her family and society. Circumstances make her fight her insecurity, master the language, and teach a lesson on the way to becoming a self-assured and confident woman.
Mira Nair's The Reluctant Fundamentalist is expected to be a hot film at TIFF which has also screened Nair's The Namesake and Monsoon Wedding.
The film follows the story of a young Pakistani chasing corporate success on Wall Street, but who finds himself embroiled in a conflict between his American dream, a hostage crisis, and the enduring call of his family's homeland.
The movie stars Riz Ahmed (seen recently in a terrific performance in Trishna), Kate Hudson, Kiefer Sutherland and Liev Schreiber, Om Puri and Shabana Azmi.
The story unfolds as student demonstrations are raging in Lahore, and a young Pakistani professor, Changez Khan, and a journalist, Bobby Lincoln, share a cup of tea and conversation.
Princeton-educated Changez tells Lincoln of his past as a brilliant business analyst on Wall Street. He talks of the future that lay before him and the beautiful and sophisticated Erica whom he was set to share that future with.
But with 9/11, attitudes shift dramatically. His very name and face render him suspect. Returning to Pakistan and the family, he takes a job as a lecturer at a university that is a hotbed of radicalism and the new militant academia.
Soon we learn that the two men are not just discussing Changez's past. For, another professor has been kidnapped by extremists, and the deadline for his execution is fast approaching. Changez's family is being harassed and is in real danger. The mysterious nature of Bobby's mission unfolds very quickly.
Nair made a short film nearly 10 years ago with the background of 9/11, focusing on a young Muslim police trainee who was thought to be an extremist when he disappeared following the attack on the twin towers in New York.
Later it was discovered that he died in the process of helping people escape from the inferno. She got involved in The Reluctant Fundamentalist four years ago.