Mowgli is a darker take on Rudyard's famous story.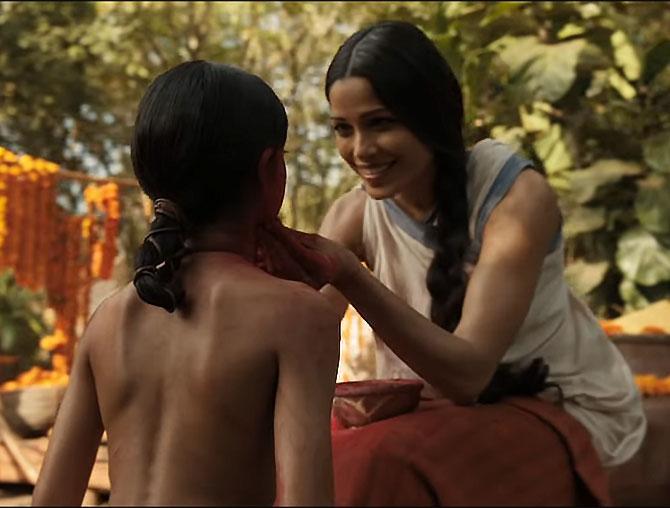 Another version of the Kipling classic, The Jungle Book, is on the way.
This one is called Mowgli, and is directed by Andy Serkis, famous for his breakout performances as Gollum in Peter Jackson's Lord of the Rings epics.
Mowgli, Andy informs us, is a darker take on Rudyard's tale of a boy brought up by wolves in India.
Aapro Freida Pinto has a stellar part in the film.
Mowgli's part is played by New Yorker Rohan Chand who has featured earlier in the Adam Sandler starrer Jack and Jill, the Mark Wahlberg starrer Lone Survivor, the Jason Bateman starrer Bad Words and Lasse Halstrom's The Hundred-Foot Journey among other cinematic and telly ventures.
Rohan is 14, a year younger than fellow New Yorker Neel Sethi who played Mowgli in the 2016 blockbuster The Jungle Book, which grossed $966 million worldwide.
The Jungle Book was the highest grossing Hollywood film in India -- it earned Rs 243.27 crore/Rs 2.43 billion -- till Avengers: Infinity War overtook it at the Indian turnstiles.
We think Mowgli takes the Jungle Book tale further, with Mowgli entangled in human complexities and drama.
Freida plays Messua, a rich village woman who wants to adopt Mowgli because she believes he is her son Nathoo, who she lost early in life.
Shere Khan, Mowgli's feared adversary, thank Kipling!, will be in the film too. Voiced by Benedict (Sherlock) Cumberbatch, no less. We can't wait to hear what Ben's dulcet tones do for the tiger's scary threats.
Oscar winner Christian Bale voices Bagheera the panther. Oscar winner Cate Blanchett Kaa the python. Serkis the beloved bear Baloo.
Matthew Rhys (The Americans) has been penciled in as John Lockwood, Rudyard Kipling's father, who was the principal of the Jeejeebhoy School of Art in Bombay (now Mumbai's JJ College of Art and Architecture) and someone who designed friezes on Crawford Market, one of the city's landmarks.
Freida posted the trailer for Mowgli on Instagram, noting: 'I am beyond thrilled to share with the world, the first official trailer of MOWGLI.'
'I remember, I wanted to be part of this film so bad, mainly because as an Indian girl growing up in Bombay, my childhood memories were all about Sundays with The Jungle Book series in Hindi and also because Rudyard Kipling wrote this children's favourite book in India!! I had to represent!'
'It was an absolute joy to team up again with the one and only, kindest and talented human, Andy Serkis who directed this version of the book that will finally be unveiled on October 19th 2018 (a day after my birthday..woohoo!).'