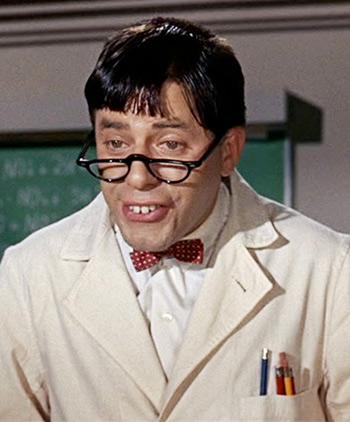 The famous comic departs for the great comedy club in the sky.
Legendary comic Jerry Lewis, celebrated for his brash slapstick humour, has died at the age of 91.
Lewis's agent confirmed that the actor died at his Las Vegas home at around 9.15 am on Sunday morning, Variety reported.
He was one of Hollywood's most entertaining comedians, someone whose career spanned more than six decades.
He went on to make comedic classics like The Nutty Professor and The Bellboy.
Lewis was born Joseph (one biographer said he was called Jerome) Levitch on March 16, 1926 in New Jersey's Newark to parents who were in showbiz.
He made his debut aged 5 singing Brother, Can You Spare A Dime?.
At 15, he was booked for a gig at a burlesque house in Buffalo, New York.
In 1942, his comic pantomime at Brown's Hotel in upstate New York, where he was also working the summer as a bellboy, made him cross paths with comic Irving Kaye who got Lewis some bookings for stand-up and later became his road manager.
Lewis met the young singer Dean Martin at New York nightclub The Glass Hatt and was first paired with him in 1946.
Dean Martin and Jerry Lewis went on to grow strong for 10 years, starting with My Friend Irma in 1949 and other films like The Caddy, The Stooge, Artists.
But their relationship soured and after their film Hollywood or Bust (1956), they made their last appearance together.
The break-up was acrimonious, both Lewis and Martin going separate ways to pursue solo careers.
The pair reconciled after the death of Martin's US air force pilot son in the late 1980s. Martin died in 1995.
Lewis's brand of humour was often tagged as racist and misogynistic and he shared his right-wing political views without holding anything back.
Martin Scorsese's The King of Comedy -- also featuring Robert De Niro, in which he appeared as a late night talkshow host who is kidnapped -- revived his movie career.
'That fool was no dummy. Jerry Lewis was an undeniable genius, an unfathomable blessing, comedy's absolute! I am because he was!' Jim Carrey tweeted.
'Jerry Lewis was a comic and philanthropic icon. I send love to his family today,' Ellen DeGeneres tweeted.
'Jerry Lewis was a master. He was a great entertainer. He was a great artiste. And he was a remarkable man,' Scorsese said in a statement.
'I had the honour of working with him, and it was an experience I'll always treasure. He was, truly, one of our greats,' Goldie Hawn said.
Whoopi Goldberg mourned Lewis's death, saying, 'Jerry Lewis passed today, millions around the world loved him, millions of kids he helped with his telethons. RIP and condolences to his family.'
Bollywood actors Anupam Kher and Rishi Kapoor mourned Jerry Lewis's passing.
'The greatest face maker, truly legendary, the man responsible for my smiles and laughter- Jerry Lewis bids adieu! A true genius,' Kapoor tweeted.
'#JerryLewis was not only a great comic actor but did a lot of charity for underprivileged children. He added laughter to our tears. RIP Sir,' Kher tweeted.
IMAGE: Jerry Lewis in Nutty Professor