It's not easy being in an Akshay Kumar film. And it not because, as rumours allege, Kumar is adept at snipping his co-star's screen time.
"Akshay," says Riteish Deshmukh of his co-star in Housefull 3, "gets up in the morning thinking 'Aaj mein kiski band bajaunga (Who am I going to harass today?)' He needs back up, so he will always have Abhishek (Bachchan) or me or someone do something."
Ask poor Lisa Haydon.
"But," laughs Riteish, as he doffs his hat to the biggest prankster in the Housefull 3 unit (not that he and Abhishek are far behind), "Akshay is amazing."
Ritiesh, in a floral tee shirt, seems to be in a pretty sunny mood. Does it have something to with the weather?
Before the sun set on that one, we fired a volley of questions… Doesn't he mind being typecast? Why haven't many of his films done well? What are his upcoming projects? Is comedy a survival crutch?
The Deshmukh lad, who has become a proud papa for the second time, displays a pretty mean backhand, discovers Jahnavi Patel/Rediff.com.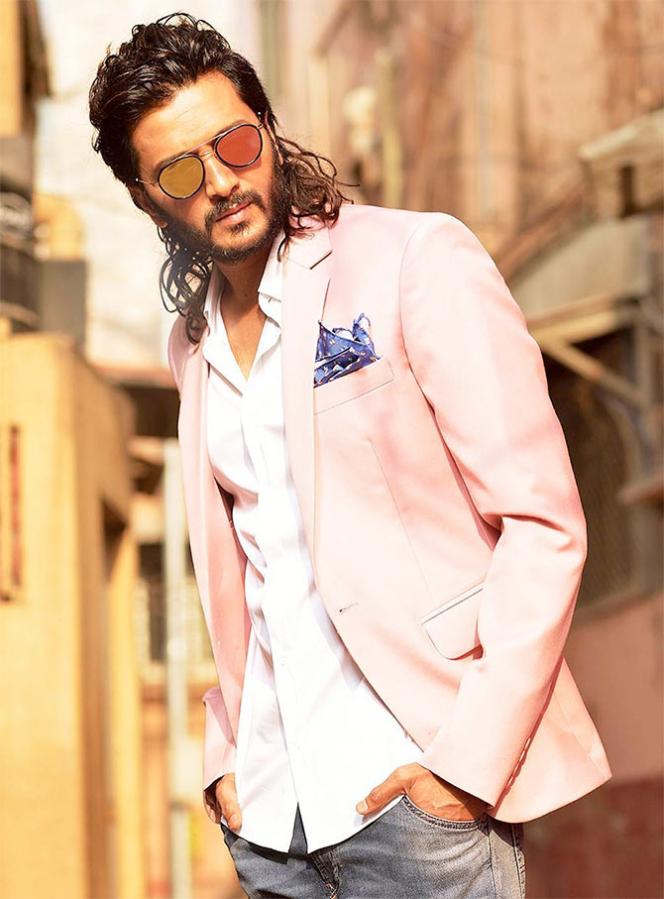 IMAGE: Riteish Deshmukh. Photograph: Riteish Deshmukh/Instagram
How does it feel being a part of a popular franchise like Housefull 3?

It feels great to be part of a film that comes every two-three years and a franchise that has a certain credibility.
When people want to know when the next film in the series is going to release, you know they want to see those characters again, they want that combination again, they want to enjoy and relive a different zone.
I'm also very excited that, with Housefull 3, I'm back with Akshay Kumar, Boman Irani, Jacqueline (Fernandez) and my dear friend and brother, Abhishek Bachchan. I am working with him after eight years (Bluffmaster, 2005).

Fans look forward to seeing you in a comedy…

It's a genre that helped me survive in this industry. It allowed me live my dreams of performing, acting with people I idolise and travelling the world.
It also helped me overcome certain genres that failed. For example, Aladin was my big film. Though it didn't work, it is still close to my heart.
I really enjoyed Raan but that film didn't work either.
I loved Naach. Unfortunately, it didn't work.
As a genre, these were all non-comedies but my comedies kept working on the side. Then came a time when, back-to-back, I got films like Ek Villain and Lai Bhaari (Riteish's Marathi debut as actor; he also produced the film). I had to survive all these years to get these two films. Comedy gave me the opportunity to do a thriller and a commercial film.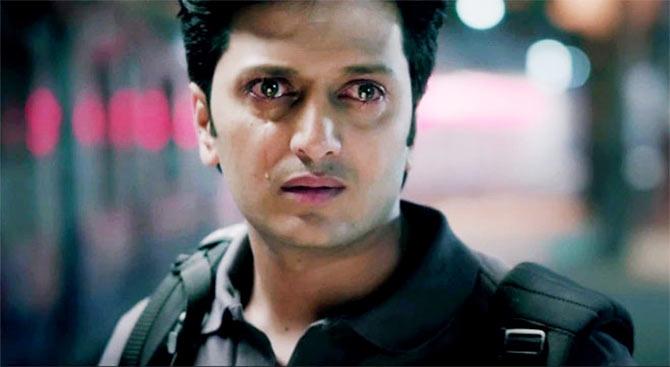 IMAGE: Riteish Deshmukh in Ek Villain
Now that you have been appreciated in Ek Villain, will we see you in meatier roles?
These roles and films just happen, it's not planned.
They're absolutely off-casting as we say; some people would say it's the wrong casting… Riteish as a villain in a film titled Ek Villain.
People tell me, "Whenever we see you on the screen, we feel there will be something funny."
There are two challenges while doing a film like Ek Villain -- you've to be decent at what you're doing and you have to convince people you're not the same guy from Housefull or Masti.
Strangely, 10 days before Ek Villain, (Reteish's wife) Genelia told me I should do a negative role and I said if the offer is good, the film is great and the role is exciting, I'll do it.
Then I got Ek Villain and the aim was to perform the role convincingly enough so that people don't mind you doing it. Once that was done, the next big challenge was that the film had to be successful and liked so much that, even if you ask me about it two years after its release, it makes me feel good.
Had the film failed, people would have forgotten it. I would have failed as a villain and the doors would have shut again.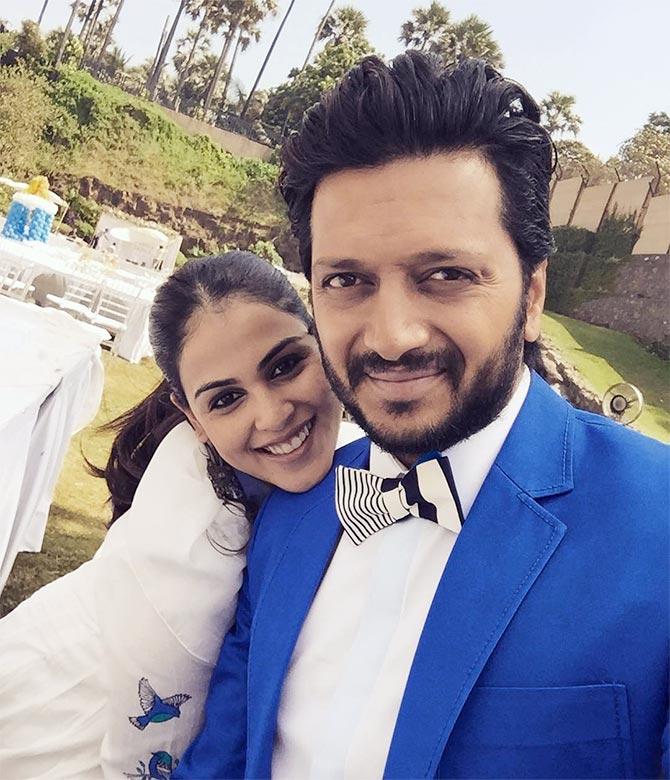 IMAGE: Genelia D'Souza Deshmukh and Riteish Deshmukh. Photograph: Riteish Deshmukh/Instagram
Your performance in Naach was also appreciated.
Naach remains my favourite film. The background score was so good. Antara (Mali) and Abhishek were also good.
Abhishek still tells me Naach is his favourite Reteish film. Someone asked me about Genelia's favourite film and it is Naach.
The climax of Naach is unique.
This film made me realise that, even if you don't have a line, you are pivotal in a scene so it is important to make your presence felt. Ramu, who I feel is a genius, told me, "If you're in the frame, that means I need you, the scene needs you."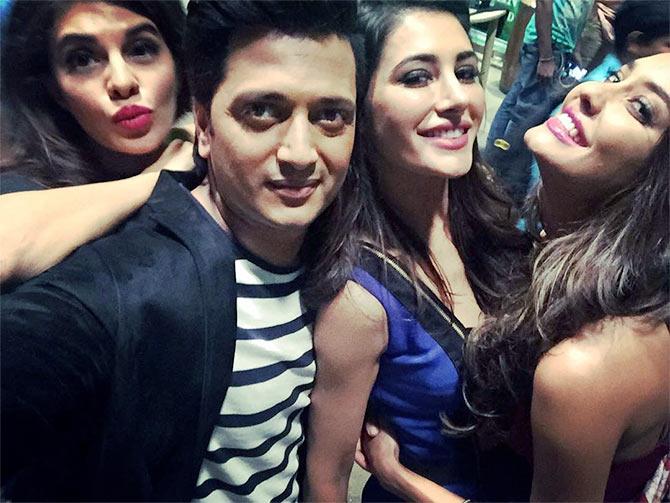 IMAGE: Jacqueline Fernandez, Riteish Deshmukh, Nargis Fakhri and Lisa Haydon. Photograph: Riteish Deshmukh/Instagram
Do you think you have been typecast?
Yes, of course.
It's no one's fault when an actor is typecast. The biggest example of an actor being typecast is Akshay Kumar. He was typecast as an action guy. To change that, he did comedy so he was typecast as an actor who 'only does comedy and action comedies and commercial comedies'.
Then he does Airlift, Holiday, Baby, Special 26. He is one of the finest examples of what an actor can do to earn credibility in a genre and break into more genres.
There were people who thought Akshay Kumar doesn't do serious cinema; Akshay himself didn't think he wanted to do serious cinema. Today he is doing it; he is amazing with his timing and choices, I have immense respect for that man.
When I debuted, it was very difficult to be a newcomer… films came rarely to you. All the bigger production houses worked with established actors. Today, it's a great time for new newcomers because they are being launched.
I'm not pointing out to anyone, just explaining what the situation was.
To find a foothold in this industry, you had to do films that got offered to you. My first film was Tujhe Meri Kasam. It was a huge success in Maharashtra but didn't do that well in the rest of the country.
Then came Masti; it was a hit. This was followed by Kya Kool Hain Hum. The comedies worked, so I was offered more comedies.
Then came Bluffmaster, which was an urban comedy, followed by Malamaal Weekly.
To find a foothold in the industry, I accepted the comedy films coming my way. I'm glad I did them because they gave me a lifespan in the industry.
Then you get a Lai Bhaari, Ek Villain, Banjo… you try your best and hope they work because only a success can break that typecast.

Did you reach a saturation point doing comedies?
That's the reason I always seek something else -- is there an edge in this comedy? Is there something different to offer?
Housefull 2 will be close to Housefull, Housefull 3 will be in a similar zone of comedy as Housefull 2 because there's not really much newness you can bring in there… so you try to work on the character trait.
Dhamaal is a physical comedy so my reactions are much louder as compared to a Housefull, which is a situational comedy.
Bluffmaster is more poker-face and urban, Masti is an adult mass comedy so the reactions are at a different level.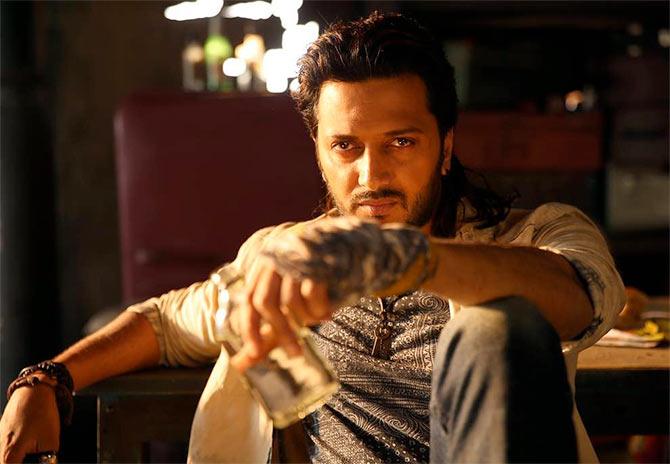 IMAGE: Riteish Deshmukh's Banjo look. Photograph: Riteish Deshmukh/Instagram
With Ek Villain, Lai Bhaari and now Banjo, you are experimenting with your look.
Memorable villains like Gabbar, Mogambo, Shakaal had a particular style. And now, I was going to play a villain. We were wondering what to do.
What did I have? Nothing. What do I wear? Normal clothes. Basically, I am playing a character with no crutch. How do you make a normal guy look creepy? We focused on his smile and the look in his eyes
He isn't an aggressive guy, he is scared.
Yes, this was an experiment but the de-glam version worked for that character.
Lai Bhaari was rugged, completely different.
With Banjo again, there's the long hair, beard and rugged look; he is a street musician from a slum. The dialogues are amazing in the movie. Sometimes you speak dialogues and sometimes philosophy… there's a lot of philosophy in that film.

Lai Bhaari was a blockbuster, now Sairat is doing really well. What is Mauli about?
(Marathi film) Mauli will be another commercial film in the zone of Lai Bhaari. But it is not a sequel.
It's a commercial-masala-emotional drama.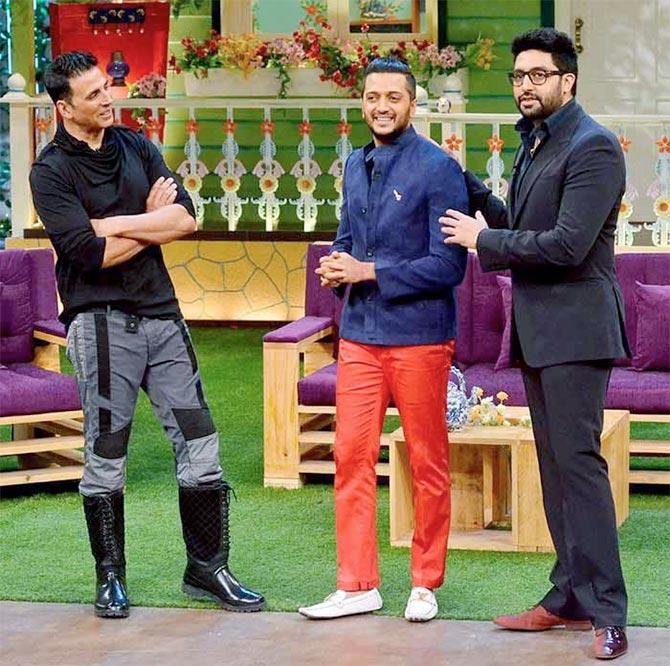 IMAGE: Akshay Kumar, Riteish Deshmukh and Abhishek Bachchan. Photograph: Riteish Deshmukh/Facebook
What next after Housefull 3?
Great Grand Masti, then Banjo, Bankchor, Mauli, Chatrapati Shivaji (with Ravi Jadhav, the director of Banjo).
I have also locked on an action-drama film with Anubhav (Sinha) called Pukaar. He is back after Tum Bin 2, so we'll figure out when to start that.

Abhishek Bachchan has lent his voice for the trailer of Banjo. How did that happen?
I saw the trailer of Banjo and called Abhishek. We wanted a deep baritone for the voiceover and who better than a Bachchan?