Half of the screenplay's job is done the minute Dilip Kumar's hypnotising gaze falls on Nargis. The screen bubbles with intense chemistry every time this incredibly handsome pair converse from a distance.
Revisiting Kidar Sharma's 1950 classic, Jogan.
Whether their romance is realised or not, there's a surety in the manner most man-woman relationships emerge in films. But in Kidar Sharma's Jogan, it's the unlikelihood of alliance right from the onset that both defines and dignifies their connection.
A complex love story, the 1950 black and white drama starring Dilip Kumar and Nargis is an exploration of an atheist's encounter with a divine monastic and how it tests one's will and another's commitment.
Sharma, one of the most eminent filmmakers of his time and, sadly, most unsung too, got this idea from his prolific producer Chandulal Shah of Ranjit Movietone Studios.
Amusingly enough, the opening credits display a conspicuous question mark under the writing accreditation. Years later, in his autobiography The One and Lonely Kidar Sharma, the director revealed the mystery behind it. Apparently, Shah was inspired after watching an English film where a man develops feelings for a nun (Black Narcissus perhaps?). 'It was his dream to produce this movie and he gave me the special honour of directing it, in spite of all the directors (Nitin Bose, Mahesh Kaul) he had on his staff.'
Image: Dilip Kumar and Nargis in Jogan
Dilip Kumar plays Mumbai-based Vijay who's visiting his native place for some property settlement; his occupation is neither mentioned nor of much significance to the plot.
What is notable though is how instantly he's attracted to a trance-inducing rendition of the Meerabai bhajan -- Ghungat ke pat khol tohe piya milenge coming from the local temple.
The symbolism in those words is hard to miss. Vijay scorns at the concept of God and idol worship. Yet one glimpse of that beatific face (Nargis) behind the sound is enough to start shaking those beliefs.
An enamoured Vijay is both disturbed and drawn in by his inappropriate lust. While he still doesn't step foot into the temple, he cannot resist studying the melancholy in her eyes and the pining intensity of her devotional bhajans -- Ghayal ki gat ghayal jaane aur na jaane koi.
No wonder when he finally speaks to her, his foremost inquiry is why she (he addresses her as Devi) decided to renounce the world at such young age. Her austere temperament oesn't entertain interaction, however gracious, but the increasing frequency of his appearances disturbs the inner peace she went through great degrees of perseverance to achieve.
Eventually, she lets her guard down and shares details of her carefree life before turning sadhvi.
This facet of Nargis brims with colour, mischief and vivacity. A dreamer, a poetess, her Surabhi's life is full of songs, games and a book of handwritten verses before her alcoholic brother and bankrupt father resolve to marry her off to a wealthy old bloke for money. The spirited girl runs away and takes shelter in an enlightened soul's ashram.
Between compromise and celibacy, she opts for the latter convinced she's past worldly desires. Only the fluttering passions of her heart, denoted in the imagery of wing-beating dove against her, prove otherwise. As does Vijay's analysis, "Aapki aankhon mein yeh jo dard hai, ghor niraasha hai, meethe sapno ki ek samadhi hai, ek sehmi hui fariyaad hai."
Profound attraction at first sight is a far-fetched idea but flawlessly conveyed in Jogan because of its remarkably insightful leads and their engaging debates around moh (attachment) and prem (affection).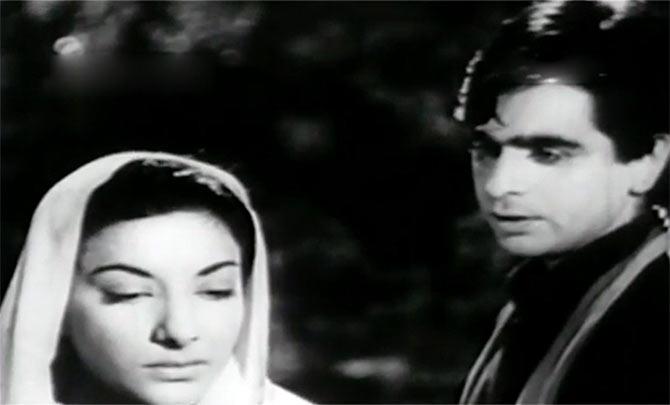 Image: Nargis and Dilip Kumar in Jogan
Half of the screenplay's job is done the minute Dilip Kumar's hypnotising gaze falls on Nargis. The screen bubbles with intense chemistry every time this incredibly handsome pair converse from a distance. Their equation might not have the obvious ardour they conjured around Madhubala and Raj Kapoor respectively but it's marked by an intelligence that's virtually extinct now.
On most occasions, they don't even look into each other's eyes but the enormity of their affection comes through. It's like Dilipsaab explains to Rajendra Kumar, in his first and brief appearance as Vijay's friend in context of a brothel girl he rescues, "Aurat aur mard ke talukat hamesha wohi nahi hote jo tum log sochte ho. Kuch aur baatein bhi aisi hoti hain jinmein kashish hoti hai."
If Dilipsaab's innate sensuality and familiarity with forlorn roles works favourably for Jogan, Nargis is a picture of sublime restraint in a performance she would rate even above what most believe to be her career best, Mother India.
Apart from these two stars, there's also an adorbale baby Tabassum playing a chirpy maid and helper to Nargis, who's all pally with Dilip Kumar.
There's a charming anecdote from the making she recounted in an interview to rediff.com recently: "In one scene I had to say, 'Om Prabhu Shanti.' As a child, I could not pronounce 'Ra' so I kept saying 'Om Palbhoo Shanti'. Kidar Sharma got angry and yelled at me. After three takes, I started crying and said, 'Hum mal (mar) jayenge agal hum se leetake hogaye' (I'll die if you make me do another retake). Dilip Kumar saw this and said, 'Aap kyun malengi (marengi), malna (marna) toh chahiye Sharmaji ko jo chhote se bachche se jabardasti 'Ra' bulwaa rahe hain. Beta, tu palbhoo bol, wahi achcha lagta hain. (Why should you die? Sharmaji should die for forcing a small girl to say 'Ra'. You say 'palbhoo', it sounds nice.)'"
Apart from its taut direction, superlative acting and unusual plot, Jogan offers a gem of a soundtrack.
There are 15 songs in the film but at no point does the script, with its less than two hours running time, drag or feel overstuffed with needless melody. Known to have a great ear for music, the multifaceted Kidar Sharma (also a lyricisit) ensures every single composition by Bulo C Rani, penned by Pandit India, C R Sharma and Himmat Rai alongside many of Meerabai's famous bhajans takes the story forward and underlines the moods of its two characters.
Whether Geeta Roy (before she married Guru Dutt) is crooning the merry tunes of Main toh girdhar ke ghar jaon or struggling with her emotions in Dagmag dagmag dole naiya, Shamshad Begum's stirring rendition of Kahe nainon mein naina daale re or Talat Mehmood's compelling Sundarta ke sabhi shikari, every song of this rich album is crucial to the storytelling.
Shot in barely 29 days, Jogan is much too assured and able in its ideas, artistry and execution to feel like a hastily finished job.
Perhaps the ideals of its story, the solemnity of its romance, the refusal to act on basic impulses and its beautiful albeit sad conclusion, which places soul above sensory pleasure, may sound too surreal for this era.
But grace is timeless. And so is sacrifice.