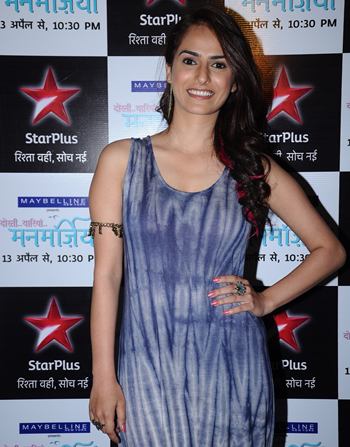 Seven years after she rose to fame with Amber Dhara, actress Kashmira Irani returns to televsion with a youth-based show.

But she'd love to try films, she reveals to Rajul Hegde/Rediff.com

Kashmira Irani (of Amber Dhara fame) returns to a daily soap after seven years with Dosti Yariyaan Manmarziyan, on Star Plus.
"I was really kicked by the youthful concept. It's the story of most Indian girls.
"Also, what really appealed to me was the vibe I got when the story was narrated to me," Kashmira says.

During her long break Kashmira did the popular Zangoora musical play in Delhi for four years.
"The stage was the best thing that happened to me. I was perpetually in a harness in the show, for the aerial act.

"I also went to New York to sharpen my acting skills. In between, I did a couple of finite and episodic shows with Seven and Dharmakshetra on Epic channel.

She says Hussain Kuwajerwala, who she worked with in Zangoora, encouraged her to return to the small screen.
She describes her character Samaira in Dosti Yariyaan Manmarziyan as upfront someone who believes in living in the moment.
"She doesn't think about the consequences of her actions. Although she is a big city girl, she has not lost her values.
"You will not get to see a character like Samaira in the Indian television space," Kashmira promises.

She is in touch with her co-actress in Amber Dhara, Sulagna Panigrahi.
"I don't think we will forget each other. Our characters have left a mark; you cannot forget a show about conjoined twins."

Sulagna has made her presence felt on the big screen. Will Kashmira follow suit?
"Of course, I would love to try films. Cinema is my first love. But I love stage and television equally."

Early parts of the new serial were shot in Rishikesh and Kashmira loved the place.
"I loved Rishikesh. The water was very cold and I had to jump into it for a shot. We also did bungee jumping and river rafting for the show."
Wikipedia says Kashmira is the sister of another popular television actress, Sanaya Irani, but Kashmira denies it.
"No, I am not the sister of Sanaya. I know Wikipedia says so, and being technologically challenged, I don't know what to do about it."

The two met at a common friend's birthday party and had a good laugh about their supposed relationship.
"I told her that I have finally met my long lost sister! Sanaya is a lovely girl. It was fun to hang out with her."
"But my real sister is Yasmin Irani and she is not connected to our industry," clarifies Kashmira.