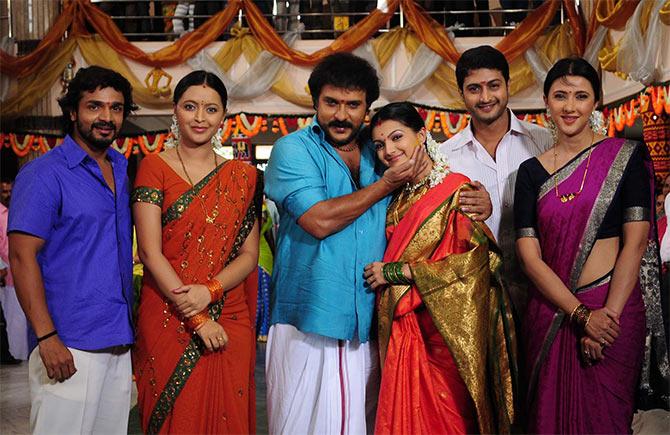 Two Kannada films that have remained in the cans for at least two years are releasing today, Friday, September 12, across Karnataka.
Paramashiva stars Ravichandran and is directed by Mahesh Babu. Pandya is directed by debutant Devu.
Here's a quick look at the two films.
Paramashiva
Director: Mahesh Babu
Cast: Ravichandran, Vijay Raghavendra, Sakshi Sivananda, Rekha, Saranya Mohan, Yashas, Sadhu Kokila, Ramesh Bhat, Ravi Maria
Paramashiva with a huge star cast is a remake of the Tamil hit Samudram, which was also remade in Telugu as Shivaramaraju.
The film is a family entertainer. It's about the relationship between siblings. Ravichandran plays the eldest of the three brothers. Their sister is played by Saranya Mohan.
"The film is about the brothers' sacrifice for their sister and how she reciprocates by doing her best to protect all her brothers' interests," says director Mahesh Babu.
Ravi Maria, a popular Tamil villain, makes his debut in a Kannada film. Sakshi Sivananda, who is currently pursuing her Ph D in the United States, has made a comeback to Kannada cinema after a long gap.
The film has been shot in Bangalore, Srirangapatna, Mysore, Melkote, Mooguru and Bangkok.
Arjun Janya has composed the songs for the movie while S A Rajkumar has composed the background score.
Anaji Nagaraj has produced the film and is also the cinematographer.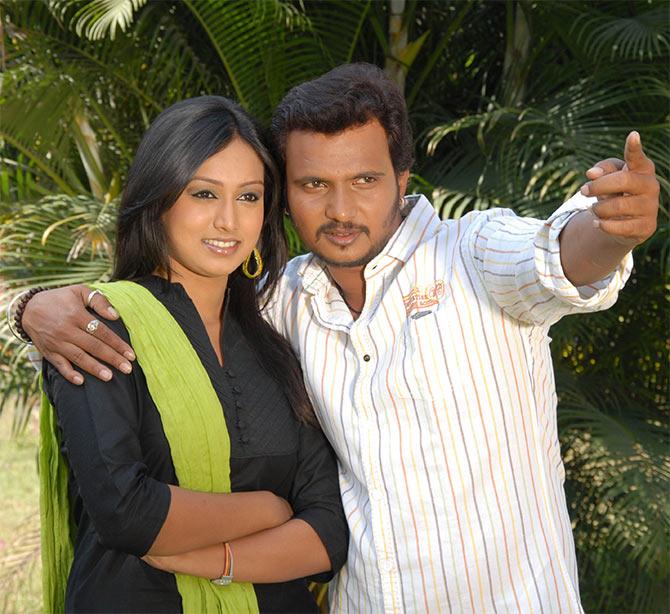 Pandya
Director: Devu
Cast: Chandru, Ravi, Sukumar, Swamy, Manasi, Spoorthi, Shailaja Joshi, Sapna Raj, Chitra Shenoy
Pandya (Game) has some well known actors from television, but most of the actors and technicians are new to the big screen.
Yajna Shetty appears in a special dance number. The film is produced by debutant Manjunath and directed by another newcomer, Devu.
The film is about four good-for-nothing youths who are nevertheless big dreamers. An incident changes their lives. According to director Devu, the film runs on four parallel tracks with each youth given equal prominence.
One of them falls in love and gets entangled in a love triangle. Another one has a comic role and the third guy has to deal with his elder sister and the fourth guy has to deal with his mother.
Devu says the film is a comedy until the first half ends when an unexpected incident brings in the twist.
"I play a serious role in an emotional track between myself and my mother in the film, quite contrary to the comical role that I am playing on television," says theatre and television actor Sukumar who makes his debut on the big screen.
Manasi, one of the female leads, says she plays a "middle class girl who lives in a small world and whose life revolves around herself, her mother and her cousin."
Spoorthi, who plays another female lead in the movie, says she plays a simple college-going girl who falls in love with a guy. There is not much drama in the role she plays, she adds.
The film has been shot in Bangalore, Kumta, Mangalore and Gokarna beach.
Gopi Krishna debuts as a music director and Gowri Venkatesh is the cinematographer.