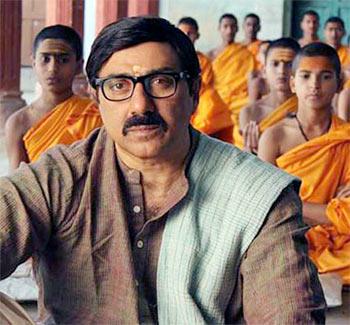 Censor Board member Dr Chandraprakash Diwedi's Mohalla Assi, which reportedly pokes fun at the commercialisation of the Holy city of Varanasi, has been banned.
Interestingly, the film's trailer, wherein Sunny Deol and Sakshi Tanwar were seen mouthing Hindi expletives, got leaked on the internet much before the film was submitted for certification.
The feature film also got leaked on the internet before it was submitted to the Censor Board.
When it was recently screened to the Censor Board, it got banned as it apparently evoked extreme reactions.
In the film, Sunny Deol plays a righteous priest fighting against the ecological and moral pollution of Varanasi.
Never known to use even a single profanity in his entire career, Deol is heard calling himself a c****** in the trailer and commenting on the rampant 'guru-shishya ke naam pe pela peli' (sex in the grab of teacher-pupil) in Varanasi.
The film and its trailer are also filled with abusive references to tourists.
This image of Varanasi as a tourist-challenged, infiltration-weary city is unlikely to go down well with the government. After all, Prime Minister Narendra Modi fought and won the Lok Sabha elections from Varanasi.