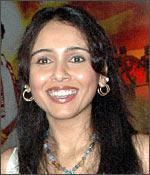 Following the rescue of a minor domestic help from her house, the Maharashtra Government on Tuesday filed cases against Bollywood actress Suchita Krishnamoorthi. Krishnamoorthi and television star Laxmi had allegedly employed child labours.
Labour Minister Nawab Malik told media persons on Tuesday afternoon that his department got information that the two actresses were employing minor girls as maids.
"Accordingly, we have initiated necessary proceedings against the two actresses. We appeal to people to come forward and give us information about such individuals who employ child labour so we can take suitable steps in the matter," Malik said.
Suchitra is the former wife of noted director Shekhar Kapur. The action comes barely three days after television actress Urvashi Dhanorkar was arrested Saturday for beating, burning and confining her 10-year old maid after she caught her "eating". Dhanorkar was bailed out hours after her arrest.
Meanwhile, the victim, Rameshwari is now in a juvenile rescue home. The Child Labour Prevention Act, 1986, was amended October 2006 to ban employment of children under 14 as domestic servants and in dhabas, restaurants, hotels and other hospitality sectors. It makes their employment a punishable offence.