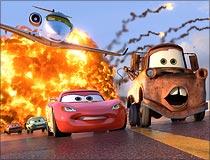 If the animated 3-D film Cars 2 from Pixar speeds down the roads taken by Pirates of the Caribbean: On Stranger Tides and Hangover: Part II, it is quiet likely to be a substantial hit, earning about $500 million worldwide, and making perhaps twice that amount through the tie-ins, especially toys.

According to Disney, the first Cars movie has sold in retail over $10 billion movie related toys and other merchandise since the film's release five years ago.

On Stranger Tides and Hangover II were slammed by critics as being dull and repetitive but the audiences loved them so much that the former will soon join the billionaire club and the latter is headed for an awesome $580 million run.

On Stranger Tides and Cars 2 are both Disney movies and each cost more than $200 million to produce; Hangover: Part II on the other hand cost about $80 million. Just as the audiences ignored the critics and made the two films super hits, in the case of Cars 2, it will be the summer audiences who could be calling the shots.

Cars 2 is expected to be the number one film of the week in North America but box office pundits expect it to kick off with a respectable but unspectacular $60 million in three days.
Counter programming, the raunchy comedy Bad Teacher which also opens across North America. The movie, with Cameron Diaz as the misbehaving school teacher, has opened to good business in half a dozen countries abroad and is expected to gross a healthy $20 million in three days across North America which is quite good for a film that cost around $50 million.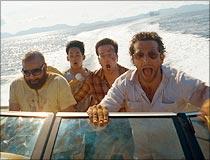 The latest talking cars adventure lacks the sentiments, strong plotlines and clever situations in earlier Pixar hits like Toy Story. It is also nearly just half good (two stars out of five) as Cars, which wasn't that great a film.

That the new film is directed by John Lasseter, the genius behind Pixar who also helmed Toy Story adds to the film's disappointment. And yet audiences may not really care if Cars 2 is not topnotch and go for a ride anyway. It has enough colour, a few amusing scenes, mild dramatic tension and Pixar name to ensure a big success.

Having set the film against many international locales and hiring British and American actors to voice the main characters in the film, Pixar is hoping for a huge worldwide audience.

In America, Cars 2 is opening just as Kung Fu Panda 2 is losing steam but the latter is still a potent factor outside America, especially in China where it has grossed over an astounding $80 million and may even reach $100 million, according to producer DreamWorks. In many parts of the world, Cars 2 is slated to open after several weeks. By then Kung Fu Panda 2, which is headed for a strong $650 million worldwide, would be ending its run.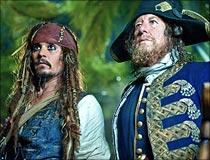 In Cars 2, the race car champ Lightning McQueen (voiced by Owen Wilson) has just returned to hometown Radiator Springs to be with his pals. But in no time he is challenged to race overseas to determine the world's fastest car. He takes his buddies along but this time there is also the rusty tow truck Mater (Larry the Cable Guy), a good person at heart. But he can't resist creating trouble for Lightning.

At the competition, the vehicles are being filled with an alternative called Allinol but that worries the bad guys who start creating problems.

Mater gets involved in a spy mission at the order of British spy Finn McMissile (Michael Caine) and sidekick Holley Shiftwell (Emily Mortimer) who want to find out more about the bad guys. Mater's friendship with Lightning is continually threatened and tested because of his involvement in the spy mission.

Lightning's rivals include the Italian race car, Francesco Bernoulli (John Turturro) and there is also a lot of trouble around him.

Cars 2 has more appeal for adults than the first one but in the process, it might lose some very young viewers.