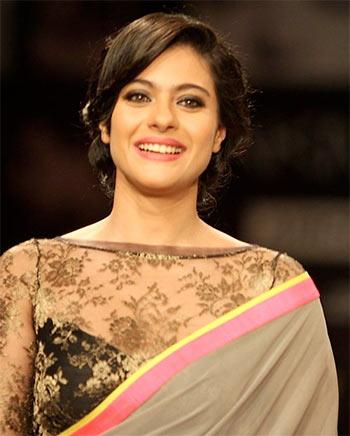 'I have had to change as an actor. What was okay for me to do 20 years back isn't okay for me today.'
Kajol gets us ready for Dilwale.
Kajol has been promoting her upcoming film Dilwale aggressively, and is being seen on television shows, radio shows and events.
But she obviously doesn't like giving interviews.
The actress preferred to hold a small press conference to discuss her latest film, rather than give interviews. Jahnavi Patel/ Rediff.com took notes.
How busy has Dilwale's promotions made you?
I'm very tied up... tied up in knots all the time!
I haven't spent enough time with my kids and am a little hassled. But I'm truly excited. I'm love the fact that the film will release soon and hopefully, you will see it. This Christmas is going to be fun.
Have you seen the film?
I have seen portions of the film.
I saw half an hour secretly while dubbing. I haven't seen the whole film. I have my fingers crossed.
You will be seen in the movies after five years. How did you prepare for Dilwale?
I haven't done any kind of preparation as such, but yes, I'm very health conscious and disciplined. I'm a workout freak. I like to go to the gym and keep a check on my diet.
I paid attention to these things three or six months prior to the film's shoot. I'm happy with the way I'm looking.
As an artist, what attracts you in the art of filmmaking?
Firstly, the script. And secondly, what I can do with it.
That's what makes it interesting.
If it's a role that I've done 10-20 times before, which I can do with my eyes closed and hands tied, it doesn't make any sense to me to do the role again. If I do a film, I do it because I want to make something different.
Shah Rukh Khan had said that Diwale will be a cinematic experience because of its scale. What do you think?
Shah Rukh is the producer and he always strives to make his films better than his previous ones.
This time, PVR has made excellent screens for the film.
When you watch it, hopefully, you will enjoy it even more. Whenever I make a film, I want to entertain people. They should like it. Even I should love to watch it. That is important.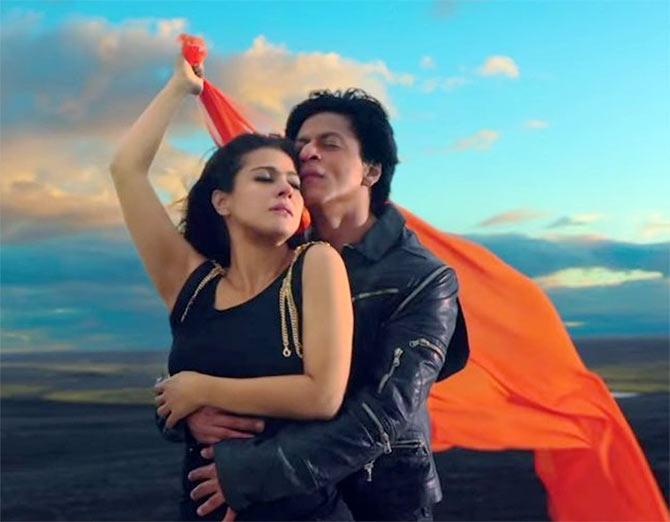 Image: Kajol and Shah Rukh Khan in the song Gerua from Dilwale
How much has Shah Rukh Khan grown over the years?
He has definitely evolved. His attitude is wonderful. He is in a nice place, personally. As an actor, he is amazing. I've always said that whenever I've worked with him, it's been a learning experience for me. Even in this film, I have learnt something.
Since you said you've learnt a lot from Shah Rukh, have you learnt marketing skills as well?
(Laughs) I'm sitting here, na? Why am I doing this interview? Can't you see my marketing skills and my jalwa?
Do you want your kids to watch this film?
I will definitely show them the film. I don't think my son will sit for the entire film; he will get bored during the songs.
Did your daughter motivate you to work in Dilwale?
Absolutely!
When I heard the script, I was told about the numerous days I'll have to shoot outdoors. So I was wondering whether I should do it or not. I don't like shooting outdoors much, as I have to leave my children home alone.
So I asked Nysa and told her that it would be a tough film for them as well because I would not be home. She gave a beautiful answer. She said, 'Mom, just because you love me doesn't mean you can't love anything else.'
Then, of course, I started crying like a typical filmi mom. Even though I cried a lot, it felt good that my children gave me permission to do the film.
Is Nysa excited about watching Dilwale?
Yes, she is really excited. She's dying to watch the film! She has already told me that I have to keep a trial show for her friends.
Bajirao Mastani and Dilwale are releasing on the same day. Your thoughts?
Honestly, I don't believe in the rat race. There's more than enough for everybody. If they are both good films, both will do well.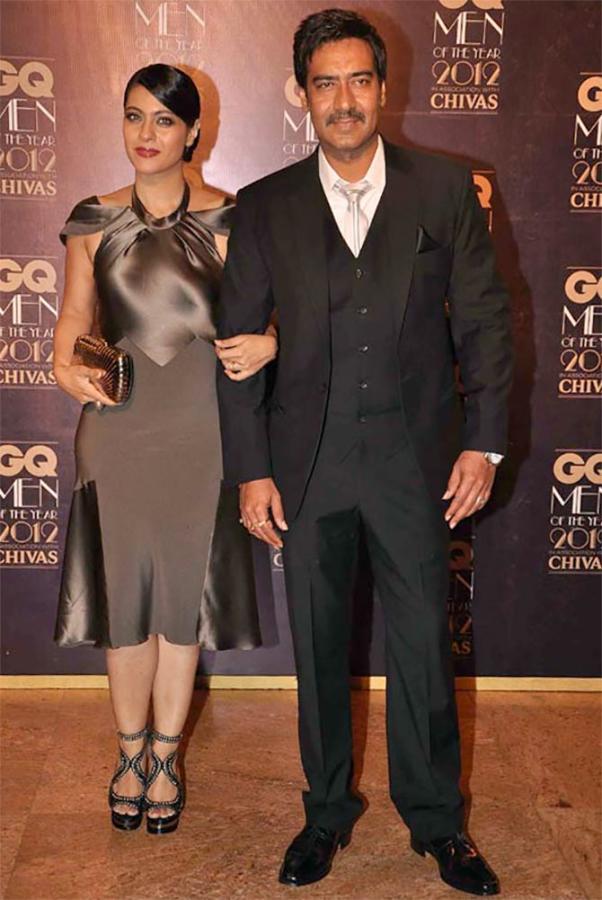 Image:

Kajol and Ajay Devgn at GQ Men Of The Year Awards 2012
Your husband Ajay Devgn has worked with Rohit Shetty several times. Did he influence you to say yes to this film?
Well, he has. There's no two ways about it. I couldn't have done this film without his help. He was the one who actually turned around and told me not to worry about the kids. He said he would stay at home and look after them, if I wanted to do the film. I think that's true love.
Will we see you do more films after this?
I definitely want to work more -- but maybe not at the pace everybody else does. I want to do one film in two years, or even one film a year. I don't want to work more than that.
Sexism has always existed in the industry. Have you encountered it? For instance, actors are paid more than actresses.
The pay gap is very prevalent. I think it has to do with the economics of the situation and also with what society has taught us. There is huge inequality in the genders as far as society is concerned. We have to bridge that gap before we come to the pay standards.
How much have you grown in all these years, you think?
I have had to change as an actor. What was okay for me to do 20 years back isn't okay for me today. I realised that.
It's always going to be a fight in my head between what is expected and what I expect out of myself. Hopefully, that will challenge me to grow more and more everyday.