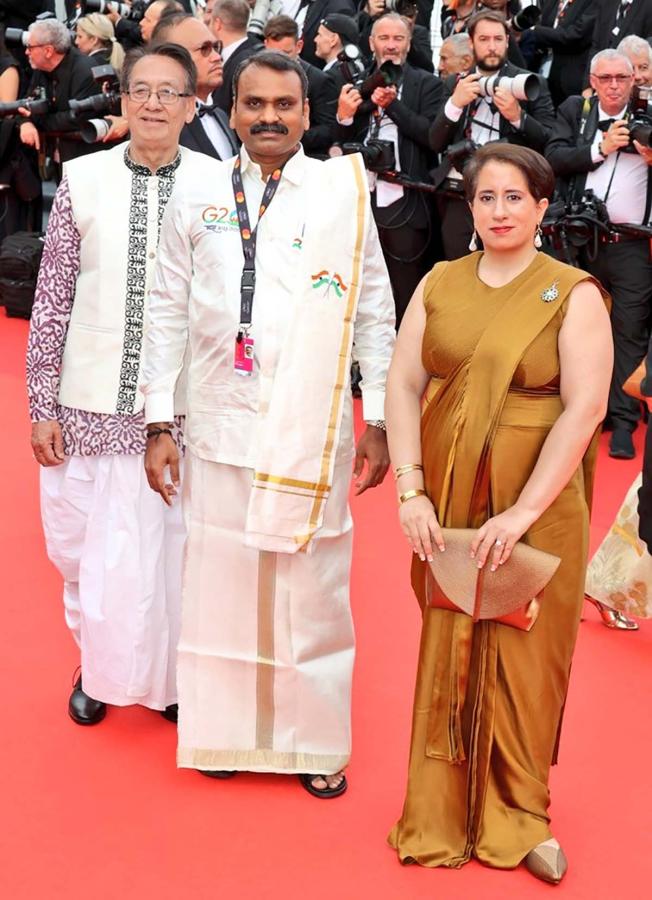 Union Minister of State for Information and Broadcasting L Murugan, who is leading the Indian delegation at the Cannes film festival, posed with Oscar-winning documentary The Elephant Whisperers Producer Guneet Monga on the red carpet.
Dr Murugan, a native of Tamil Nadu, walked the red carpet in traditional attire. Murugan's white shirt has the Tiranga on its left side and a G20 logo on the right.
The minister paired it with a veshti to represent Tamil culture at the global level. Guneet, on the other hand, opted for a golden-tone sari.
Ahead of Cannes, Dr Murugan told ANI, "The embroidery on the shirt has been done by my local tailor. It makes me immensely proud to wear the Tricolour on my chest."
"Since we are doing so many events and showcasing our heritage at the G20 year-long plan, it is only fit that we tell the world about it," he added.
Dr Murugan was at Cannes last year too when India was the Country of Honour.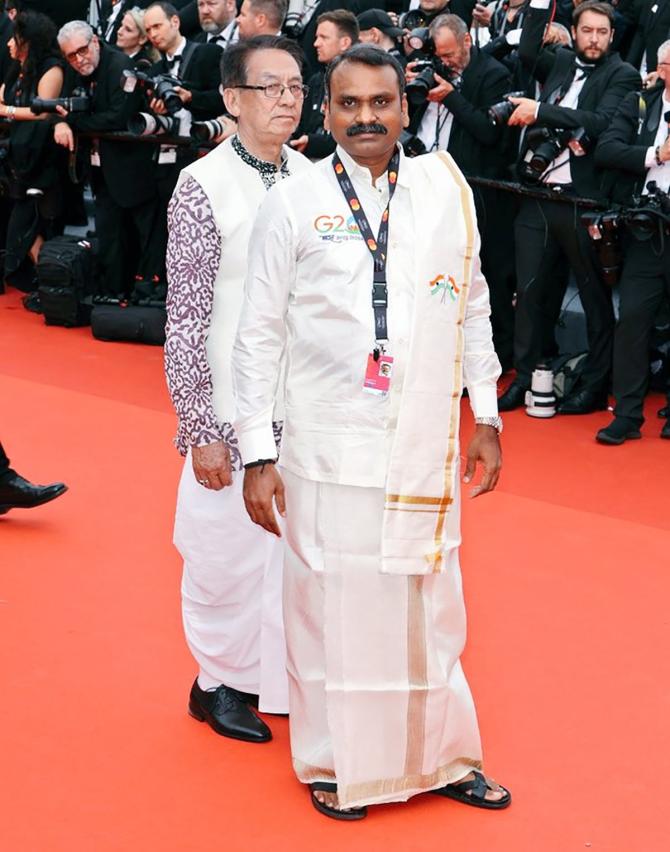 Four Indian films have made it to the official selection at Cannes 2023. Kanu Behl's Agra will be his second film to have its world premiere at Cannes at the Directors' Fortnight. His 2014 debut film, Titli, was unveiled at the Un Certain Regard section.
Anurag Kashyap's Kennedy, starring Sunny Leone, is being screened in the Midnight Screenings programme. Nehemich will be shown in the La Cinef section at the Festival de Cannes. Apart from these, many Indian films are slotted for being screened in Marche du Films.
A restored Manipuri film Ishanhou, will be showcased in the Classics section. The movie was previously played in the festival's Un Certain Regard section in 1991 and the National Film Archives of India preserved its film reels. The Manipur State Film Development Society got the film restored through the Film Heritage Foundation and Prasad Film Labs.
This year's special focus will be on India's culture and heritage at the India Pavilion. The theme for this year's Pavilion is based on Saraswati, the Goddess of Knowledge. It has been designed by the National Institute of Design, Ahmedabad with the theme 'Showcasing India's Creative Economy' to the global community.
The pavilion design has been inspired by the Saraswati Yantra, the abstract representation of the goddess Saraswati, keeper of knowledge, music, art, speech, wisdom and learning.