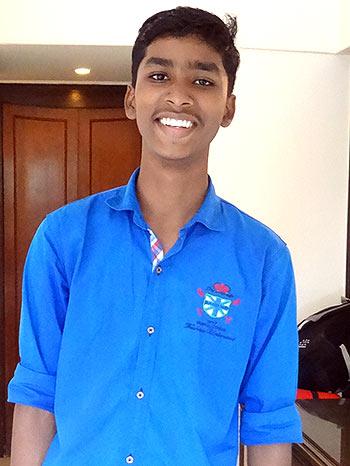 'I have never got special treatment. My school and hostel was free for everyone, not just me. The training that I get in school is given to everyone, not just me.'
'I want to be a sportsperson and go to the Olympics. I want to represent India there. But I am not training now.'
India's youngest marathon runner Budhia Singh looks back at his success.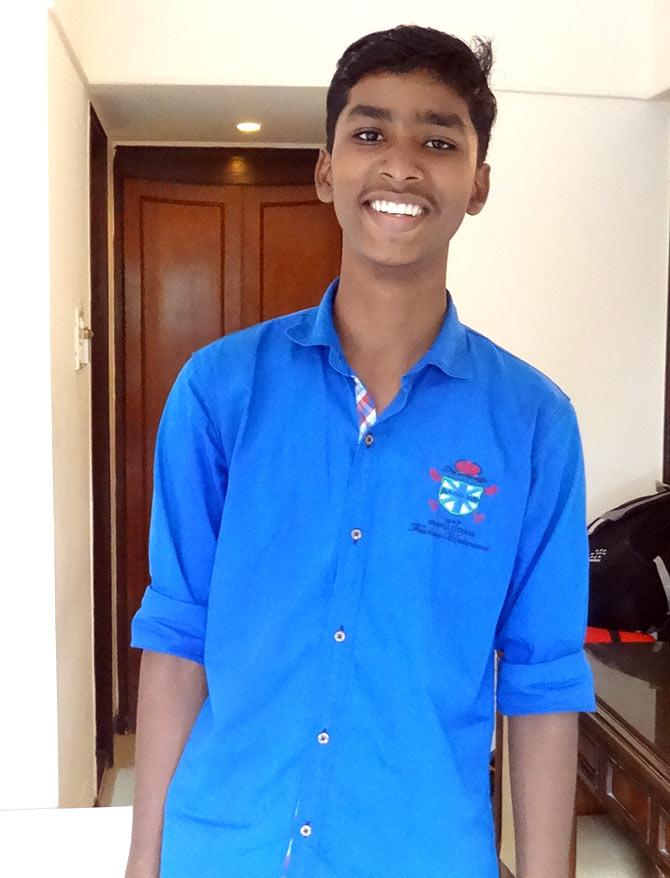 IMAGE: Budhia Singh
Four-year-old Budhia Singh made history when he ran from Bhubaneswar to Puri, a distance of 65 km, in seven hours and two minutes.
He may be one of India's youngest celebrities, but Budhia continues to live in the slums of Bhubaneswar, 10 years later.
His life has been captured by first-time director Soumendra Padhi, in a film called Budhia Singh: Born To Run, and is played by Mayur Patole. His coach is played by Manoj Bajpayee. The film will release on August 5.
An extremely shy boy, Budhia recently made a trip to Mumbai to promote the film, and he seemed very uncomfortable with all the attention.
"I have come to Mumbai once before (many years ago). I had come after I became popular. All I can remember is going to a stadium in Mumbai, and then to Marine Drive to see the sea. I was here for two days," Budhia says in broken Hindi.
Budhia is accompanied by his mother Sukanti. Before settling down for the interview in a restaurant, the duo grab some lunch. The youngster chose chicken, avoided the fish, and had a surprisingly large helping of salad. He finishes quickly, and we start the interview.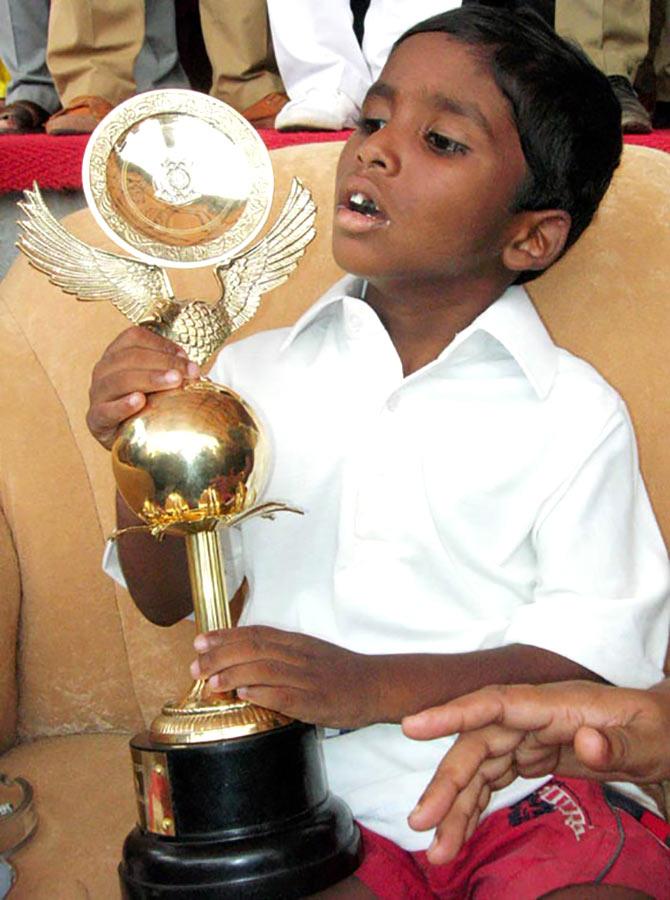 IMAGE: Budhia Singh, four, holds his trophy after a marathon in Bhubaneswar. Photograph: Sanjib Mukherjee/REUTERS
Budhia says he doesn't remember his childhood much but he remembers his famous run.
"When I was running the marathon from Bhubaneswar to Puri, someone gave me something to drink," he recalls. "I thought it was glucose and drank it. But it was Limca. After drinking it, I got a throbbing headache and fainted."
Budhia attributes his early success to only one person: his coach Biranchi Das.
"I have little memory of my training days with Biranchi sir. On Sundays, he would make me run on the roads. I had a proper routine and proper diet," he says.
The routine included waking up at 4am, and running for two hours. From 6 am to 10am, he would attend school. At 10:30am, he would start his training again, and run up to 3 pm, sometimes an hour later. After that, he would get a massage.
Budhia doesn't remember how he met his coach; after all, he was just three years old.
There have been stories that Budhia's mother sold him to a travelling salesman, who would harass the boy. Biranchi Das, on the request of Budhia's mother, paid the salesman off and bought Budhia.
"Biranchi Sir would say that my mother sold you to me, and that I have raised you and made you popular," Budhia says.
Budhia never quite got the confirmation he needed. Biranchi's wife and Budhia's mother chose silence whenever he asked them what really happened.
On one occasion, after much persuasion, Budhia's mother finally said, "We did not have anything but yet, I never sold you."
Budhia's mother waits patiently, as we continue chatting. She does not understand Hindi at all, and only knows Odiya.
Budhia asks her how he landed at Biranchi's home. She answers, "You went along with your elder sister."
Budhia has three sisters -- Rashmita, Nivedita and Sasmita.
Sasmita would learn judo from Biranchi.
"I would do a lot of mischief at home, since I was the youngest," Budhia says. "One day, my mother told me to accompany my sister to Sasmita's judo class. I would go because I would get a chance to roam around."
Budhia would also be offered food in Biranchi's home.
One day, Budhia and Sasmita got into a fight. Biranchi saw Budhia hitting his sister, and punished him by making him run on the grounds.
Biranchi went about his work, and forgot about the punishment.
When he reached hours later, Budhia was still running.
Budhia doesn't remember how long he ran but remembers running.
"Biranchi sir took me to the doctor, who said my body was normal," Budhia says.
His training started right after.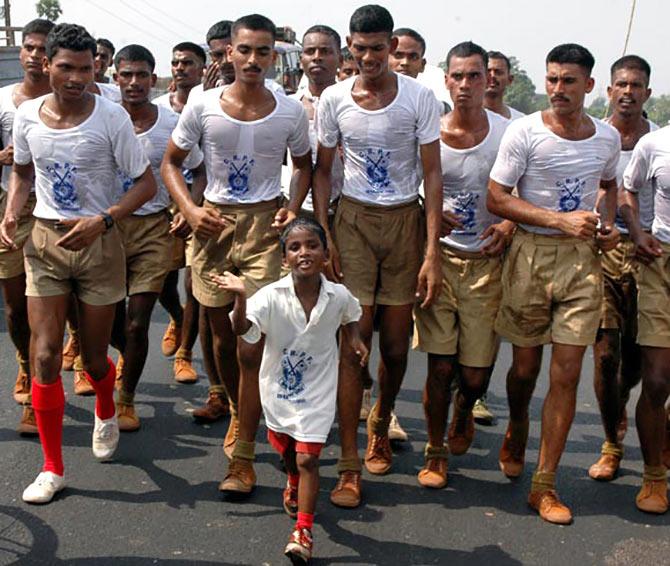 IMAGE: Budhia Singh, four,

during a marathon in Bhubaneswar

. Photograph: Sanjib Mukherjee/REUTERS.
It is documented that Budhia ran 48 marathons but the young boy has lost count.
"I would train everyday, even when I was travelling from one city to another. I would train in airports and hotels," he says.
"Biranchi sir was strict. He would punish his students if they came late for judo class. But I don't think he has ever punished me when I was training with him," Budhia says. He praises Biranchi's wife as well, saying that she would take care of him.
Budhia would stay with Biranchi, but he claims it isn't an orphanage, as is widely reported.
'There were many students who trained with him in judo. Some would stay back at the gym. He would provide us with food and stay. Even Biranchi sir would sometime stay back in the gym, and not go home," he says.
"Somebody complained against Biranchi sir that he is making me run, so I was separated from him," he continues. "They asked me whether Biranchi sir would beat me up but I said no. I don't know how such a complaint went to him. I had no problems with Biranchi sir. He was a very good coach."
Budhia was then sent to live with his mother. He did, for a month, but times were hard and Budhia's mother had to send him to a government-run free school. He was put up in a government-run sports hostel, where he stayed until this April.
"I didn't like the hostel because I am not allowed to meet my mother and sisters," he explains.
Budhia did not like the training there as well. "One teacher coaches 12 students, whereas in other countries, two coaches teach one student," he says. "The diet isn't good as well. I get only oily food. I am not allowed to buy food from outside. I don't have any freedom inside the hostel. We needed a gate pass to go out of the hostel, which was a long and tiring process."
The hostel did not even allow Budhia to attend Biranchi's funeral when he died.
Budhia's mother wants to complaint about the problems he's facing but "no one will listen to her," Budhia says. "She doesn't have any support. Nobody knows me now."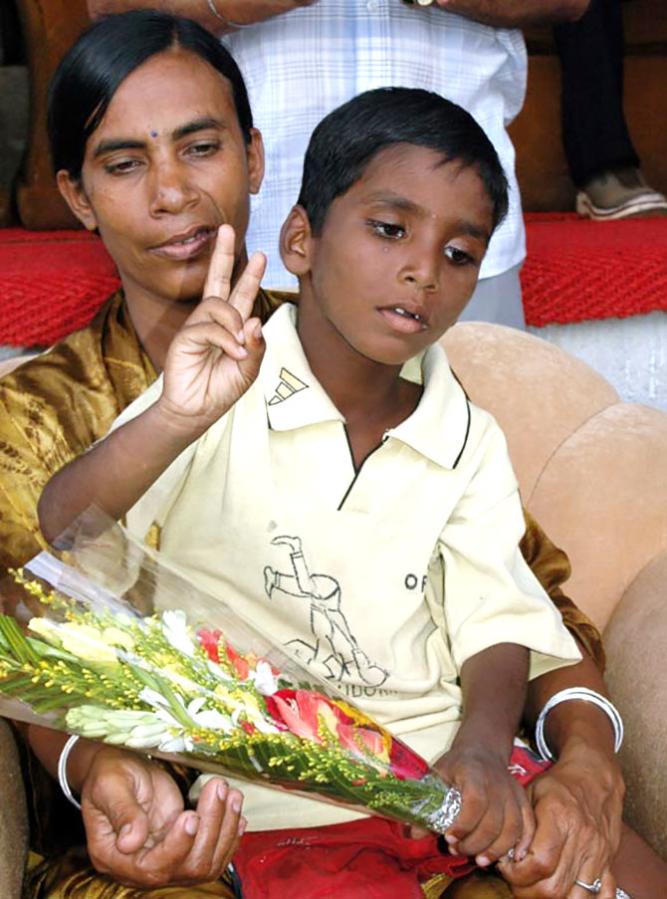 IMAGE: Budhia Singh, four,

with his mother Sukanti after a marathon in Bhubaneswar

. Photograph: Sanjib Mukherjee/REUTERS.
Budhia is in Std 9 now, and lives with his mother.
He travels to school by bus, and the only allowance he gets as a celebrity is that he doesn't have to pay the bus fare. He does not carry a tiffin, and eats only after he reaches home.
"I have never got special treatment. My school and hostel was free for everyone, not just me. The training that I get in school is given to everyone, not just me," he says.
Budhia's mother works at KIIT (Kalinga Institute of Industrial Technology) in Bhubaneshwar, as a caretaker in the hostel. She earns a monthly salary of Rs 8,000. Out of this, Rs 2,000 is spent on the rent of their shanty.
The meager income cannot pay for Budhia's special coaching and diet, and the family is banking on the film's success to help them for the future.
Budhia wants to study further, and take up Science in college. He wants to move to Delhi so that he can hone his skills.
Since he comes from a poor background, he is considering appealing to the government to take care of his college education.
Does he want to become an athlete? "I want to be a sportsperson and go to the Olympics. I want to represent India there. But I am not training now. I have knee pain. I have to recuperate and am resting for a month. But otherwise, I still train everyday," he says.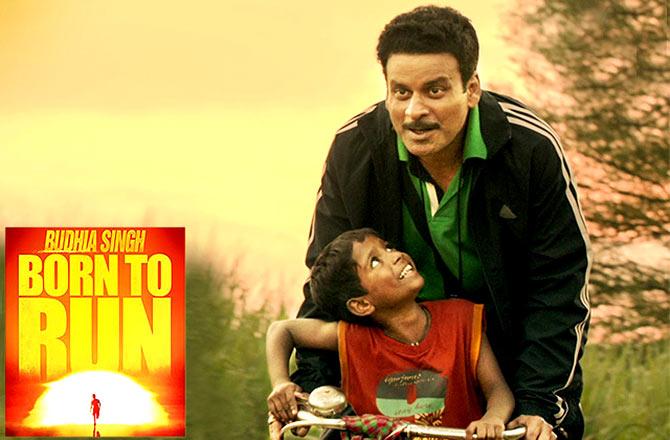 IMAGE: Manoj Bajpayee and Mayur Paole in Budhia Singh: Born To Run.
Budhia has not watched Budhia Singh: Born To Run but he likes the trailer.
"It is very nice. It looks like my story. My coach was exactly like Manoj Bajpayee. He was strict and even spoke like him. But my coach was fatter," Budhia says with a laugh.
Budhia has met Bajpayee, and tells us, "Manoj Bajpayee sir told me that the government has forgotten you but after watching this film, they will remember you again."