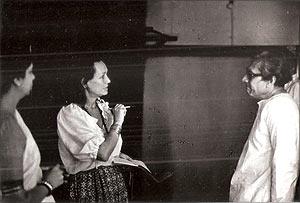 Writer-filmmaker Rinki Roy Bhattacharya, daughter of celebrated filmmaker Bimal Roy, met Bengali theatre stalwart Sombhu Mitra and his wife Tripti as a teenager and was hugely impressed by their immense talent on stage.

She pays tribute to the late actor on his 97th birth anniversary this month.

As a teen growing up in Mumbai, the Bengal theatre scene was an unknown territory for me. That fortunately changed when the Tagore Centenary 1961 celebrations brought me face to face with Bengali theatre.

I got a chance to attend Tagore Centenary celebrations with my parents as a teenager at the Cricket Club of India grounds. A Rabindranath Tagore play called Rakta Karabi was scheduled to be staged that night. I could sense just how eagerly the audience was waiting for it.

That was the first time I heard about and saw thespian couple Tripti and Sombhu Mitra.

As part of the celebration, Bohurupee -- the theatre group founded by the Mitras -- was invited to perform the poet's plays Raja and Rakta Karabi in Mumbai.

My inadequate knowledge of Bengali did not come in the way as I was instantly drawn to the magnetic performances unfolding on the open air stage that night.

Tripti Mitra was grace and innocence personified and the stage came alive with her luminous presence in both plays. I still remember the green sari she wore in one of the plays. Her high-pitched delivery and childlike laughter was hugely popular with the audience.

But it was Sombhu Mitra who towered over everyone as the invisible King of the Dark Chamber. He held the audience spellbound by his hypnotic voice. His crystal clear diction brought alive each word, gave them vivid images.

The actor did not appear in person but his powerful rendition held the narrative together. His dialogue delivery enhanced the sheer beauty of Tagore's exquisite text. His voice was his greatest asset and he used it to perfection.

That night's theatre experience is hard to define.

By the end of the play, everyone was eager to see the magnificent actor in person but Raja -- the King of the Dark chambers  -- did not make an appearance.

My parents had known the Mitra couple from our Kolkata days. Being a convener of Tagore centenary celebrations required my father Bimal Roy to pay his respect to the delegates.

When we were ushered backstage, I followed them sleepily. A short, bespectacled Bengali gentleman in spotless dhoti kurta greeted father with a grin and a silent Namaskar.

When he spoke, I was nonplussed. It was the same voice that had held us spellbound a while ago. The man's appearance was in stark contrast to the image I had conjured -- an imposing man with a voice to match.

My mind was busy trying to figure out how an ordinary-looking person possessed a voice that sent ripples through earth.

The memory of that moment when I was first introduced to the legendary Sombhuda is still fresh in my mind.

His wife -- the phenomenal actor Tripti Mitra -- later became Triptidi to me. She had a cool temperament unlike her celebrated husband, which made her really accessible.

She was, I think, the more down to earth of the two. In public, Sombhuda's grin was replaced by an impenetrable façade.
He would retreat into the silent zone -- making people around him cautious.

I doubt if anyone can claim to 'know Sombhu Mitra,' the man. He was a fiercely private individual till the end.

After watching these two plays at the Tagore centenary celebration, I had become a great fan of Bohurupee, and the Mitras. Bohurupee became the face of Bengali theatre for me. I made it a point to catch up on their productions whenever I visited Kolkata. This resulted in my evolution from a culturally ignorant Bengali.

I can't recall how or why I became involved in the Bohurupee festival, which was sponsored by the INT and Damu Jhaveri. Damubhai was a great admirer -- a devotee of Dada (as he fondly called Sombhu Mitra).

Damubhai asked me to help with a Bohurupee retro in the city. I agreed instantly, thinking of it as a rare opportunity to get another chance to see my favourite theatre icons. The Bohurupee festival at Ravindra Natya Mandir in 1972 was truly a historic moment in the annals of Mumbai's theatre experience and remains so till date. The who's who of several regional language theatre groups thronged to see the plays.

The Bohurupee season brought me face to face with the Mitras several times.

After the successful Bohurupee season, Sombhuda was attracted to the professional life of Bombay. He made several trips to the city. He would often be the guest of Srilekha Bose -- staying at their seafront apartment. This proved convenient for us. Srilekha would invite me and my husband, Basu (Bhattacharya, filmmaker), to spend time with Sombhuda.

He seemed more approachable now.

While Basu chatted away, I was awkward and tongue tied in Sombhuda's presence. If in a facetious mood, Sombhuda once teased me saying: "Why silent? Rinki sundari say something."

Such affectionate, mildly flirtatious rebuke was enough to turn me red in the face. He had a wicked sense of humour.

One chilly day in Mumbai winter prompted me to wrap a Russian shawl around me. It was the only one I possessed and proud to show it off. I had begun to tell Srilekha the story of my Russian shawl when Sombhuda chimed in: "Oh it is pretty indeed! Have you seen those painted tin trunks they sell at Chetla roadside market?" His rebuttal ended my love affair with the shawl.

A subject Sombhuda kept resolutely out of any conversation was his experience as a film actor and director. If anyone asked, he told them to not go there.

We knew he had landmark films to his credit like Raj Kapoor's 1956 film Jaagte Raho, which he co-directed with Amit Maitra. It stands as a bold departure from the romantic rich-girl-meets-poor-boy syndrome, which were hallmarks of the RK banner.

Raj Kapoor had known Sombhu Mitra from his Kolkata days. Another link between them was the socialist writer K A Abbas, who wrote several RK films.

What prompted Raj Kapoor to produce Jaagte Raho remains a riddle but his choice of Sombhu Mitra and Amit Maitra as the directors of this social satire was indeed laudatory. The film was admired, awarded in the former Socialist bloc.

Jaagte Raho was shown at Karlovivary International film festival with a single title card -- Raj Kapoor's Jaagte Raho. The names of the directors were ruthlessly repressed in the overseas versions. Shombhuda was aware of this. He was hurt and humiliated but chose to remain silent.

I discovered Sombhuda's humane side by accident. It was 10 years since I knew him, and I had overcome my shyness by then. He had become a father figure to me.

My marriage to Basu had run into turbulence and I felt oppressed in our relationship. By then, Basu had endeared himself to Sombhuda. Their closeness made me think that Sombhuda could help resolve issues between us.

Stunned with disbelief, Sombhuda had repeatedly asked me: "This is really happening to you?"

His clarity of vision about the man-woman relationship made me uncomfortable enough to seek a way out quickly.
Instead of reconciliation, he suggested I part ways. If his suggestion shocked me, it opened up the way for a radical option.
If I was afraid but I also felt relief.

It was Sombhuda's firm voice, his concern that shone like a steady beacon that helped me through those days. I remained in touch with him through letters. His replies brought assurance. He forgave my naïve queries, helped me restore my dignity.

I ought to have paid my humble tribute to him a long time back.
Photograph: Rinki Bhattacharya with Jennifer Kapoor and Sombhu Mitra